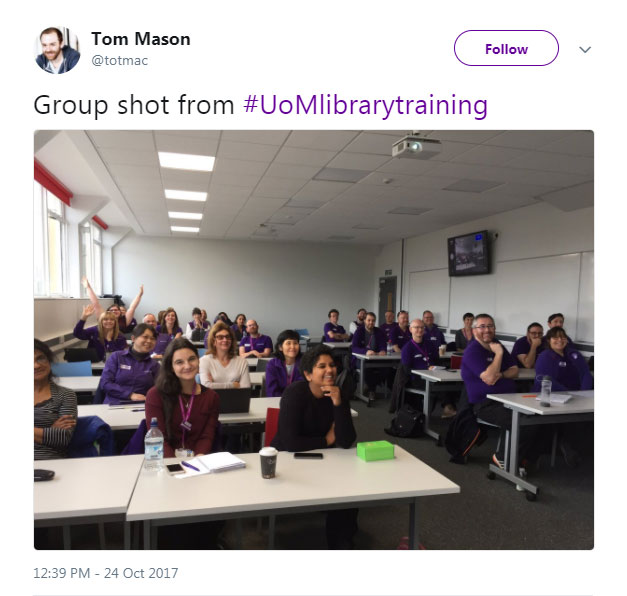 What's next for the Library's Digital Comms Strategy?
Not long ago we felt our social media could do and be so much more. We were using corporate images, communications were mostly about our services, we didn't engage in online conversations, never used emojis and shuddered at the thought of memes and gifs. We were unsure to be honest. We thought we would get in trouble or damage the Library's reputation if we shifted away from our serious Library persona.
However, it all changed when we researched, developed and implemented a Digital Communications Strategy. It made us rethink and review what we were doing. We took inspiration from various thought leaders, influencers and other Library accounts. And since its launch, everything has changed… for the better.
We've seen amazing outputs and changing attitudes towards digital communications. We have grown an active digital community in the Library and nurtured cross-team collaborations which have resulted in viral successes like the banana skin left in a returned library book.
It's not been easy, it's taken a lot of work and effort to ensure that this was a strategy that had value and impact and didn't become a forgotten, dusty document hidden on the intranet.
The marketing team thought long and hard about what was needed to change not only the culture and ways of working in the Library but in our own team. As part of the implementation of the strategy we delivered;
·         training from Social Storytelling to educate and empower our staff;
·         a series of talks from Tom Mason, University of Glasgow's Emma, Dan and Louise and Eric Stoller;
·         Digital Communications Surgeries and a Network Forum to ensure Library staff have support and a platform for creativity and ideas;
·         a Digital Hub on the Library Intranet with online tools and resources;
·         equipment to support staff's efforts to get involved.
As HE embraces digital communications and catches up with other sectors we are starting to see the benefits. It supports learning by providing a platform for conversation and debate, creates communities, builds reputation, supports digital capabilities and provides opportunity for skills development. It encourages audience engagement, creates a space to share work, thoughts and ideas and it enhances student experience. The benefits are endless.
And now the Library is in a position to take advantage of it all. We have already witnessed digital comms activity taking place across the Library and the responses have been brilliant. More and more staff are getting involved and want to take things further, push boundaries and be bold. Senior managers are incorporating digital into their leadership. We are even in the process of scoping out digital leadership workshops and training.
For the marketing team its early days on our digital communications journey. This year we will look to review whats been achieved, what hasn't worked well and how we can improve. We want to see more user-generated content, more blogs, more staff and student involvement, more opportunities to explore and test new ideas and trends.
We are super excited to see what we can achieve next!
Donna Campbell, Digital Communications Manager
@donnacambeul