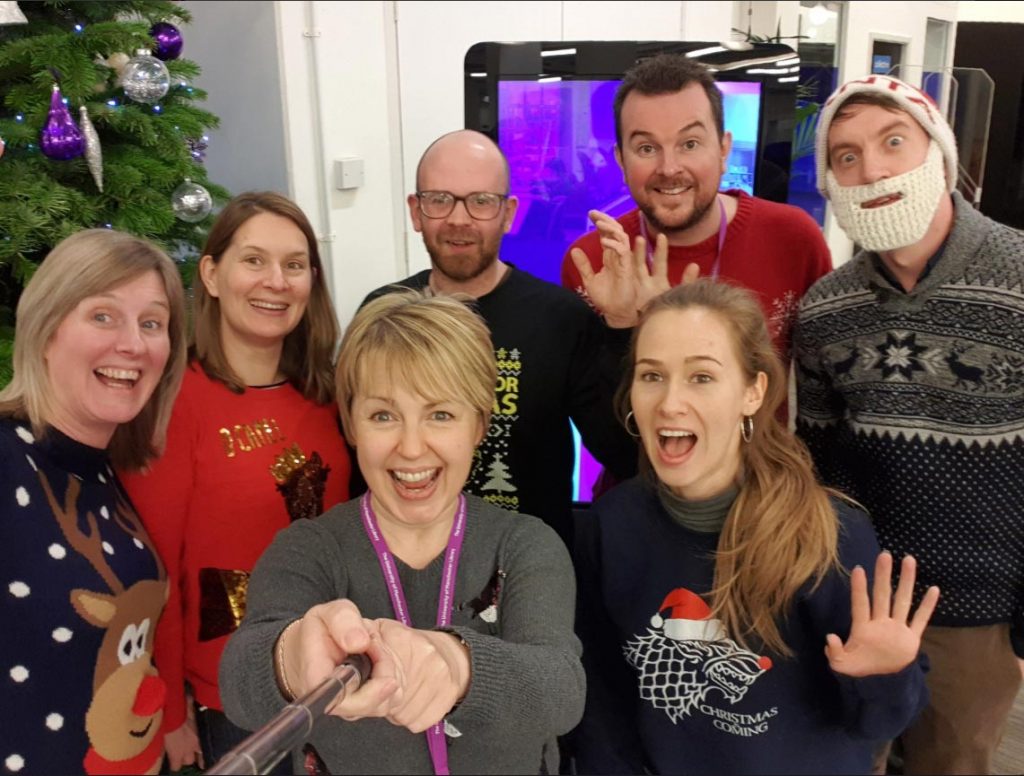 Highlights from 2018
As we approach the end of 2018, we thought it would be a good opportunity to look back over the past 12 months and share our highlights from another eventful and memorable year.
Steve Winterson – Head of Marketing, Communications and Customer Services
The highlight of my year was joining this amazing team in June. Excellent marketing is all about understanding customers and creating services that meet their needs so I loved being on the stand for the University Open Day in September. It was great to meet future students and gain some insight into the way they think and how we can improve their experience with world class marketing and communications.
Michelle Sharples – Marketing and Communications Manager
There were many great things about 2018 so it's very hard to pick just one. On a personal level, I was really pleased to complete the Diploma in Digital Marketing. More broadly, leading a team of talented, creative and inspiring marketing specialists to deliver impactful campaigns like Get Started and the Digital Communications Strategy and knowing that your work is supporting the goals of the Library and the University is definitely something to celebrate this year.
Caroline Boyd – Marketing and Communications Officer
This year has been a year of learning about the importance of strong project management. One of my early projects since joining the team this year was working on the Big Book Move project where we moved more than 750,000 books without closing our busy library. I enjoyed my role on the important internal and student-facing comms work but, importantly, I saw just what a difference a fantastic project manager can make in joining up the work and ensuring a smooth operational process right through to completion.
Heather Boyes – Marketing and Communications Assistant
One of my 2018 highlights has been to continue to develop my social media skills and contributing to the success of the Library's Digital Comms Strategy. I also feel that I've got to grips more this year with CommuniGator, the package that we use to put together e-newsletters. When something clicks and you feel you understand things more, it always makes me happy. As does working with such a great team of people!
Michael Douglas – Data Research Co-ordinator
My 2018 highlight was probably the Get Started Campaign and Evaluation – based on evaluation and findings from last year's campaign we shortened the campaign length and refined our key messages to make our welcome to new and returning students as effective, useful and consistent as possible. It was really ace to see the evaluation work used so strategically and to know that we were making the right decisions based on evidence and feedback. I also presented at my first conference alongside Michelle and quit smoking!
Warren Gates – Digital Communications Developer
My 2018 highlight was our adoption of the Google Data Studio software tool. Not only was I able to learn a new skill, I was able to use that skill to help colleagues take large amounts of data and visualise this in a way that brought about real insight when it comes to decision making. To see colleagues begin to share my passion for analytics has been very rewarding.
Jonathan Hogg – Digital Marketing Co-ordinator
For me, the highlight of 2018 has been about trying new things. Our Digital Comms Strategy has been very prominent, and that's meant experimenting with social media ideas, content planning and tying our collections in with wider awareness campaigns. I've done a lot of training, getting people throughout the Library up-to-speed to make edits to the website, so that they can take ownership of their own content, and free the Digital Team up to be more proactive.
Carl Jeffreys – Digital Content Co-ordinator
For me 2018 has been all about coordinating the Library's Digital Comms Strategy. We've continued to grow an active digital community in the Library and nurture cross-team collaborations resulting in some amazing outputs and changing attitudes towards digital communications. We're now embarking on the evaluation stage of this project so look out for a blog post discussing what we've learned in the new year. On a personal note it was also nice to be rewarded for 'Sustained exceptional performance' by the University.
Ces Kulikowski – Marketing and Communications Officer
My highlight of 2018 was becoming part of the Library's Marketing and Comms team and being part of a genuinely supportive, committed and focused group of professionals.
Lydia Onyett – Marketing and Communications Officer
My 2018 highlight was delivering the marketing campaign for 'The Alchemy of Colour', an exhibition at The John Rylands Library. Inspired by some of the most beautiful manuscripts in the Library's collection, we created a striking visual identity and lots of creative video and social media content. We also collaborated with the Visitor Engagement team to launch the Rylands' new evaluation strategy alongside the exhibition, which now enables us to measure the impact of our activities on visitors' learning and emotional wellbeing.
Krystyna Rudzki – Internal Communications & Engagement Officer
My 2018 highlight was joining the Marketing team at the Library. I started in November and everybody has been very welcoming and helpful in getting me up to speed with how the Library works and how it communicates with its staff, giving me lots of ideas for 2019!
Kristian Scott – Digital Communications Developer (Interim Digital Communications Manager)
My highlight for 2018 spans the entire year.  It's been amazing to watch the Digital Marketing Team 'bed-in' and establish a reputation as an indispensable part of the operational development process.
We've created new processes to fix age-old issues.
We created engaging new content that promoted the work of the Library to a diverse audience.
We embraced a user-centric, data-driven mindset to help us decide what was important.
We also bought some cool new toys.
Wishing you all a Merry Christmas and a Happy New Year from The University of Manchester Library Marketing and Comms Team.