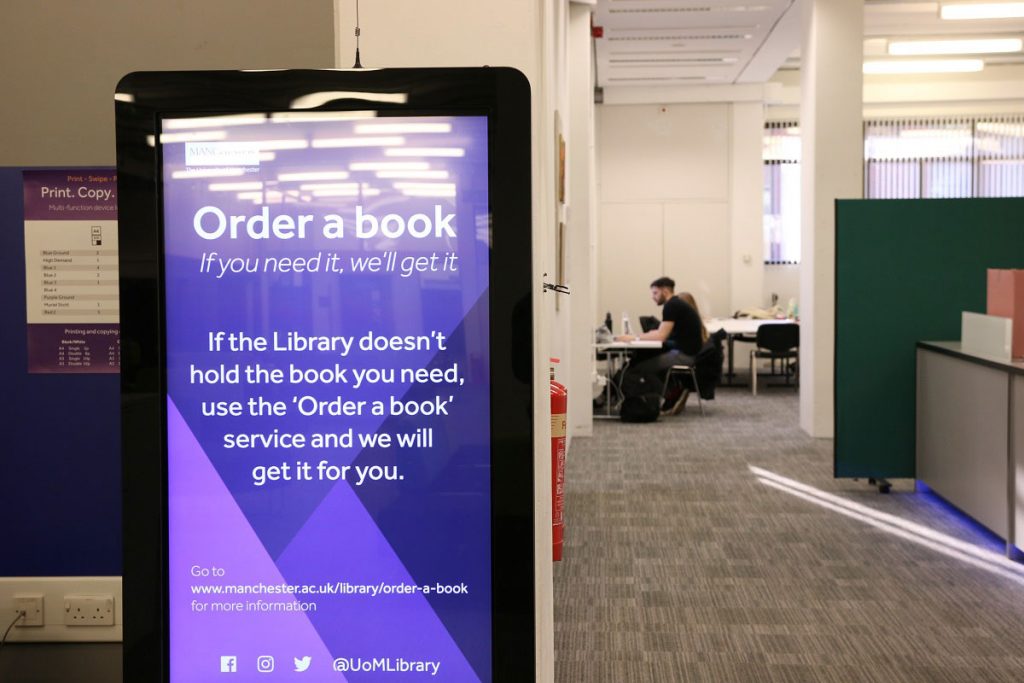 Building a better digital signage strategy
Even if you aren't familiar with the term 'digital signage', you probably know more about the platform than you think. Digital signage is all around us and you've likely engaged with some yourself in the past week.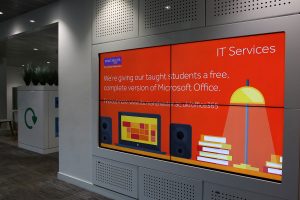 Think of the huge video 'billboards' you pass on your commute into work, the digital menu you use to place your order in fast food restaurants, the kiosks you use to check in at the doctors or the interactive wayfinding you use to find your way around at the shopping centre.
Digital signage is everywhere and with a recall rate higher than any other form of traditional media, it can be a powerful tool for entertaining, inspiring, informing and influencing customers in institutions of all shapes and sizes. 
Generally speaking the various components that form a digital signage solution fall into the following categories:
Hardware – the physical components: screens, media players, mounts, etc.
Software – the content management system (CMS)
Connectivity – the technology which enables the digital signs to connect to the CMS and other networks
Content – what you'll see or interact with on the digital screens. 
Student Feedback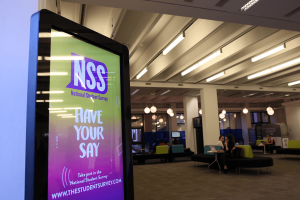 At The University of Manchester Library we have an extensive network of digital signage across our library sites which we use to promote campaigns, communicate news and guide customers through our buildings.
Whilst we are proactive in our attempts to display relevant, eye-catching content and have experimented with a variety of content formats in the past, there is evidence to suggest that we've yet to maximise the enormous potential of this channel. Feedback from a recent student survey which asked how the Library could improve the way it communicates with users indicated that students felt digital signage is an area that could be used a lot more effectively.
Transformation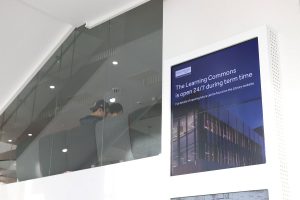 It's certainly a channel that we, as marketers, haven't applied the same level of planning to as some of our other digital channels. Whilst we have governance, guidance and strategies in place for web, social and email the same can't be said for digital signage.
Over the coming months this is something we'll be looking to fix as we aim to transform our digital signage network into one of our most flexible and innovative channels for communicating with library users. 
Innovation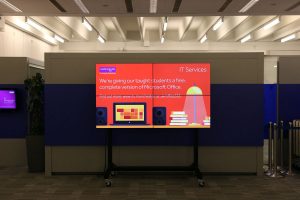 Digital signage is rapidly improving and has come on a long way from clunky interfaces and unresponsive touch screens. Displays and the systems used to manage them are becoming more integrated, more powerful, faster, smarter, and better looking. The ecosystem of content, players and screens is rapidly being enriched by software and hardware innovation that enables viewers to experience content in new ways and trends like multi-screen experiences, mobile interactivity and streaming are driving this next wave of innovation.
By exploring how we can make best use of this technology to deliver an outstanding student and learning experience we aim to exceed our customers' expectations for digital screens, deliver content in a frictionless way, and maximise the potential of both our creative colleagues and the hardware we use.
We'll keep you updated on how this project progress throughout the year. In the meantime you can read more about how we use student feedback for data-driven decision making in our blog post 'The lifecycle of a Library marketing campaign'.
Carl Jeffreys, Digital Content Coordinator
@carljeffreys_