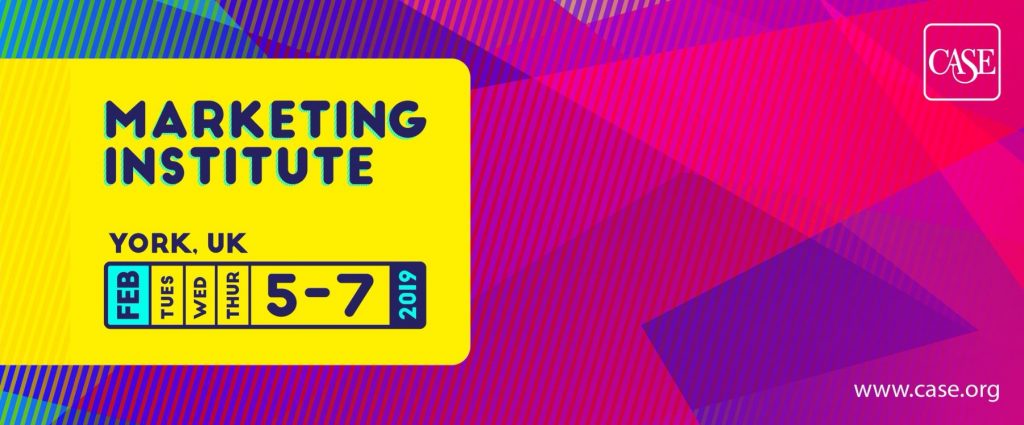 Three top takeaways from the CASE Marketing Institute 2019
The CASE Marketing Institute is an annual conference bringing together higher education marketers from across the sector. I attended this year's event in York, and came away feeling inspired and motivated after three days sharing ideas with peers from all over the UK and beyond.
Here are my top takeaways from this year's Institute:
Are you doing the right communications stuff?
Several presenters referred to Shayna Englin's pithy definition of strategic communication: 'It's the difference between doing communications stuff, and doing the right communications stuff.' For me, this resonated with the unofficial Library Marketing Team motto: 'Question Everything'. It's great to work in a team where you're encouraged to never stop asking fundamental questions to ensure we shape outstanding services that meet the needs of our customers: 'Why are we doing this?', 'Who is our audience?', 'How does this align with our strategy?'.
Once we've worked these crucial aspects out, taking an audience-led, data-driven approach to our campaign planning helps us identify the right communications stuff we need to do. To close the circle, thoroughly evaluating everything we do means we can improve on our track record of increasing awareness and uptake of Library services and improving engagement with our communities.
Develop a framework to structure your content marketing
Every Institute attendee left with a copy of Sheffield Hallam's content brandbook, which is currently doing the rounds in the Library Marketing office. It provides a great framework for planning content to deliver key messages in a consistent, strategic way, as well as re-using that content efficiently across different comms channels. Thanks to Justin Cole, Director of Marketing at Sheffield Hallam University for sharing it with us!
Digital communication augments key relationships – it doesn't replace them
Rachel Sandison, Vice President for External Relations at the University of Glasgow, raised this key point in her presentation about the role of digital in HE marketing. When evaluating our annual Get Started campaign last year, our findings reflected this idea. The campaign's target audience is new students at the start of their first semester at Manchester. Our evaluation showed that they are adept at finding the information they need online, but also find face-to-face interaction with Library staff incredibly valuable when in one of our libraries. Helpful interactions with our staff are an irreplaceable part of their student experience, and our digital marketing activity augments this core element. I'd like to explore ways of increasing staff involvement with the social media side of our Get Started campaign in September 2019, to establish and enhance the great relationships Library staff build with new Manchester students from the very start of their course.
Lydia Onyett, Marketing And Communications Officer
@lydiaonyett