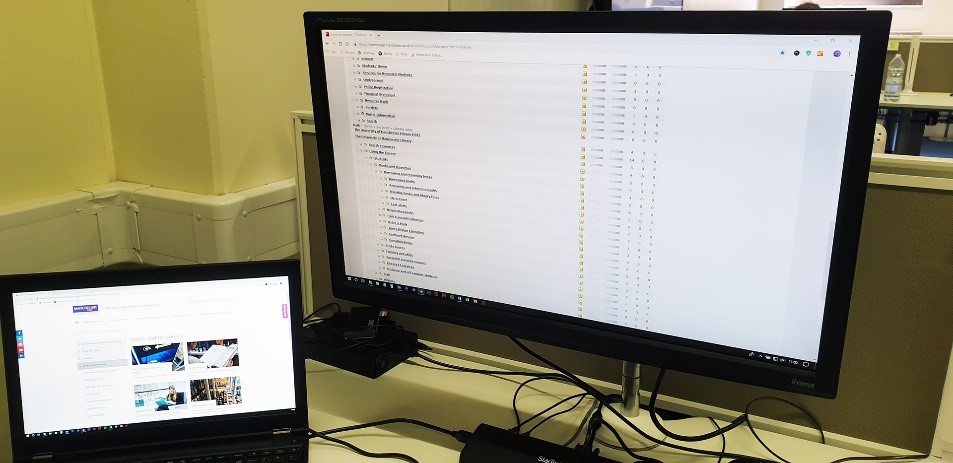 Training staff to edit the website with confidence
The best way to ensure our experts are able to communicate the Library's vast range of services on the website, is for them to "own" the web content in their particular area.
In order for them to become content owners, this requires training in our Content Management System, terminal 4 (t4).
The Content Management System (CMS) can be an intimidating beast for a lot of people. If your main interaction with writing content is email or Microsoft Word; being confronted with something like t4 can be a bit scary. I know this because it intimidated me the first time I looked at it.
How we used to do it
In previous years, anyone who volunteered (or was volunteered!) would come to a training session with the marketing team for a couple of hours of quite intensive training on our CMS, how the site is put together, and how all the different types of content work together.
This would often be the first time someone had seen t4, and they'd come into the training perhaps expecting it involved learning how to hard-code HTML from scratch.
We'd end up with people coming back to us when it came time for them to actually make some changes on their own, and they'd (understandably) forgotten everything!
Our new approach
We started by pulling together a document that links off to what we think are the best "generic" training materials from across The University of Manchester. This acts both as a good starting point for getting to grips with terminal 4 as well as something staff can refer back to if they go a long period of time between using the CMS.
When someone wants to edit part of the website, they're directed in the first instance to our central web team, who give them access to the relevant part of the Library website, and some additional training materials.
We then include some training materials on web best practice and theory, which I covered in my previous blog article on writing for the web.
Once they've gotten both the training materials from us and the central web team, we ask them to take some time to go through the basics themselves in their own time, and learn at their own pace – as opposed to bringing them into a computer suite and throwing them in at the proverbial deep-end.
Making training more relevant
Once they've gotten back in touch to say they've been through the basics, we then set up a training session with them, where we look only at their area of the website. Usually this is one-on-one, but could be for a small group if they are all responsible for the same area of the website. The smaller the group, the better, because it's much easier for the trainee to say "wait, can you go back, I don't get that bit" if they're the only one in the room. Everyone gets embarrassed when they think they're 'holding up the rest of the class'.
We no longer try to teach anything they won't need to use. This makes the training a lot shorter to deliver, and makes it much more relevant to the person being trained.
The fact that they've already had a look through the basics means that they will hopefully already have some pertinent questions, bits they don't quite "get" yet.
This combination of independent learning of the basics, followed up by very targeted training, leads to our staff going away more confident and more independent. We make sure they know we're only on the other end of the phone if they get stuck, and that any changes they make will need to be approved by us before it goes to the live site – and we take responsibility for any mistakes.
We've found this approach has worked a lot better, and we've been running it for around 12 months now.
Where we're headed
Looking ahead, we'd like to get to the point where staff can provide us with a set of KPIs for their area of the website, so we can monitor how well their area is doing in something more than pageviews and bounce rate.
One project we're currently undertaking involves a large audit of content, and once again asking new staff to become content owners. I'm sure we'll be out delivering lots of training, but hopefully we're going to end up with more confident web editors as a result of our new training system.
Jonathan Hogg, Digital Marketing Coordinator
@Jonathan_Hogg_