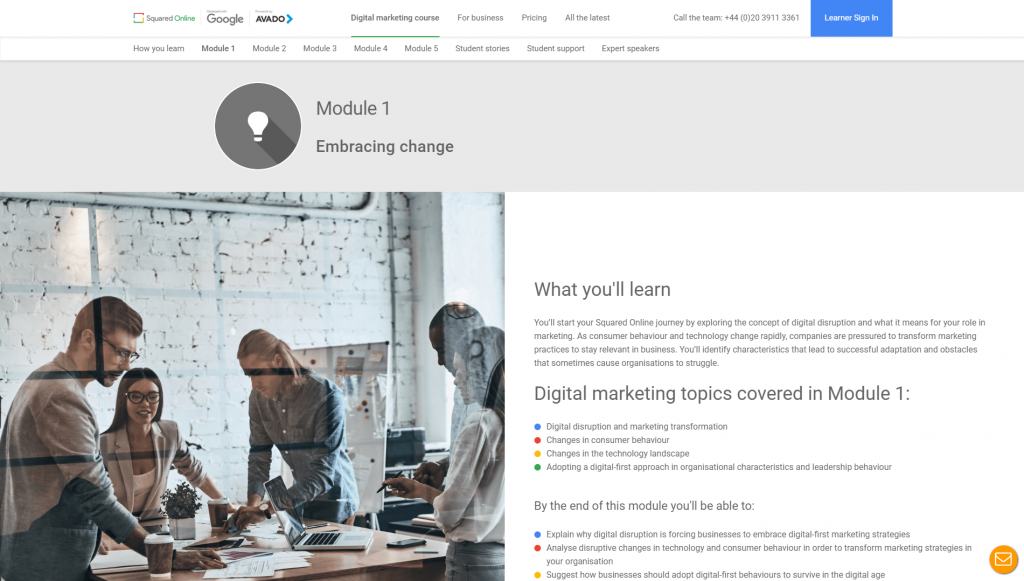 Squaring up to Digital Marketing
At the Library, our marketing focus is 'digital first'. Given that we work in the Library itself – what we consider to be the true heart of The University of Manchester and a great place of learning – it's hardly a surprise that we believe in team learning and development.
So, we sent two of our Marketing and Communications Officers, Lydia and Caroline, on Google's Squared Online digital marketing leadership course. Caroline shares her top 3 takeaways…
1. Communicate, communicate, communicate
The first thing you notice about Squared Online is that this is NOT a traditional course. But this shouldn't be a huge surprise from a course that will teach you so much about digital disruption. It seems only fitting that the course reflects this by placing each student in a group of 8 to work on 4 coursework assignments. It was exciting to learn about everyone's varied roles, industries, ways of approaching things as well as the countries and cities they were studying from via online learning. Since the course requires virtual learning, a lot of effort goes into organising times and days that work with everyone's schedule for weekly Google Hangout calls and check-ins on Google Docs as we each input into the assignments.
Our best projects involved clear communications from the beginning: it really does require at least one person in the group to take the reins and suggest an outline plan featuring milestones for working on the task over each 3-4 week deadline period. When everyone was clear on what was required and by when, the projects worked so much better.
2. Measurement with the help of a glamorous model. We call him DMMM.
This measurement course module really stood out. It covered developing marketing objectives, analytics and attribution. It really pushed home the message of deciding what you want to measure via the Digital Marketing and Measurement Model (DMMM) by Avinash Kaushik – an excellent framework to ensure all elements of measurement are considered and relevant.
As you can see in the above model from Avinash this DMMM is a super clear way to: decide your goals, KPIs, targets and stick to them. It forces you to think specifically about the targets and outcomes that will lead to achieving your long-term goals. 
And, no. As good as our team may be – and contrary to the accompanying image here – we're purely focussed on Library marketing and not world domination!
3. I came. Then I saw, thought, did and cared. Finally, I conquered!
One other great framework from the course was the See, Think, Do, Care model – a helpful way of considering the different touch-points in a customer journey and then gearing marketing messages, channels and frequency of messaging according to where a customer currently sits. Are you thinking about going to the library? If so, what message is appropriate for you? Already here doing some study? Then what might you want to know at this point in your journey with us, given you have already committed? Find out more at Think With Google.
All in all, this was a positive experience in terms of learning, making new friends and managing more practical projects at the end of the course.
Caroline Boyd, Marketing and Communications Officer
@CarBoyd_UoMlib