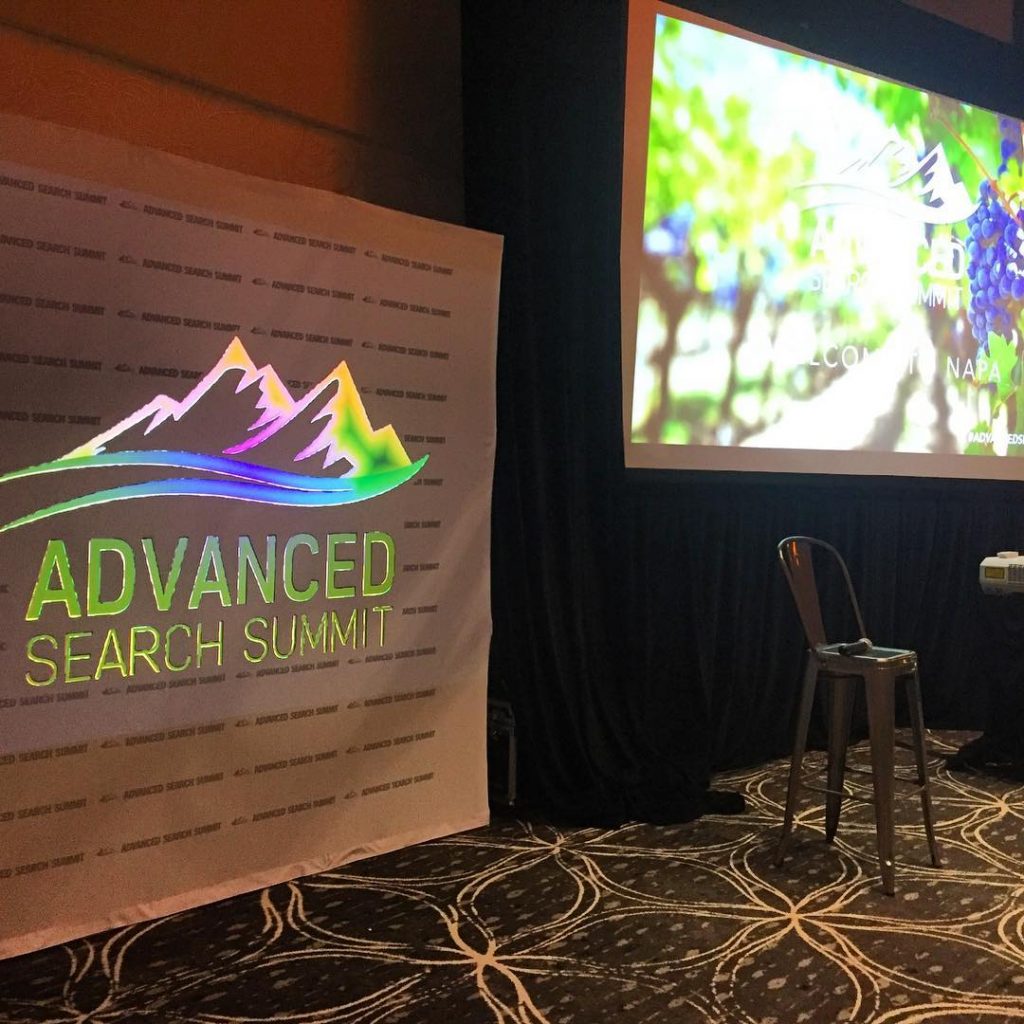 Search experience optimisation, what next for Library Digital?
The Library's Digital Communications Developer Kristian Scott shares his experience of attending the Advanced Search Summit in Napa Valley earlier this year…
Last year I was fortunate enough to be awarded professional development funding through The University of Manchester 'Investing in Success' scheme. 
This funding provided me with a fantastic opportunity to attend a digital conference in Napa Valley, close to the international heart of high technology, digital innovation, social media (and wine).
Background 
When beginning work on my application, I knew that I was interested in the changing face of internet search and how web content could be optimised to meet this shifting landscape.
My thoughts immediately turned to the digital marketing output of the Library, with a particular focus on the opportunities and challenges posed by the Library website. I've felt for some time that our most prolific communications channel had been resting on its laurels at the top of Google rankings and was in need of fresh eyes.
University websites typically share both a blessing and a curse when it comes to search engine rankings. We're blessed because they rank very highly in SERPs (search engine results pages) due to our internationally respected and authoritative domain 'manchester.ac.uk'. Without much effort or quality control, any University website can quickly find its way to the top of the search rankings. The expression 'standing on the shoulders of giants' springs to mind.
This positioning can also be a curse; why would an institution invest time and money in exploring good SEO practice when they're already 'Top of the Pops'?  Thankfully, the University shared my curiosity and before long I was packing my suitcase and heading to California with a long list of questions.
Advanced Search Summit, CA 
The Advanced Search Summit is a conference series that was established with the goal of helping digital marketers and developers optimise their online content in a constantly shifting, crowded marketplace.
For the Library, this isn't just about getting to the top of the rankings. It's about tailoring content to meet the needs of users, search engines and our unique business requirements as a university library. 
This was the part that excited me most, how could our web output be adjusted so that it could match our user's overall intent and not just a set of keywords?  What does the future of search hold and how can we best prepare ourselves?
I knew on Day 1 that I was in the right place, as the conference had assembled some of the best digital minds to share their wisdom with the assembled delegation. Before I'd finished my morning coffee I'd chatted with marketers from Uber, Twitter, Disney, Home Depot and Bing. Although we all came from different business backgrounds, we all seemed to share an interest in creating the best online experience for our users.
Watch a short video I posted from Day 1 of the conference. 
Key themes from the conference 
The whole experience was nothing short of inspirational. At the time of writing this blog, I'm in the process of collating my learning from the conference and arranging these thoughts into a set of recommendations for the Library and wider university. However, I'll summarise here some of the key themes and big questions that really stood out to me over the course of the three days.
Content freshness is a huge ranking factor 
Simply put, Google is actively prioritising new (or fresh) content in search results. This presents the Library website with significant risks and opportunities. Some of our most critical content is several years old and could be holding us back, imagine the possibilities if we were able to refresh these key sections?  This area also presents a number of resource implications:
How can we build content refreshment into our existing workflows? 
How could we achieve content maintenance and refreshment at scale? 
Artificial intelligence may be able to help us rewrite pages in the future, but what can we do in the shorter term?
Who wants to visit a website? 
Search engine result pages (SERPs) are evolving. For many years, Google matched keywords in a typical search query against an index of billions of web pages. The most relevant pages in that index for a particular keyword appeared at the top of results. 
The Google algorithm is more sophisticated these days and uses artificial intelligence to predict the intent of users based on their search queries. Google now attempts to extract information from websites and present it directly in the search results. For example, you don't need to visit the Library website to find out our opening times. Google has already extracted this information automatically and presented it in the search window. This creates a slicker experience for users, but:
Should we focus on optimising our web content so that it can be more easily parsed by Google and served to our customers? 
Should we be optimising our content for multiple outputs, our own website and search result pages?
Are we comfortable with our web traffic going down, but our web optimisation efforts going up?
More focus on technical SEO could help us in the short term 
The expertise, authority and trust (E-A-T) that is commonly associated with our web content is one of our highest ranking factors. In 'real life' terms, the University of Manchester websites have an excellent reputation in the eyes of Google. With reputation comes higher ranking positions, but what other factors should we be paying close attention to?  Search engines take many factors into consideration when determining ranking positions, for example:
Mobile responsiveness of web content
Page loading speeds
Site security and accessibility
Meta descriptions, and code mark-up
Internal linking structure
Many of our Library web templates, layouts and assets are either clones or recreations of centrally designed tools. With this in mind, how can we make technical optimisations within this set parameters that will help us better serve our content to our users? How much improvement is realistic with our current content management system, and what should we explore further down the line?
Next steps 
I feel like I've only scratched the surface! You'll probably be able to surmise from the above that I boarded the plane back to Manchester with many questions, inspirations and areas for exploration. 
One fantastic thing about the Library and wider University is that it encourages us as staff to be curious, to challenge our ways of working and explore more effective ways of meeting the needs of our audiences. 
My big, exciting challenge from this point is to protect the time it will take to bring these ideas to fruition, explore these questions in more depth and create an action plan for the Library. I promise to post more when I have some updates to share with you, but do please contact me in the meantime if you'd like to share ideas via kristian.scott@manchester.ac.uk
Kristian Scott, Digital Communications Developer