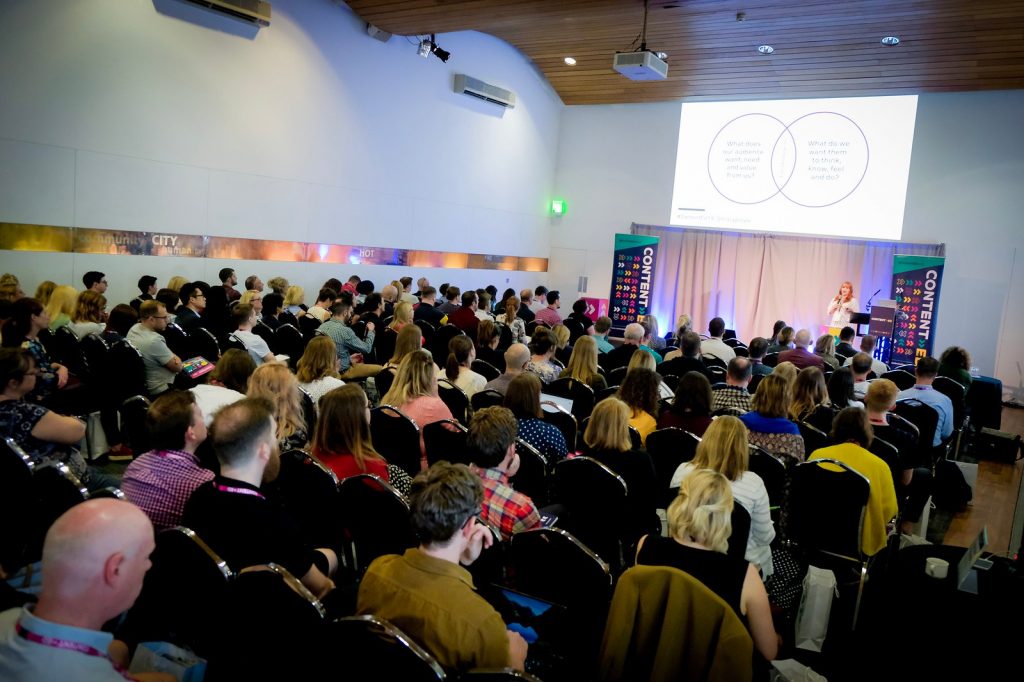 Content Ed 2019
Content strategy has taken on greater importance in higher education in recent years. University marketing teams have realised that they can't just churn out websites and jump onto social platforms and hope for the best; they have to communicate with purpose if they want to succeed. Having a solid strategy in place which outlines how to plan for the creation, distribution and governance of useful, usable, on-brand content is key for educating, informing and inspiring our audience.  
ContentEd is a two-day conference that leads the dialogue around the development and advancement of content strategy in the higher education sector. It's organised by the fine folks at Pickle Jar Communications and I was lucky enough to attend this year's event in Edinburgh in the hope of bringing back some ideas to enhance our own content efforts. Here is a summary of some of the key themes covered at the conference:
Creativity
New York Times bestselling author Austin Kleon delivered an inspiring keynote presentation on creativity in the digital age which explored the idea that "creativity is not a noun" – it's something we are all born with, but creativity is something you do, not something you are.
Austin outlined his '10 rules for operating creatively' which included the followings gems:
It's okay to "steal" great ideas. "Nothing is original", he says. And great artists such as David Bowie and Pablo Picasso back him up. "It's not where you take things from. It's where you take them to"
We're traditionally conditioned to hide the "messiness" that lies behind the creation of what we create. Instead we should embrace it. Take people behind the scenes (something we're attempting to achieve with this blog). Showing the process will help people to value what you do.
Apply the 'Vampire Test' and identify the people, things and activities that fill you with energy, rather than the things that leave you depleted. According to Austin if you steal too much, you're a vampire, and you suck the life out of all your friends. If you share too much, you're human spam. Be a contributor.
One of the common ideas that Austin rejects about creativity is that it's the domain of the "lone genius". I found this idea particularly interesting as I work with many colleagues who don't necessarily see themselves as creative or who aren't able to see the creativity in their own work. Austin claimed that genius is often nurtured by the scene around us, and the people who push, inspire and collaborate with us ('not so much a genius who operates in an ego-system as a 'scenius' who operates in an eco-system'). Next time you're feeling uninspired it might be worth considering whether your surroundings are conducive to creativity. 
Inclusivity
One of the overarching themes at this year's conference was the need to be inclusive and human. Sarah Richards, previously Head of Content Design for the UK Government Digital Service, urged the audience not to treat accessibility, usability and inclusivity as a tick-box exercise or a 'problem' that can be 'fixed' with code as not all accessibility considerations are because of an impairment.
Sarah shared lots of valuable and useful advice for creating content that works for visible, non-visible, permanent, and temporary disabilities. Examples ranged from limiting the amount of scrolling that your website requires, as this can be painful for users with motor neurone disease, to using browser extensions like NoCoffee to simulate visual impairment for testing your content. On the need for using less jargon and more clear language Sarah put it best when she said that 'it's not dumbing down, it's opening up'.
Social and digital media consultant Dan Marrable (who was kind enough to help us launch our Digital Comms Strategy here at The University of Manchester Library) also shared his knowledge and experience on creating amazing, but more importantly, all-inclusive social media content.
Dan outlined how to integrate inclusive best practise directly into the content creation process by focusing on user needs. Most universities have a presence on Twitter, Facebook and Instagram but WhatsApp, which has a surprising amount of features beyond peer to peer messaging, may actually be more suitable for communicating with distance learners or prospective students who live in areas with low connectivity or content restrictions.
Dan also shared a number of practical tips on creating accessible social media content such as using alt text with images, adding captions for video and limiting use of emojis (screen readers cover everything on screen so if you've used the 'heart eyes' emoji five times in a row then a screen reader will describe every single one of them).
Both of these talks really hit home the importance of creating content that works for everyone. 
Collaboration
I was particularly interested in the topic of collaboration as this is an area we've put a lot of work into over the past couple of years to aid our own content. 
Ellie Lovell, Head of Strategy at Pickle Jar Communications, shared ideas and tactics to help create a thriving community of content creators across an institution. It was reassuring to see from the case studies which Ellie presented that we're already following much of the advice for best practice though I still took away lots of good ideas to enhance our support (I particularly liked the idea of a welcome pack for content creators like this example for the DVSA).
Mike Powers, Executive Director of Marketing and Communications at Indiana University of Pennsylvania, also delivered a memorable closing keynote on moving from a conformance to a collaboration mindset using the following five guidelines:
Know who the final decision maker is and get them to a meeting
Find the real problem
Manage conflict
Be authentic
Embrace the theatre
Recognition
This year we were also nominated for a Collaborator Award which recognises great content strategy work happening in the education sector. We weren't lucky enough to win (missing out to the excellent St George's, University of London) but still had a great time mixing with our friends in the HE marcomms community at the awards ceremony. A big congratulations to everyone who was nominated and who won an award. 
Thanks again to Pickle Jar Communications for putting on such a great show. Until next year Content Ed 🙂
Carl Jeffreys, Digital Content Coordinator
@carljeffreys_
*All images courtesy of Pickle Jar Communications