About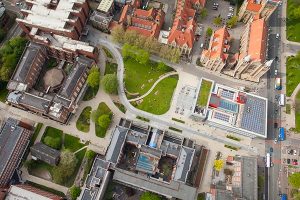 Why is it a good idea to limit the use of emoji's when posting on social media? Should you be concerned about Google's ability to answer your audience's questions before they've even reached your website? How important is face-to-face communication in an increasingly digital world?
Answers to all these questions and more can be found here on The University of Manchester Library's Marketing and Communications Blog. Launched in June 2018, the blog aims to share insights, ideas and expertise from the Library's Strategic Marketing and Communications (SMC) Team.
The University of Manchester Library is one of the best-resourced academic libraries in the country and provides students, researchers and the public with unique collections, spaces and professional expertise. The SMC Team play a crucial role in supporting library users by shaping outstanding services to meet their needs, increasing awareness and uptake of services and improving engagement with communities.
We also manage marketing activity for The John Rylands Library – a thriving visitor attraction in the heart of Manchester housing some of the world's finest collections of rare books and manuscripts.
If you'd like to keep up with the latest thoughts, opinions and news from the SMC team then be sure to bookmark this blog and get involved by sharing your thoughts in the comments sections.