Written by Juliette Flach, 2020 BSc International Disaster Management & Humanitarian Response graduate
It's now been just over one year of lockdown, and so I thought this might be a good opportunity to reflect on some of the highs and lows of the last 365 days. This time has been challenging for everyone for different reasons, with so much uncertainty and change that are out of our hands. Yet with a determined attitude, I have attempted to spend this time at home in 10 constructive ways!
Graduating with First Class Honours – BSc in International Disaster Management and Humanitarian Response
Just before the first lockdown came into place, I made a flash decision to pack up my pots, pans, houseplants and laptop to finish my degree at home. Rather than the late-night dissertation writing sessions sitting in the university library I had expected, I instead faced flashbacks to GCSE and A-Level revision sessions sitting at the kitchen table! My dissertation was thrown up in the air too, with the planned interviews for my research project having to be shifted onto zoom. Despite the change of plan, I popped open a bottle of champagne in my garden wearing a DIY paper graduation cap in June 2020.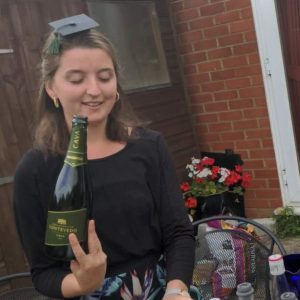 Working as a Home Care Provider
Alongside finishing my dissertation and other essays, I got re-involved looking after children with learning disabilities in my old community. I spent 2 days a week working as a Home Care Provider for two children with learning disabilities, as lockdown meant schools shut for most children. As a result, I spent these days using Makaton signs and leading foot painting, salt dough and train spotting sessions, before returning once more to my laptop for the rest of the week.
Helping the community
To add to my already varied weeks, I also started volunteering for a local Justice and Peace group. I set them up in a virtual capacity and created and now manage their social media accounts. I also organised two online fundraisers which have raised over £2,000 so far for charities leading international COVID-19 response efforts.
Working part-time as Digital Content Manager at Adamah Media
By now you may have gauged that I tend to keep busy! Throughout this time I have also been working part-time for the online magazine 'Adamah Media'. I currently work 8 hours a week as their Digital Content Manager, leading their website and social media and getting my creative juices flowing as I produce designs to illustrate a wide range of topics: from demonstrations in Hong Kong, to Climate Change articles, to the diary of a grandmother in lockdown. Adamah Media have also recently given me a platform to raise awareness of the issue of violent perpetrators after the case of the murder of Sarah Everard, which I spoke about in an article and podcast.
Co-founding the magazine The Current Climate
I love writing and exploring the complexities in the world, so used this time to co-found the online magazine 'The Current Climate'. Through the magazine I analyse the Sustainable Development Goals (SDGs), assessing where we're currently at and where we need to go to achieve these targets. This has provided a great opportunity to continue my learning and practise the skill of explaining complex situations in an easily accessible way. As I am dyslexic I wanted to take the accessibility of the articles a step further, so I taught myself how to record, audio edit and publish recordings of the articles for podcast platforms.
Upskilling through 9 online courses
It is no exaggeration to say I love to learn, and I made the most of how lucky we are to have access to so many free, online courses. I have fully utilised these, to develop my knowledge of Systems Thinking (my area of expertise) and also to extend my knowledge in ways that interest me or that I think would be useful for a future job. Some of the courses included social marketing, sustainability, and writing a SWOT analysis.
Gaining more work experience through carrying out 2 internships with Bright Network
I have also completed 2 online internships. Rather than having to sort out train journeys and temporary accommodation, I was able to plan national expansion schemes from my sitting room!
Applied for 100+ jobs, but no job offers as yet!
Trying to find a full-time job, where I can put my skills to good use, has been hard. Some people get a job after their 1st application, some manage to break into the job market after their 10th application, for others it will take over 100. I personally went on quite a mammoth journey.
I've amassed a wide array of skills and experiences through years of additional training courses, volunteering experiences, and passion projects. As a result, I made a check list of the personal specification points I could confidently tick and searched for jobs accordingly. My desire to pursue my HCRI degree was fuelled by my desire to help create a positive future, and I tried to maintain this in my job search. Most of my applications have been in roles relating to my degree, although I also looked out for those where I could use my transferable skills, like consulting, politics, media, finance and healthcare. Through it all, I've maintained my drive and feel thankful for the resilience and positive self-reflection I have developed along the way.
Update: Just a week since this blog was published, I've been offered 2 full-time job roles, and will be starting a position with the charity Practical Action as the Global Distributors Collective (GDC) Communications and Project Officer in May.
Utilizing spare time by learning to drive
But if I thought applying for jobs was hard… learning to drive was a whole new kettle of fish! As driving lessons weren't deemed essential, it fell on my poor dad to teach me the brake from the clutch peddle as I slowly crawled along at what I thought was 100mph but in reality was probably only 2mph!  Apart from once driving into a bush, I have managed it, and now confidently drive with a driving test booked for later in the year.
And enjoying the time to go on daily walks, endless cups of tea and many zoom calls!
Amongst all of this, I have tried to enjoy my time. My walking boots have had a good use with over 300+ walks in my local area, looping from my house in different circles of field and rivers to vary up the daily exercise. The kettle has also had a fair use with endless cups of tea, and as for the poor wifi… ! The many zoom calls with friends have been a wonderful part of this time. Although we would all prefer to be meeting in person, I feel incredibly lucky to be able to at least share these highs and lows in a virtual capacity with friends all locked up in their respective bubbles.