Daily grind
Feeling stressed or drowning in deadlines? Sick of the same old same old and want to break the cycle? Perhaps you're feeling uninspired and just a bit… meh? Keep reading to find out how nature in Fallowfield has helped me and where you can find it.
Sometimes it can be easy to get caught up in the daily grind of uni life –  you know what I'm talking about!
The student cycle
You know when you just have one of those days or weeks that feels like you're living through Groundhog Day. Dragging yourself out of bed, plodding to the bus stop in the arctic conditions and the continuous Manchester rain that we can never seem to shake. Trying tirelessly to keep up with the lecturer who has loaded the slides with a thousand words in itty bitty font, fighting to keep your eyes open and stay engaged, but eventually just giving up and scrolling aimlessly through Facebook. Then as soon as the lecturer utters their last breath, your laptop is in the bag and you're already on the way back to Fallow. Then straightaway, it's back to that essay. You've been staring at a blank screen now for three days now the word count is stagnant, but this essay isn't going to write itself.
Sometimes we need to take a big deep breath and just stop. Close our laptop, turn off our phone and engage with our surroundings. One thing that is often missed living in a busy city like Manchester is  a quiet spot with some trees and not a terrace house, takeaway or skyscraper in sight. You might not believe it, but you can find this kind of nature in Fallowfield.
Nature in Fallowfield
Students of Manchester I present to you a side of Fallow you never knew existed – The Fallowfield loop. Fallowfield can be dodgy at times but if you grab a few of your house mates on a bright morning with a brew in hand, then it can be really enjoyable. This walk can give you the escape from hectic uni life that we all need from time to time. I can also vouch that it's even a great hangover cure.
The Fallowfield Loop is an old train line that has been converted into an 8-mile-long pedestrian path, starting at Sainsbury's. It connects Fallowfield to Chorlton-cum-hardy, passing through Whalley range, Levenshulme and Gorton. The path forms green trail teeming with nature, as well as connecting many parks and beautiful open spaces.
Along the way there is some amazing graffiti work and murals under some of the bridges.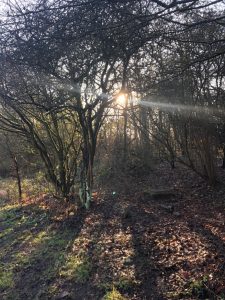 When my friends and I did this walk, we turned off the path and went into Highfields Park. We found a stream and next to it was there was a great little secluded spot for a picnic. You would really think that you were anywhere but Fallowfield here.
So in this busy time of deadline and exams, let's all try and take notice of the nature that is literally on our doorstep and enjoy it properly!
Written by Student Wellbeing Champion, Matilda Jones.