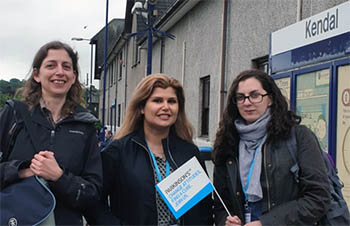 June 2019 – Parkinson's UK PPI event
Ellen, Jade and Mimi were invited to attend the Parkinson's UK Research Roadshow in Kendal on 12th June. Over 75 people with Parkinson's from across the North West and their friends and family attended. In the morning there was a series of talks updating the group on Parkinson's research. Ellen spoke about the BEAM lab's recent and upcoming projects, as well as how people with Parkinson's might like to get involved in research, either through participation or involvement.
In the afternoon, Ellen, Mimi, and Jade each had their own table sessions to talk to small groups of attendees at a time. Ellen asked for feedback on an intervention to use motor imagery to improve dexterity, and Jade discussed her upcoming studies looking at impulsivity in Parkinson's and how we could try to reduce impulse control disorders behaviourally. The attendees were all really enthusiastic and insightful and gave us so much useful feedback. It was a great and thought-provoking day.