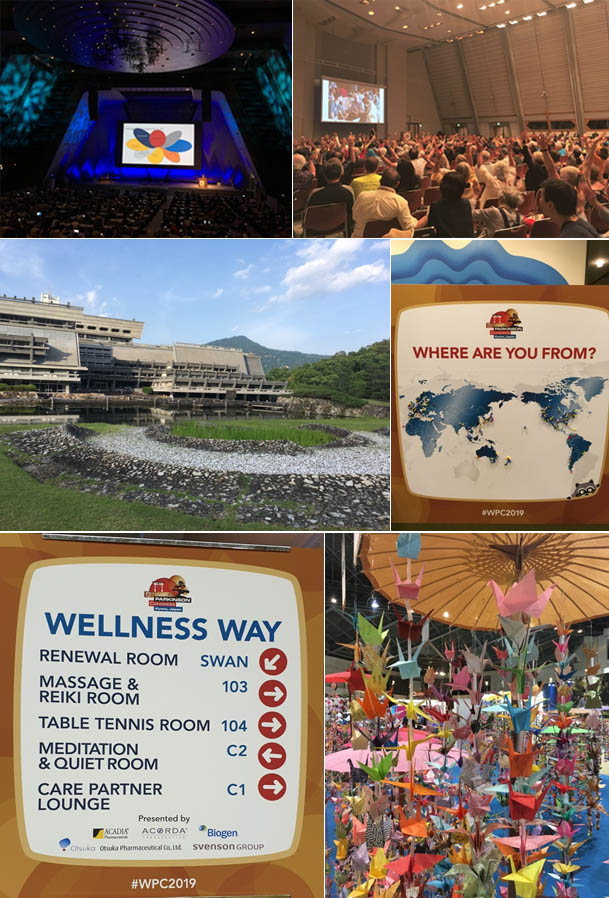 June 2019 – World Parkinson Congress
Ellen and Jude attended the World Parkinson Congress in Kyoto, Japan, from 4th to 7th June 2019. This international conference takes place every 3 years and provides a unique environment where researchers, clinicians, practitioners and people with Parkinson's can learn about the latest advances, make connections, and share experiences and ideas.
We presented the latest findings of our Parkinson's research, which we had the opportunity to discuss with a broad range of people including health professionals, arts practitioners, and people with Parkinson's. There was an interesting programme of talks, and it was encouraging to see an increasing emphasis on non-pharmacological interventions such as exercise, dance and music based therapies, which was also reflected in the poster presentations.
Alongside the scientific programme, there was a full schedule of activities and well-being sessions for people with Parkinson's to try out, ranging from relaxation and massage to dance, table tennis and boxing!
It was good to see some familiar faces from 3 years ago as well as our former student Jordan Webb, who is now working for the Cure Parkinson's Trust and was presenting work from some recent projects.
We look forward to the next Congress in 2022, which will be hosted a little closer to home in Barcelona.
You can see our posters at the links below: