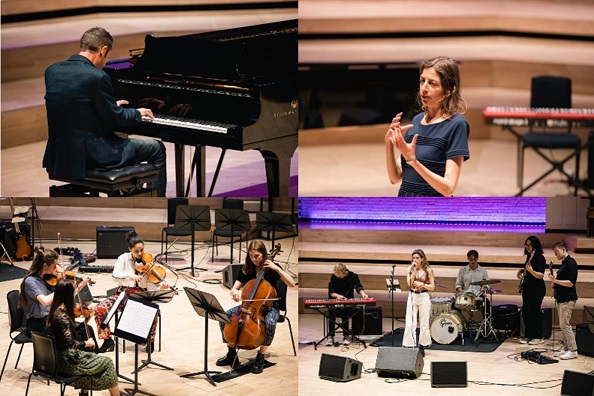 Playlist for Parkinson's Live Concert
The Playlist for Parkinson's LIVE concert was held at the Royal Northern College of Music, based on research about how people with Parkinson's use music by Ellen Poliakoff from BEAM, Michelle Phillips (RNCM), Dr Dawn Rose (Lucerne University of Applied Sciences and Arts in Switzerland), and Dr Will Young (University of Exeter).
The musical results – songs that people with Parkinson's told us about – were performed by a string quartet and pop music ensemble, covering different scenarios from 'music for happiness' to 'music to get me going' including Shotgun (George Ezra) and Mr Blue Sky (ELO). Ellen, Michelle and Dawn described some of the findings in a pre-concert talk and the concert included interviews with people with Parkinson's who are passionate about music. One of the interviewees – David Sangster who is a radio DJ and musician with Parkinson's – also performed one of his own compositions on the grand piano. The concert ended with a sing-a-long version of "With a little help from my friends".
Ellen describes "It was a very emotional and inspiring event, hearing the results of our study, bringing people together and seeing people respond to the music."
The concert was funded by the Arnold Bentley New Initiatives Fund by the board of the Society for Education, Music and Psychology Research (SEMPRE) in London.