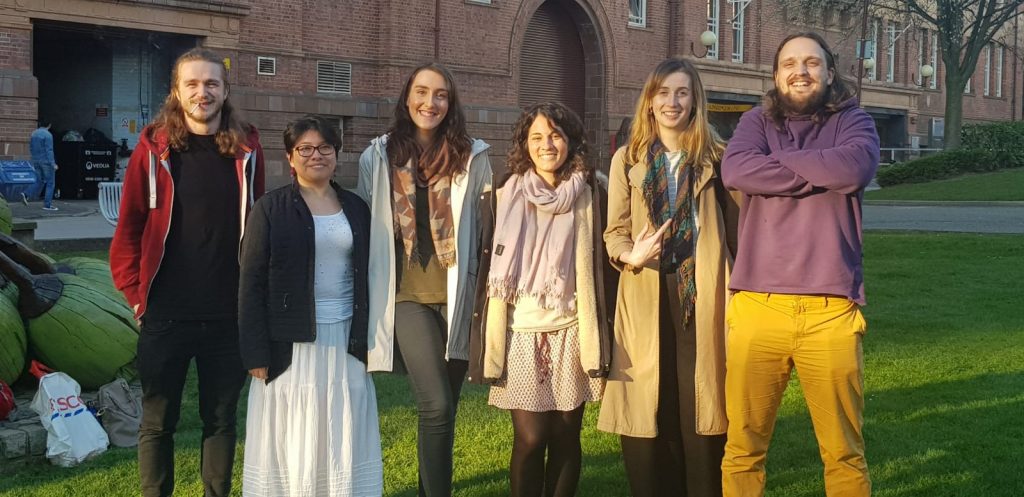 #CreativeInfra: A reflection
Amy Barron, 30.04,2019
The sun was shining bright over the University of Manchester on 28th and 29th March creating the idyll backdrop for The Creative Methods for Researching Urban Infrastructures workshop. Organised by a passionate group of postgraduate researchers from the University of Manchester and Lancaster University, this interdisciplinary workshop provided a space for postgraduate and early career researchers to learn about, play with and research urban infrastructures creatively. The intention was to get participants thinking outside the box, to become enrolled with the processuality of researching and playing, and to work together towards the development of more innovative methods.
Over 30 researchers participated, with diverse academic backgrounds and from academic institutions in the UK, Europe, Australia, and North America. Interests were diverse, including mobility, mapping, photography, sanitation, electricity, walking, libraries, water, energy, video, waste as well as social and cultural infrastructures. On arrival, participants were asked to note down the methods and infrastructures of interest on post-it notes and stick them on the board at the front of the room. Throughout the day, this collage functioned as a sounding board, a way for people to get to know each other, an excuse to chat. These diverse and overlapping interests made for an inspiring and thought-provoking two days.
Talking, Sharing
Day one began with talks by five presenters who were invited to share their experiences of using creative methods and to consider how these might be useful when researching urban infrastructures.  Jen O'Brein from The University of Manchester set the pace by discussing her experiences of using participatory qualitative GIS to reveal assemblages of informality in Kampala, Uganda.  Jen explained how the sight, sound and smell of boda bodas (motorbikes) is ubiquitous to African cities, yet the vital and multiple roles they play in everyday life are overlooked by authorities. To foreground this informality, boda drivers were equipped with go-pros and head-cams to wear whilst driving. The technology was also used to flatten social relations and start conversations. This method revealed an alternative map of the thick social relations that constitute the city, illuminating how bodas often functioned as buffers for chronic poverty and provided pseudo families. The take home point was that the inhabitants create the city just as much as the city creates them. This research was about thinking through possibilities: how else are urban infrastructures used?  For Jen, this method is simple, accessible, transferable and effective. 
Next up was Sue Heath from The Morgan Centre at The University of Manchester. Sue shared her experiences of sketching and discussed the value of this method as a tool for thinking and a way of seeing, explaining how different the experience of sketching was to photography.  Sketching is messy, slow, thoughtful and mindful, it is also embodied and emplaced. Having sketched in a particular environment, one is able to recall the atmospheric conditions experiences: the image and its various associations become engrained in memory to a deeper level than taking a photograph would permit. For Sue, the strength of this method lies in the process of creation rather than the resulting representation.  
Alan Latham from UCL was next and focused on urban sociality, corporal mobility and public space.  His talk explored techniques for conducting enquiries into the various infrastructures that support the functioning of urban public spaces. Rather than focusing on the materiality of urban infrastructures alone, Alan comprehended infrastructures as processes and practices. He foregrounded the complex dialogue amidst 'hard' and 'soft' infrastructures, illuminating the ways in which social infrastructures, hopes, desires and emotions function in the city, often bringing them into being. Alan then examined the implications of this perspective in understanding how public spaces arise, are understood and function.  The presentation focused on cycling in car dominated urban environments and how specific enquiries into public space operates require specific methodological strategies.
Helen Holmes from The Morgan Centre at The University of Manchester was interested in researching 'the blindingly obvious' – the copious 'things' that constitute everyday existence, but which are rarely explicitly noticed. Helen introduced the 'object interviews' as a creative means of ethnographic enquiry to focus on the hidden lives of objects. Object interviews aim to overcome subject-object binaries and place the very substance of materials at the core of enquiry. Applied within the urban environment, object interviews provide a means to focus on aspects of the urban which are so far ignored.  In doing so, Helen argued that we can begin to explore the relationships we have with the material world, examining how material biographies and agencies interact with our own, and the networks, collections and assemblages they form.
Morag Rose from the University of Liverpool discussed how walking can be transformed into an artistic, political and pedagogical tool. Morag's presentation focused on the psycho-geographical explorations of Manchester's waterways. Founding the LRM (Loiters Resistance Movement) in 2006, Morag runs regular free walks to members of the public around such infrastructures in Manchester. In doing so, Morag has traced the routes of lost and forgotten rivers, searched for canal monsters and asked how communities relate to water in a city famous for rain. Morag asks whom or what may lurk beneath the surface of the canals which have criss-crossed Manchester since before the industrial revolution.
Playing, Experimenting
Minds brimming with intrigue and lips spluttering ideas, participants assembled into groups and shared thoughts on possible ways to engage with the methods.   Infrastructures selected and creative methods decided, groups made for the equipment table at the back of the room. With disposable, video, and digital cameras available, along with dictaphones and a range of arts and crafts materials, participants were well equipped for a day of exploring and playing in the Manchester sunshine. After several hours spent walking, talking, loitering, dawdling, drifting and exploring, groups re-convened on day 2 to share their works. Groups were interested in the smart city, thinking about the future and transition pathways in urban mobilities, interstitial spaces in the city, social and cultural infrastructure and how social practise bring places into being as well as water infrastructures, to name a few.
Over two packed and thought-provoking days, participants shared thoughts, made new contacts, experimented with new methods and reimagined infrastructures. This participant-led workshop provided an excellent environment for cultivating new intellectual projects and collaborations.  We look forward to seeing what comes from the participants in the months to come.  If you are interested in hearing more from our guest speakers as well as some participants from the workshop, then please follow this link to the podcast
https://soundcloud.com/user-160912092/creative-methods-for-researching-urban-infrastructures
Our thanks to Methods Northwest, the Manchester Urban Institute, and the Society and Environment Research Group in the University of Manchester's Geography Department for generously supporting this event. 
Workshop organising team: Amy Barron, Cecilia Alda Vidal, Kathleen Stokes, Lourdes Alonso Serna, Torik Holmes