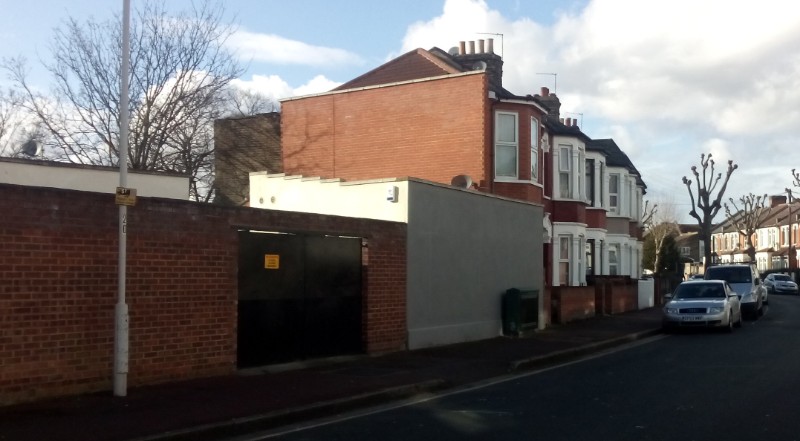 Shed housing in the UK – looking beyond stereotypes
Melanie Lombard, Department of Urban Studies and Planning, University of Sheffield
Over the last decade, the phenomenon of 'beds in sheds' has regularly caused consternation among media and policy observers. The issue of shed housing has appeared on local and government agendas, and periodically resurfaces in the mainstream press, suggesting that is an enduring phenomenon. Yet despite the media and policy attention, little is known about shed housing, including who lives in it, who builds it, and why it has apparently increased in recent years. Moreover, media and policy portrayals have tended to frame it in terms of illegal immigration and rogue landlordism, focusing on the individuals involved while ignoring important contextual and structural factors.
What is shed housing?
The term applies to converted or purpose-built outbuildings which are being used illegally for residential accommodation, including garages, sheds and other structures. They are usually constructed without planning permission or Building Regulations consent, and contravene regulations prohibiting the residential use of outbuildings. It has been estimated that as many as 10,000 shed dwellings exist across Britain. Due to the illegal nature of this accommodation, living conditions are often substandard, with dwellings lacking running water and sanitation, cooking facilities and sometimes electricity, and suffering from damp, infestation and fire risk.
How is shed housing framed in media and policy accounts?
There is little doubt that such living conditions are problematic. However, media and policy accounts often focus on specific characteristics of the individuals who apparently live in and produce this type of housing. Tenants have been characterised as 'illegal immigrants' and 'failed asylum seekers'. Policy announcements have been accompanied by high-profile raids involving the police, UK Borders Agency officials and immigration and housing ministers, timed to coincide with policy announcements on immigration. At the same time, shed housing has been described in terms of 'suburban shanty towns', and 'third-world' housing, built by 'rogue landlords'. Such accounts resonate with long-debated ideas about informal housing in developing countries. But they also imply that shed housing is a 'product of culture', transposed to UK cities through the housing traditions of migrant communities. In this way, they risk feeding anti-immigration agendas and stereotypes.
Shed housing in the UK – looking beyond stereotypes
My recent article in the International Journal of Urban and Regional Research explores these issues, based on research undertaken with seedcorn funding from cities@manchester, focusing on how such accounts may obscure how and why this type of housing is produced. It suggests that we can learn from long-established debates on informal housing in the global South which have shown how while individual agency plays a key role in the production of such housing, the role of the state and related structures should not be ignored. Such debates have highlighted how the labelling of certain forms of housing and activities as 'informal' may lead to its criminalisation, most usually relating to activities undertaken by the poor. In other words, discourses around informality may be mobilised in the service of specifically context-driven ideological agendas.
In the UK, shed housing in the UK is produced by a confluence of structural factors characteristic of many cities in the global north, such as increasingly pressurised housing markets, neoliberal economic policies and regulatory reforms. In such contexts, shed housing offers a form of low-cost shelter for tenants and rental income for landlords. Shed tenants are generally understood to work in low-income and precarious employment with a high degree of job insecurity. Nevertheless, this employment may offer the prospect of economic and social mobility, bolstered by cost savings from low rent.
The broader housing context
Such activities cannot therefore be understood without an appreciation of the wider housing context, and specifically the changing private rental sector (PRS). Rising housing prices, declining access to mortgage finance, flatlining levels of social housing construction, and historically low levels of private housebuilding have all contributed to the current housing shortage in the UK. This has placed pressure on the private rented sector, which has increased from 10% of total UK housing in 2002 to 19% in 2015. Within this, a significant sub-market of low-income tenants lives in precarious and poor quality rental housing. Respondents in my research suggested that shed housing was a symptom of this broader context of a national shortage of affordable housing.
Welfare and immigration reforms
Welfare and immigration systems have also increased pressure on the private rental market and specifically shed housing. Benefit reforms since 2010 have aimed not only to make the overall welfare system more efficient and cheaper, but also to secure immigration-related objectives. For example, from April 2014, the withdrawal of Housing Benefit from new EEA jobseekers claiming Jobseeker's Allowance (JSA) affected European migrants looking for work, potentially forcing them into the lower end of the private rented sector due to a lack of other affordable accommodation.
The private rental sector has also been directly affected by immigration reform. The 'Right to Rent' scheme, implemented in 2016, has required all private landlords (of which there are 1.8 million in England) are required to carry out immigration checks on prospective tenants[1]. Penalties for landlords renting to tenants without correct immigration status include an unlimited fine or up to five years in prison. In this way, responsibility for immigration enforcement has been transferred onto private landlords. The additional obstacle these checks introduce may have forced some tenants lower down the rental market into housing where landlords are less likely to carry out checks, such as shed housing.
Conclusion
In the case of shed housing in the UK, the continued pinpointing of 'illegal immigrant tenants' and 'rogue landlords' in media and government accounts perpetuates the idea that urban informality is a 'product of culture' rather than of structural inequalities. In fact, shed housing is a product of multiple factors including the shortage of affordable housing but also welfare and immigration reforms. However, persistent media and government portrayals of shed housing as an individualised issue suggests its mobilisation in the service of wider ideological agendas relating to austerity and immigration.
[1] In a landmark court case on 1 March 2019, a High Court judge declared Right to Rent unlawful on the basis that it causes racial discrimination, suggesting that it may soon be scrapped.