Our blogs are written by students for students. If you need further support please visit the student support website
Traveling for wellbeing: Connecting to nature as a necessary antidote to your stress
In the year 2020, at the age of 20, the global COVID-19 broke out. The uni was closed from March, until the summer vacation, I stayed at home, feeling increasingly depressed, irritable, and hopeless. At that time, I was reading a book called The Art of Travel; "regular travel through nature as a necessary antidote to the evils of the city" says Author Alain de Botton. The number of new cases in the UK had dropped to around 500 per day, and Scotland was now the most stable place for the epidemic. So, on August 28, 2020, I spent the whole day and night doing research, booking an Airbnb, buying a train ticket, and then set out early the next morning alone.
It was that trip that helped me successfully get rid of the depressed mood, greatly relieved my pressure, and made me feel relaxed and hopeful both physically and mentally. Therefore, I want to share my story with you, hoping that more people can fall in love with traveling and relax through it.
For my first stop, I chose a Scottish town called Ayr, which took me seven hours to get there from Manchester. It is a seaside town on the west coast of Scotland. I stayed there for six nights at 8 New-bridge Street, the top floor of a small three-floor building. On the evening of my arrival, I checked in and fell into a deep sleep, and then I slept until the next morning and couldn't wait to leave for the beach.
And you know what? The moment I saw the sea, I forgot all my worries. With the coming sea breeze, the high-pitched sound of seagulls, and the laughter of children in the seaside playground, all my worries sank quietly into the sea as the waves receded.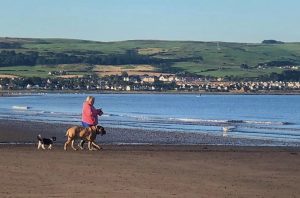 (Photo took by me: Lady walking her dog on Ayr Beach)
For the next few days, I woke up naturally and headed for the beach. Sitting aimlessly on the beach or lawn, taking photos, reading books and basking in the sun, watching children building castles, watching dogs running around, watching photographers recreating sunsets, watching elderly couples walking hand in hand in the sunset.
With the clouds floating in the sky in my eyes and the tide of the sea in my ears, I felt a sense of calmness and openness in my heart. From then on, I fell in love with traveling. After leaving Ayr, I've also went to Musselburgh, Dunbar, North Berwick, and Aberdour, and my mood got better and better, and I fell in love with the idea of traveling at a slower pace, without the aim of hitting the famous tourist spots.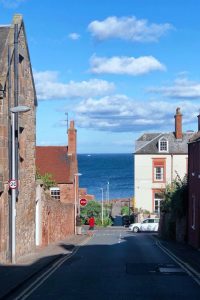 (Photo took by me in Dunbar, Scotland)
Alain de Botton, the author of The Art of Travel, once said that "we might learn to be healthier, happier, or wiser if we could give up our plan to walk 100 miles an hour and take our time when we travel. The world is too big for our eyes to handle, and if you go fast, you won't see much more. What is truly precious is thought and sight, not speed. To go slower, for our glory was not in walking at all, but in experiencing."
During this trip, I also met many people who gave me help and warmth. For example, the lady who carried my suitcase up the footbridge with me, the Chinese restaurant owner who charged my mobile phone in Musselburgh, and the lady who asked me "Are you lost?" when she saw me looking at the map on the side of the road. And Marian, the lady I met in Dunbar who was as caring as my mother…And many, many more. I probably heard "Do you need help?" and "Are you lost?" hundreds of times during my trip, and even though I only met them once and didn't leave any contact information, these gentle gestures will remain in my heart forever.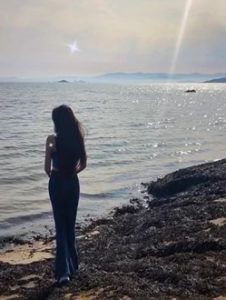 (Photo took by myself on a tripod:  Me standing on the beach at Aberdour)
Go traveling! Whether it's a short trip or a long one, whether it's to the beach or the mountains, whether it's alone or with friends and family! Relax and enjoy every moment of your trip with your heart. The pleasure we get from traveling depends more on the state of mind we are in when we travel, rather than the destination itself. Starting with expectations and aspirations, moving forward with humility, approaching a new place with awe and sensibility, experiencing different lives and diverse cultures, gaining insight into human thoughts, and listening to the gifts of nature! These are probably the greatest values of traveling.
Written by Wellbeing Champion, Chloe Kang
We know these are small steps and there is a lot of support available. This help might not help you, not be enough on its own and is not an alternative to seeking support. If you need further support please visit the student support website