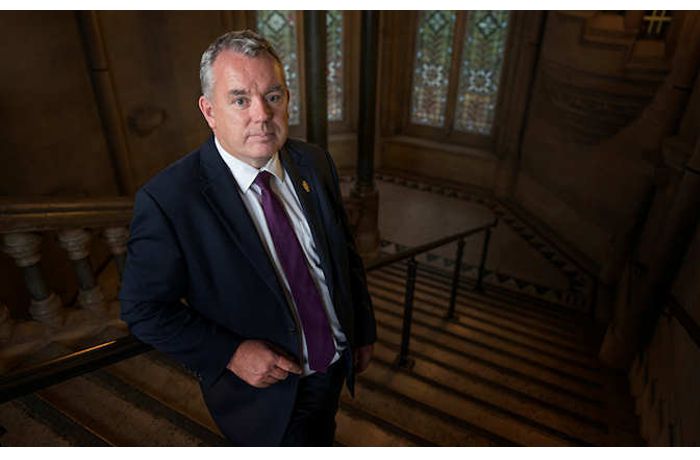 Patrick Hackett: An update on the Student Experience Programme
Dear colleagues,
Now that the new academic year is well underway, there's a real buzz around campus. We all want our students to have as positive an experience as possible throughout the whole time they spend with us, as well as creating better processes and ways of doing things for our staff, saving us time and effort. 
It's a year since I joined the University so I've had the opportunity to look at the recruitment and admissions cycle from beginning to end. I've seen the amazing work which takes place, so thank you all for your commitment and dedication.  Whilst the numbers are still being finalised it looks like we have met most of our student recruitment targets – a fantastic achievement which we can all be proud of.
As well as seeing the things which work well, I've listened to the views of colleagues about the things that don't work as well as we would like them to. I think that sometimes we make things more difficult for ourselves because we have many different ways of doing the same thing and we definitely need to invest more in our IT systems.  Are there simpler and better ways of doing some things?  Yes.  Do we have to stop doing some things that aren't working or adding value?  Yes. 
I've also talked to our students and heard about their expectations. Many of them have grown up in a world of instant digital access to products and services, so they expect the same kind of experience at our University as they would, say, from their online bank.
The Student Experience Programme (SEP)
What are we doing about all of these issues? I'm sure you'll have heard of the Student Lifecycle Project (SLP) which will introduce the much improved digital technology and simplify ways of doing things across a range of student-focused activities.  The aims are to improve the experience of students and make things easier for staff.  Introducing new IT systems alone is not the full solution though.  We need to have the right people in the right places with the skills, expertise and learning and development opportunities to make the most of our new IT and processes.
This is why we have brought SLP and some other ongoing student experience projects (including the New Leadership Model) together into the Student Experience Programme (SEP).  I'm chairing a new SEP Board which is made up of academic and PS colleagues and includes student membership.   Dr Simon Merrywest, Director for the Student Experience, is Student Experience Programme Director and our new Vice-President for Teaching, Learning and Students, Professor April McMahon, is the sponsor, ensuring that SEP delivers our academic vision and strategy.
Prioritising SEP
One of the things I hear a lot when I listen to staff is that we have too many priorities which can make it difficult to know which to prioritise first. I'd like to be clear that alongside preparation for the Research Excellence Framework (REF) and the Teaching Excellence Framework (TEF), SEP is the key priority for Professional Services (PS), working together with academic colleagues, for the next two years.
I've therefore asked a number of PS colleagues to dedicate at least 40% of their time to scope, define and deliver the changes we need as part of SEP. Many PS members of staff have also been seconded from their current roles to work on SEP and I acknowledge that this has caused some problems for colleagues in those areas where staff have been seconded from.  I'm afraid this isn't about to get any easier – if anything more people are going to be required to work on SEP to ensure that we meet our deadline of summer 2021.  To help mitigate this we are taking a number of steps.
The SEP team is looking at how best to backfill those people seconded on a full-time basis.  It won't be possible to backfill everyone so we will all have to think carefully about what current activity we need to stop doing and the pace at which existing projects can be progressed.  We'll also need to be realistic when it comes to proposing new projects as part of the usual planning process. If you think there is something which you're currently working on which could be stopped, delayed or simplified, please do get in touch with your PS Director or the relevant member of your Faculty or School Leadership Team with your ideas. 
Savings and investments
Universities are facing unprecedented levels of uncertainty, and, here at Manchester, as at other institutions, we'll have to work harder in the future to generate sufficient funds to invest further in our core goals of research; teaching, learning and students and social responsibility. Across the PS we'll do that by protecting our existing income and exploring new ways of generating additional income, as well as controlling our costs.  The PS has a cost base of £300m per annum and I have already agreed a savings target of £15m to be delivered by the end of 2021/22.  Whilst we are on track to achieve this, the external environment is sufficiently volatile that we may need to save even more in the future. 
We are investing more than £30m in SEP which is needed to deliver the technology and processes required for us to provide a transformative teaching, learning and student experience long into the future. SEP will play a key role in controlling costs over the long term with at least £3.5m per annum of cost reductions being delivered once the programme is complete.  We're already seeing some savings with more than £800k per annum being saved through the restructure of some grade 8 and 9 PS leadership posts across the Faculties and Directorate of Student Experience through the New Leadership Model. 
What happens next?
SEP will look carefully at where more resource (people and money) and new skills will be needed, and inevitably where less resource will be required.   As the programme progresses, we will transform a range of student-focused activities in a phased way. This will start with student recruitment and marketing and applications and admissions early in 2020. Further areas and activities which will follow later can be found on StaffNet. We are now working on more detailed plans which will show what this means for individual roles and I wanted to be upfront with you about this.
I know that some of you have already been part of recent restructures and the last thing you want to hear about is yet more change. I acknowledge that for some this may be an unsettling time, which is why my senior leadership colleagues and I are committed to communicating as clearly and honestly with you, and in a timely manner, about what these changes will involve over the coming months.
As a first step I'd like to invite you to the next round of PSLT open meetings which take place on 12 and 15 November where my senior team and I will be available to answer your questions about SEP and any other topics you'd like to raise.  As ever, if you'd like to contact me directly please email me at patrick.hackett-REGISTRAR@manchester.ac.uk
Patrick Hackett: Registrar, Secretary and Chief Operating Officer