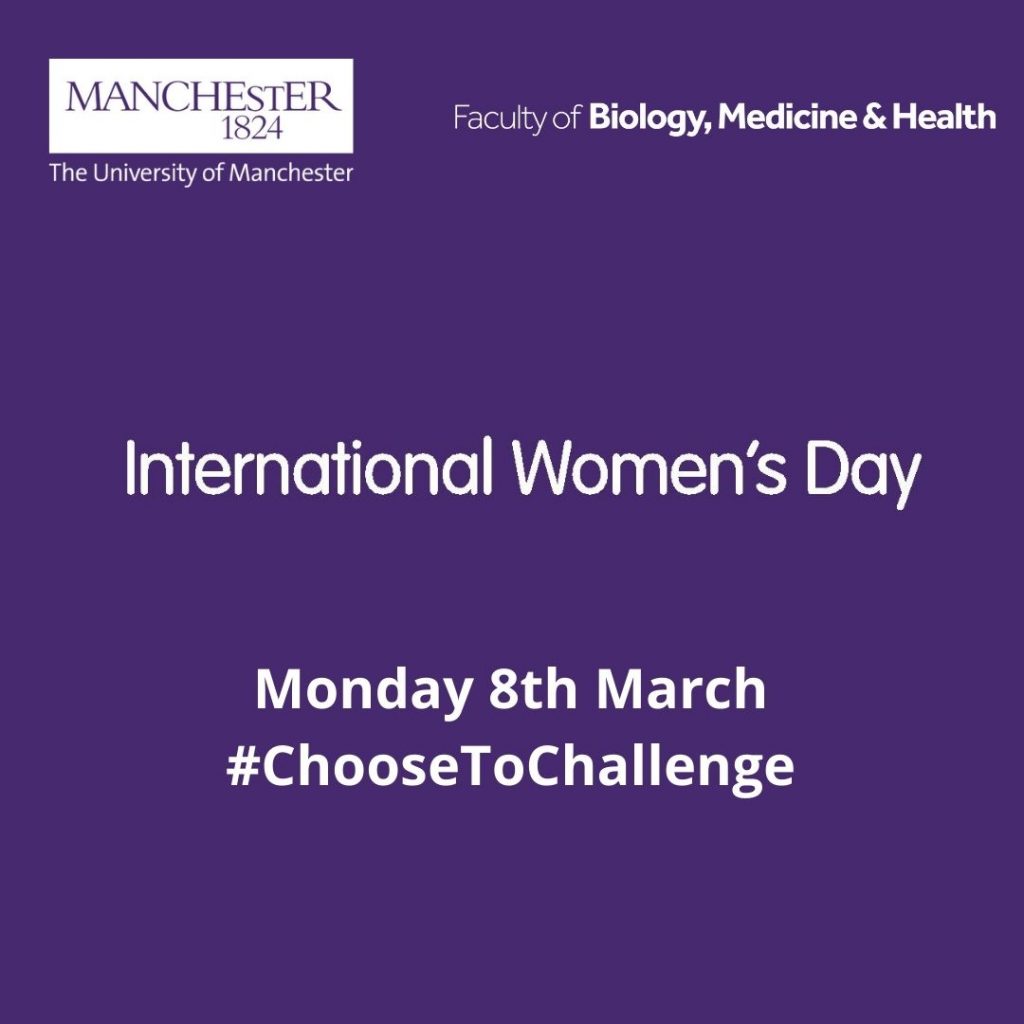 FBMH celebrates International Women's Day
On Monday 8 March the Faculty of Biology, Medicine and Health celebrated International Women's Day (IWD), a global day recognising the social, economic, cultural and political achievements of women, through a series of events and campaigns.
"It's all in your head": The experience of disabled women in higher education
The Faculty hosted the fourth annual IWD event where guest speaker Dr Nicole Brown discussed her research on the experience of disabled, chronically ill and/or neuro-divergent members of higher education staff.
Nicole was joined by Dr Natalie Gardiner, Director of Social Responsibility (SMS) and Vikki Goddard, Head of Faculty Operations and University PS champion for Equality, Diversity and Inclusion for a discussion and Q&A session.
Speakers highlighted the importance of how 'collectively we can all create an inclusive world by choosing to challenge on this day and every day that follows' by 'stepping up and calling out bias and inequality.'
Nicole's talk was inspiring and resonated deeply with the audience. One main take away was how communication is key as we can all 'learn more, listen more and ask more' to improve the day to day experience for everyone.
Watch the event recording here
School of Health Sciences event
The SHS event featured four fantastic speakers, all at different stages of their careers who discussed their experiences and accomplishments in relation to this year's IWD theme, 'Choose to Challenge'.
Speakers included:
Dr Heather Williams MBE, Consultant Medical Physicist for Nuclear Medicine, The Christie Hospital, Honorary lecturer in SHS and Director of Science Grrl
Two inspiring undergraduate students
Holly Smith, third year Psychology student, and winner of a 2020 Making a Difference Award for 'Want Not Waste', the student run zero waste shop on campus.
Ejiro Melkam, former Biochemist, newly-qualified community midwife, and mentor for young black women who wish to work in music, midwifery or healthcare.
Prof Ijeoma Uchegbu, Pro-Vice Provost – Africa and The Middle East, Chair in Pharmaceutical Nanoscience, UCL School of Pharmacy, gave an uplifting account of her career, as well as the importance of tackling racial inequalities in Universities for both staff and students.
Reading Recommendations
The Division of Population Health, Health Services Research and Primary Care put together a suggested reading list from staff and students of their favourite books by female authors. The compiled list is posted on the Research Hive blog 
Centre for Primary Care Seminar:
The Centre for Primary Care hosted a special online seminar to celebrate IWD and the contribution women make to Centre and Division more widely. Attendees learnt about the issues facing women in academia and the University's commitment to gender equality.
There was also an open and honest discussion about social equality and the small steps we can all take to learn more about this and be more considerate and inclusive of everyone, regardless of their identity of background. The Division Social Responsibility forum will be following up with actions to take this forward.
Speakers:
Professor Arpana Verma – Head of the Division of Population Health, Primary Care and Health Services Research
Dr Sudeh Cheraghi-Sohi – Research Fellow and Deputy SHS Athena SWAN Lead
Dr Jonathan Hammond – Research Fellow and Division Athena SWAN Lead
Melissa Surgey – PhD Student and Division PGR Social Responsibility Rep
This year's IWD theme #ChooseToChallenge focused on how collectively, we can all help create an inclusive world by choosing:
to challenge and call out gender bias and inequity
to seek out and celebrate women's achievements
Staff and students were asked to show their solidarity in #ChooseToChallenge by taking a photo raising their hand high to pledge support and tagging in @FBMH_SR.
For more information and resources about PPIE including events, training and funding opportunities visit the Faculty's PPIE Toolkit, sign up to the monthly PPIE digest, visit the SRPE website and PPIE blog, follow @FBMH_SR or email srbmh@manchester.ac.uk.