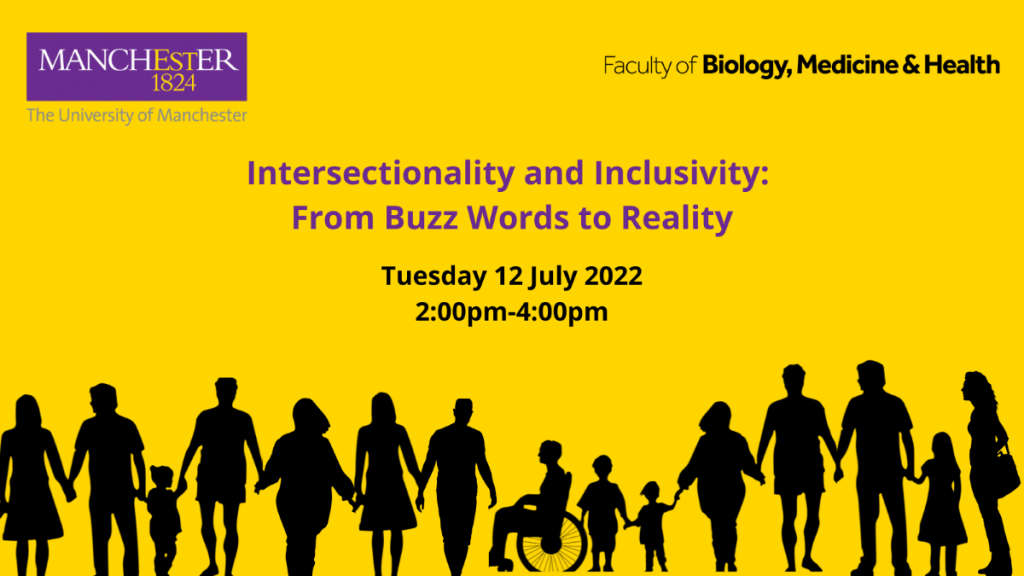 PPIE Celebration Event 2022
The Faculty's third online Patient and Public Involvement and Engagement (PPIE) Celebration event took place on 12 July.
Hosted by Co-Chairs of the Faculty's PPIE Forum, Professor Stephanie Snow, Academic Lead for Community Engagement and Involvement and Kay Gallacher, Public Contributor, the event welcomed 60 attendees including staff, students and Public Contributors.
This year's theme 'From Buzz Words to Reality' explored the themes of intersectionality and inclusivity, and how together we can create an inclusive environment for all.
We were joined by two keynote speakers (one internal, one external) who introduced our topic and discussed the importance of inclusivity for their organisation
Professor Rachel Cowen, University Academic Lead for Equality, Diversity and Inclusion (Gender and Sexual Orientation Equality) (Pronouns: She/Her)
Andrew Gilliver, Pride in Practice Coordinator – Community Involvement at LGBT Foundation (Pronouns: He/Him)
We were then joined by additional speakers for a panel discussion:
Jessica Baxter, Undergraduate student, The University of Manchester (Pronouns: They/She)
Dr Hamied Haroon, Research Associate in Biomedical Magnetic Resonance Imaging (Pronouns: He/Him/His)
Angela Ruddock, Public Contributor (Pronouns: She/Her)
Attendees also explored the behaviours and actions individuals and the University can take to create an inclusive environment. The discussion points from each group will be collated and translated into a resource to aid the wider PPIE community.
The event also featured the Faculty's 'Outstanding Contribution to PPIE' awards which recognise the inspirational and outstanding commitment to PPIE that has made a positive difference to our community. See below the winners and highly commended award recipients.
PPIE Awards
Newcomer category
Highly Commended – HEARD – the Healing, Empowered and Recovering from Dysarthria group
A group of public contributors who have supported the research team to better understand the impact of dysarthria on everyday life – Dysarthria is a condition where a person's speech is less clear, slurred or sounds different which can be distressing and affect confidence.
Winner – Chloe Quigley
Chloe is a student who worked with stroke survivors and members of the public to develop and implement a PPIE strategy for Stroke IMPaCT.
Group category
Highly Commended – Find Logo and Give Medication advice group
A group who co-designed solutions with community pharmacists and patients to support safer medication taking for patients with vision impairments in community pharmacy
Highly Commended – Hidden LIVE: Adam's Story
A group of Young People from diverse backgrounds who co-produced an immersive live performance focussing on a young person struggling with their mental health
Winner – Peaches Womb Cancer Trust
A new charity, co-founded by students and staff, dedicated to improving the lives of those affected by womb cancer. They support patients, raise awareness and promote research
Individual category
Staff winner – Celia Hulme
Celia is a Deaf British Sign Language user who established a group of Deaf citizens to consult on a range of projects. They developed training and support materials in BSL online and delivered training courses.
Student highly commended – Helen White
Helen came up with the idea of establishing a group dedicated to improving the lives of those affected by womb cancer by supporting patients, raising awareness and promoting research.
Student winner – George Obolo
George co-founded the Black Excellence Network, which challenges the racial disparities within UK higher education and competitive courses seen between Black students and other ethnicities.
Public Contributor highly commended – Lindsey Brown
Lindsey has worked with staff and patient representatives to develop a suite of resources to help postgraduate students develop their lay language skills.
Public Contributor winner – Manoj Mistry
Manoj has been a Public Contributor for many years, providing a unique insight and service user expertise to both the Faculty's research and teaching activities.
Inclusivity category
Joint winner – ACES-LGBTQIA+ 
ACES-LGBTQIA+ is a group who seeks to determine the acceptability of self-screening options including urine testing as an alternative to cervical screening within the LGBTQIA+ community.
Joint winner – Community experiences in Greater Manchester during Covid-19 and attitudes towards vaccinations advisory group
This advisory group was set up to better understand the experiences of marginalised groups that have been adversely effected by the covid-19 pandemic in Greater Manchester.
To find out more about PPIE: watch our short film, sign up to the monthly Public Engagement Digest, visit the PPIE blog, follow @FBMH_SR, visit our PPIE Toolkit or contact srbmh@manchester.ac.uk.