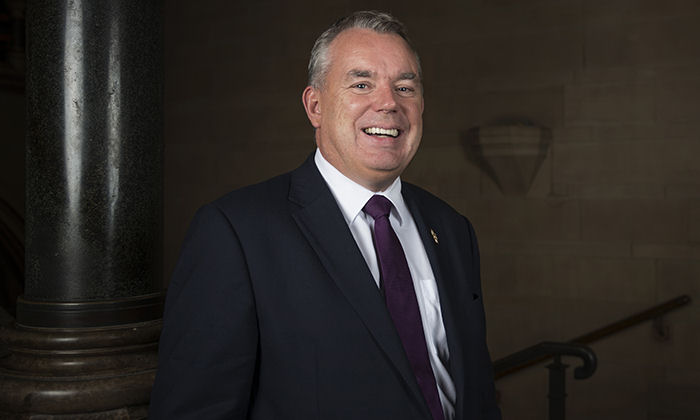 Patrick Hackett: Using your big ideas and developing our future approach
Dear colleagues
In my last message I promised to share my New Year Resolution with you. Rather boringly, I resolved to do more exercise. Let's just say it hasn't been a total success.
You'll also remember that the Professional Services Leadership Team (PSLT) pledged to go 'back to the floor', getting out and meeting colleagues. Whilst the 'day job' is demanding of my time, I've been able to visit seven Professional Services areas and seven Schools since the start of the New Year, alongside attending various other events. Everywhere I've visited I've been struck by how genuinely welcoming you've been and how much you value the opportunity to talk and share ideas. One of my upcoming visits will be to HR Services where I'm spending half a day in April. If you'd like me to spend time with your team, please let me know.
Through these visits I've learnt a great deal, an example being the enormous amount of planning going on in the Faculty of Science and Engineering as it moves towards a two School model and prepares for the arrival of MECD, which is rapidly taking shape. To help prepare colleagues for these changes a pilot workspace has been set up (outside the Pariser Building) where staff can spend some time and give their feedback. I heard that it's generating some debate about the merits (and otherwise) of open plan and cellular working.
I visited Jodrell Bank for the first time and was mesmerised. The development of the £12m First Light Pavilion will only add to this 'must visit' centre. I've also been to see some of our student accommodation and it's clear that whilst our new facilities at Owens Park are going to be great, we must continue to invest in our facilities to make sure that we're offering our students a quality experience.
I've heard about the life saving work at the Manchester Cancer Research Centre and our plans with The Christie and CRUK for the redevelopment of the Paterson Building.
I've heard some recurring themes which we need to address. One is that colleagues often feel frustrated because it's not easy to share best practice across our University. This is something we're looking to address in our new PS strategy – more on that later.
You might be wondering what's happened to all of the Our Future 'big ideas' you contributed to last year – you can see a full inventory of all of the ideas on StaffNet. Those ideas which can be implemented fairly quickly have been shared with leaders across our University who have been asked to begin to make these happen. The ideas for our longer term future are being considered by SLT and PSLT and grouped into themes which will form the basis for our University's new strategic plan. I hope to be able to share these themes with you next month and there will be opportunities for you to engage further in the coming weeks.
In the meantime, we're progressing on two key initiatives in response to your ideas – the first relates to 'our values' as a University. We do currently have a set of values but you told us they are not well embedded. So we're going to be involving you over the coming weeks to develop a shared set of values and share your ideas for bringing these to life which I believe will play a critical role in shaping how we do things around here.
The second relates to the way we manage change. I accept that there is more we can do to mitigate the impact of change and we're using your advice to inform how we design and implement change projects in the future. We're currently recruiting a Transformation Director who will lead with Programme Management Office under Matt Atkin's leadership in the Planning Office. There are, of course, many change projects already underway, most notably the Student Lifecycle and New Leadership Model, and Simon Merrywest, Director for the Student Experience, will be saying more about these at the next PSLT open meetings in March. I fully appreciate that change creates uncertainty and am grateful to colleagues for their professionalism and patience.
PSLT colleagues are also using your feedback to plan for the future of the PS. We've set aside serious amounts of time during February and March to begin creating a blueprint for our future approach which we're nominally calling onePS. We're still in the early stages but our approach is distinctly different to anything we've done before, because instead of developing individual plans for each part of the PS, we're creating broader themes like people, digital, improving processes and developing our estate. This should enable PS colleagues to work together more effectively and PS and academic colleagues to work in partnership more closely. I want to make sure that all colleagues have the chance to engage in and contribute to onePS so as a starting point I'll pose this question: We're placing our people at the heart of onePS, so what single initiative relating to our staff would make the biggest difference? Let me know via email or at the March open meetings.
And if you're looking for another opportunity to get your voice heard, don't forget that the Staff Survey is now open and I'd urge you to take part, I've already filled mine in.
There's still uncertainty around the three issues which have the biggest potential to impact on our University – Brexit, the Augar review and pensions. Leaders across our University are continuing to plan for various scenarios. On the upside, we continue to be one of the most popular universities in the UK for student applications, with a 10% increase in home undergraduate applications and an 18% increase in international undergraduate applications. This is in contrast to a declining national picture and our direct competitor group who are experiencing broadly flat application numbers compared to last cycle.
Finally, I'm pleased to say that I'm no longer the 'new boy' as we've just welcomed Chris Pressler, our new University Librarian and Director of the John Rylands Library, and Wayne Keating, Interim Director of Faculty Operations in the Faculty of Humanities to the PSLT team. Chris is already making a positive impression on his colleagues with his enthusiasm and ambition for our great libraries and for me, I've found another obsessive Irish rugby fan. I know he's particularly enjoying exploring the remarkable John Rylands Library and is already talking to colleagues about ways to make the most of this amazing place and its treasures. And, of course, we also welcome Wayne Keating as interim Director of Faculty Operations in the Faculty of Humanities. Wayne is currently Head of Teaching, Learning & Student Experience in the Faculty of Science and Engineering.
As ever, if there's anything you'd like to get in touch with me about please do drop me a line at patrick.hackett-REGISTRAR@manchester.ac.uk
Best wishes
Patrick