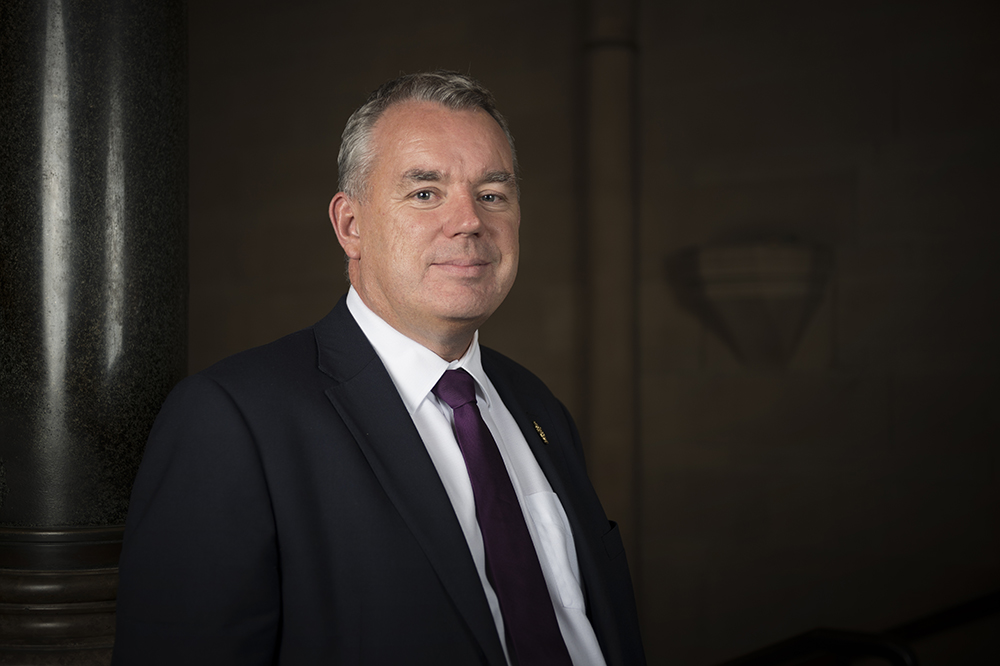 Patrick Hackett: Our University approach to change and looking forward
Dear colleague
The first four months in my new role have been hectic with so much to take in and learn, not least finding my way around campus!  It's been a real privilege to meet so many wonderful people and I've been inspired by the enthusiasm, commitment and expertise of colleagues from all parts of our University.  
While I've spent quite a lot of time in meetings, I've also made sure to visit colleagues and teams in the places where they work and I've many more of these visits lined up next year.   I've also held three open staff meetings, jointly hosted with the Professional Services Leadership Team (PSLT), where plenty of thoughtful and thought provoking questions were asked.  One of these was how the PS can better articulate the vast array of things it does and how it contributes to the success of our University.  I acknowledged that this can be challenging but it's certainly something we will be exploring further, along with how we can build stronger and more productive working relationships between PS and academic colleagues.
At these meetings I explained that I don't have all of the answers to colleagues' questions, but I believe that leadership is a team sport and I am confident that alongside PSLT, we have begun an open, honest and ongoing conversation with colleagues about their concerns as well as future opportunities.  Following a suggestion at one of these sessions, I've made a commitment that all members of PSLT will be going 'back to the floor' throughout 2019, spending time with colleagues to get a better understanding of the great work they do, as well as the issues and challenges they face.  I was also pleased to hear that people welcomed the change of name from Professional Support Services to Professional Services (PS).  If you weren't able to come along to these open meetings you can view them and read transcripts of the questions and answers on StaffNet.  Dates for 2019 sessions will be released after the Christmas break.
A recurring theme I've heard is the way our University approaches change and major transformational projects. We are looking at ways in which we can give colleagues more opportunities to contribute to and be supported through major change.  In the meantime, you'll have seen in my 28 November message that a new leadership structure for the Directorate for the Student Experience (DSE) and specific areas of the Faculties and Schools is being proposed.  This change is being proposed to help ensure that we have the right leadership model in place to provide an outstanding student experience whilst also delivering value for money. We are undertaking this major change through open and honest discussions with staff directly and indirectly affected. 
Thank you to everyone who took part in the Our Future conversation, it's brilliant that more than 4,000 people got involved and more than 700 Big Ideas have been submitted.  Our University's Senior Leadership Team is now considering your feedback and there will be more opportunities to get involved next year.  I hosted my first PSLT away day where we began to look at developing our new PS strategy which will support our University's emerging vision and the strategic plan required to deliver this.
Whilst we are looking to the future in an optimistic way through the Our Future conversations, far be it from me to paint a rosy picture about the state of higher education at the moment.  There are certainly plenty of things (some of which are out of our control) which concern me and the first three months of 2019 have the potential to bring real challenge and change to universities like ours.  The combination of uncertainties around Brexit and the Augar Review of post 18 education and funding are the obvious ones.  Again I don't have all the answers – I wish I did – but we will all need to be prepared to be resilient in the coming months.
So while there are obvious and potentially significant challenges to come in 2019, I'm sure that like me you're looking forward to a break over Christmas.  Our University pretty much closes down over this period, but special thanks must go to colleagues from across the University, including Estates and Facilities, Residences and catering, who continue to work over the Christmas period carrying out essential jobs and maintaining specialist facilities.  These include colleagues providing support to our students staying in halls, porters and domestic staff, security, maintenance services, some FoodonCampus outlets, our Chancellors Hotel and specialist facilities across campus.  We often take the work of these colleagues for granted but should remember that without them many of the basics of keeping our students and University safe, warm and fed would not be met. Ironically, this can be a particularly lonely time of year for some students on campus.  I was particularly touched by a recent meeting with our Security team who really do deal with life or death situations and are totally committed to keeping our campus safe for staff and students. 
So for those of us able to enjoy a rest over Christmas, why not adopt the approach suggested by a colleague at one of the open meetings and put in place a self-imposed 'no email' policy over the break?  That way hopefully we won't come back to a big pile of emails to deal with on 2 January.  There's certainly no expectation from me that colleagues should be checking or responding to emails over the Christmas break.
All that it remains for me to do is wish you a restful break, however you're spending it. I'll be at home with my family, hopefully having a quiet and peaceful break. My boys are eagerly anticipating their Christmas presents – I do hope they won't be disappointed. My daughter Katie has already successfully negotiated her present.  I'll leave you with a question to mull over – what will your New Year's Resolution for 2019 be?  I'll be sharing mine with you in January and look forward to hearing yours too.