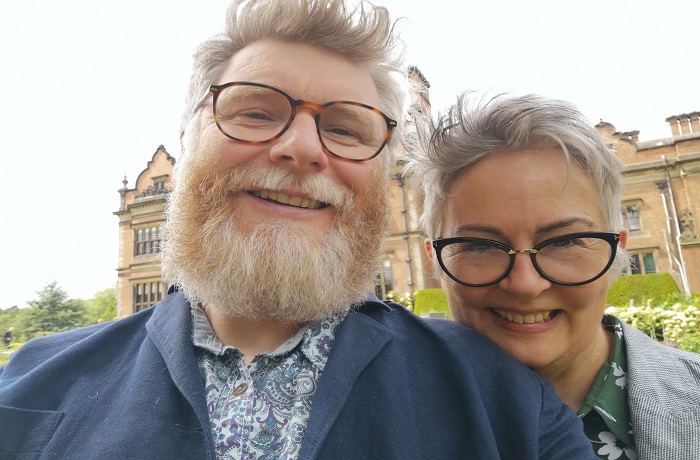 Teresa Anderson and Tim O'Brien: Jodrell Bank added to UNESCO World Heritage list
On 8 July this year we were in Baku in Azerbaijan to hear UNESCO's 2019 World Heritage Committee decide to award World Heritage Site status to the University's Jodrell Bank Observatory. It was a momentous occasion – a great honour for our University and a clear, global, signal that science is now regarded very much as part of culture. On a personal level, it was also a very welcome result for the two of us after almost 10 years' work on the nomination process.
Honour for our University: The accolade can be viewed as the 'Nobel Prize for Heritage', so is a clear indicator of the value of the scientific and cultural heritage of Jodrell Bank Observatory on a global stage. It will also help to raise further the visibility of our University in a new international context.
The UK has only 31 other World Heritage Sites and there are around 1,100 worldwide. Jodrell Bank Observatory is very unusual for being a World Heritage Site which continues to conduct scientific research and is the only Site in the UK (and perhaps worldwide) that is wholly owned by a university.
That makes us leaders in the field – breaking new ground in managing both the heritage and the on-going research of our own School of Physics and Astronomy side by side. In fact, that has been the case for decades at Jodrell Bank, as the science, engineering and public engagement is delivered by a team of colleagues who are all hugely proud to work here and mindful of the importance of the site.
Science as part of culture: Jodrell Bank is inscribed on the World Heritage list as a site of 'cultural' heritage (rather than a significant natural landscape or site) as it is the work of people (so is in comparison with cathedrals and cities, rather than rainforests or ocean reefs).
We think that this is an important moment. We have long held the view (and argued the point) that science is part of culture, and operates within and is governed by many social frameworks. Thus far the cultural World Heritage List has been more likely to include works of architecture and art than the heritage of science and technology.
UNESCO has been working to correct this over the last decade or so. Its initiatives on Industrial sites  and Astronomy, for example, are being followed by initiatives in other areas. However, it's clear that there is still some way to go before the heritage of science and technology fully takes its place alongside the heritage of the rest of human endeavour.
The role of science in culture is something that is very close to our hearts – and we enact this in the form of the bluedot festival at Jodrell Bank each summer, which we deliver in partnership with a brilliant team of music, arts and production experts.
This year (2019) we will have around 1,000 researchers on site (mostly, but not exclusively, scientists). Some of them will be colleagues from our own institution, but others come from other universities, research councils and institutes across the UK and beyond. Bluedot is already one of the UK's leading science festivals, but is also a hugely popular festival of music, art and culture that celebrates the wide-ranging creativity of all the passengers on Spaceship Earth.
Beautiful, celebratory, informative and fun, it rather defies categorisation at the moment (that's our point, of course) – but we expect to see it setting a new trend in the coming years.
Reaching new audiences: We will have almost 30,000 people at Jodrell Bank over the weekend, including lots of people from audiences that, typically, don't engage with our more 'day to day' offer of science engagement. Rather than visiting (mostly) from the North West, they will travel from the South East, the North East and some of them will come from other countries. A trend that is only set to increase with our inscription as a World Heritage Site.
Where next? What do you think?
Teresa Anderson and Tim O'Brien