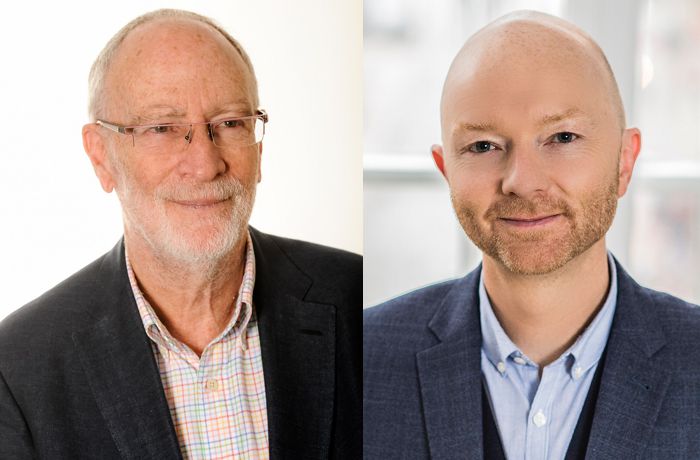 Cary Cooper and Julian Skyrme: Why high-performing institutions need to understand wellbeing
Professor Sir Cary Cooper, Professor of Organisational Psychology and Health from Alliance Manchester Business School was recently invited by Dr Julian Skyrme, Director of Social Responsibility, to speak at a Professional Services Leaders' Conference on the topic 'Why should high performing organisations prioritise wellbeing?' Cary kindly agreed to do a follow-up blog with Julian, answering his questions to share his insight more widely across the University. You can watch the video and download the slides of Cary's presentation.
What does the research tell us about why we should prioritise wellbeing?
Wellbeing is not a nice to have, it's a must have. Since 2015, mental health absence has been the primary reason that people take sickness absence from work in the UK – 57% of all absence is now related to mental health, including stress, anxiety and depression. It's not just absence that is a cause for concern; it is presenteeism too. That is, people attending work who aren't really well or present but are still in the office – showing face time but delivering little value.
What organisations need is healthy and present people. In a major study of 39,000 employees which my University spin off company, Robertson Cooper Ltd., carried out in 2016, only one third of people fall into the category of being both healthy and present. Our own staff survey showed that 35% of people always or frequently felt stressed. These are critical business issues for all organisations to address. As well as sickness absence, wellbeing at work impacts upon productivity and leads to increased staff turnover and accidents in the workplace.
Significant research has been undertaken into the causes of ill-health at work – what is needed now isn't more research, it's about implementing what we already know.
What is the role of leaders and managers when it comes to wellbeing?
Every job has its own stress footprint – the role itself, responsibilities, conflict, organisational culture and boundaries – each of these have a part to play. But one of the biggest factors impacting wellbeing at work is leadership and management.
You could argue that organisations should have a sign over the door saying 'your manager could be dangerous to your health'! It is the most important relationship that people have in the workplace – managers can help people to thrive, or they can contribute to their levels of stress.
Why does email come up so often in discussions on wellbeing?
Too many of us are checking our email at night, first thing in the morning or when we are on holiday. Many of us also have poor email habits – copying people in, sending emails late at night and at weekends. Some organisations now block email when their staff are on holiday, and in France it's even illegal for managers to send emails out of hours. Personally, I don't think blocking email is the answer – this impacts on those who want to work flexibly. But email does have the power to damage our health and our relationships outside of work, so we need to manage it and use it responsibility. Don't send emails on a Friday afternoon and tell people it can wait until Monday – just wait until Monday! I understand that at the end of the PS Leaders Conference, Patrick Hackett urged his leaders to pledge to switch off their email when they went on holiday – great move Patrick!
How can organisations best tackle wellbeing?
Plenty of organisations are tackling wellbeing – especially when they see it hit the bottom line. Unfortunately many of these interventions are what are known as secondary or tertiary – they are there to help people to cope. Many organisations pick the low-hanging wellbeing fruit – offering Zumba classes or mindfulness at the desk. This is fine – but we need to be strategic too. We need to deal with the causes of the stress – and this includes leadership and management.
What would be your main message to leaders about wellbeing?
Every manager has a responsibility for the wellbeing of their people in their area of responsibility. Activity can come from the centre, but each leader and manager must play their part. They create the culture – and they have the power to change it. So I'll end by posing the question I did to at the recent PS Leaders' Conference: as a leader how can you create the right kind of culture to enhance the wellbeing of your staff?