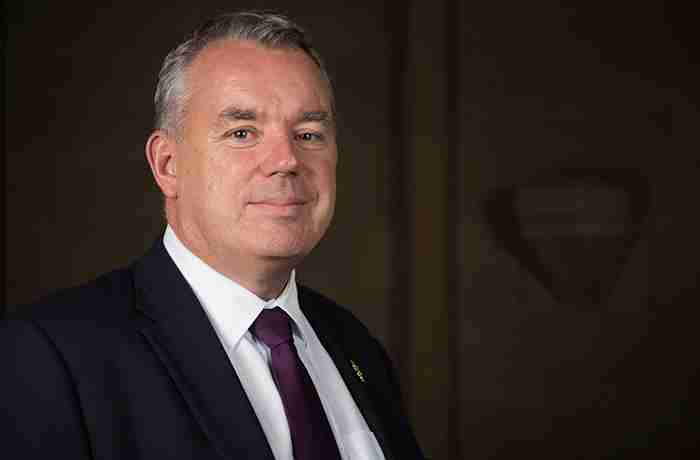 Patrick Hackett: A very different start to our academic year
Usually at this time of year our campus is buzzing with excitement and optimism as students from all over the world descend on Manchester, taking full advantage of the opportunities that our University and the wider city present. It's also one of the busiest times for colleagues with all hands on deck to support our on-going research activities and to make sure our students feel welcome and help them adjust to their new life.
This year it feels distinctly different. I came into my office in the John Owens Building last week and it was strangely quiet. The car parks were only half full and there were few people walking about – it felt quite odd. It was good, however, to be back on campus and to spend some time meeting colleagues who have been preparing for the arrival of our students. I met Katy Woolfenden and the team in the Library and visited the Alan Gilbert Learning Commons where – like the rest of the campus – measures have been put in place to create a COVID-safe environment for our staff and students. I also met some returning students who said they were pleased to be back and keen to pursue their studies.
I'm impressed by the monumental efforts that all of our colleagues have made to welcome our new and returning students. 2020 has been a difficult year for many of us, but particularly for young people who have had their studies disrupted, faced confusion over their A level results and then suffered delay and uncertainty over whether they had secured their university place. And now, after all that, they arrive in Manchester only to be told that in response to high local infection rates we are moving much of our teaching and learning online for the next few weeks.
As you will see from the daily figures that we are publishing on our website, some of our students and a small number of staff have tested positive for COVID and more are having to self-isolate. This is not the start to the academic year that any of us would have hoped for, but I am really proud of the high quality care and support that colleagues are providing for our students and each other in this challenging and fast-moving situation.
Some people say that surely we should have known this would happen and that we should never have "told" our students to come. The Government has made it clear that schools and universities should continue to operate as normal so as not to disadvantage this generation of students even further. In this context, it is our responsibility to be as accommodating and agile as possible as we try to deliver the University's core mission and meet the expectations of all of those students who have chosen to study with us. That is what we are all trying to do.
Although we are in the middle of the toughest of times, I am overwhelmed and humbled by the commitment, hard work, collegiality and creativity our colleagues demonstrate on a daily basis. I want to thank each and every one of you for doing all you can to make sure we fulfil our University's purpose. Thank you to those colleagues who have been here working on campus since March – like our residences staff, security, estates and facilities and student support colleagues. These colleagues are once again on the front line, working tirelessly to ensure that our students are safe, looked after and not alone.
Thank you to everyone working in student recruitment and admissions who had to navigate their way through the A-level confusion of the summer to ensure we were able to make offers to our students. Thank you to teaching and learning colleagues who have pulled out all the stops working in partnership with our academic colleagues to get our teaching and learning online. Thank you to colleagues who organised virtual graduation ceremonies during the summer and welcome week activities. And to those making arrangements to support the travel arrangements and welcome for our international students. And, of course, thanks to everyone who has continued to support our research effort throughout.
I realise that losing around 430 Professional Services (PS) colleagues through our recent voluntary severance scheme has only added to the pressure and workload for some colleagues. I would ask you to bear with us whilst we do all we can to identify the pressure points and assign additional PS staff to those areas delivering critical activities. We have not pushed forward with our Reshaping PS plan for the time being so we can focus on the here and now.
And we are listening to you – the findings from the What works? survey where you said you wanted more opportunities to work flexibly has led us to decide to develop a new flexible working policy to enable more colleagues to work in a blended way. Further details on this will be available by the end of this year. We are also considering a range of options so that we can provide more support for home working.
You can hear more about these topics at the next PSLT open meeting which will take place on Thursday, 15 October. Please join us and feel free to ask any questions of me or my colleagues. Alternatively, you can email me any time at Registrar@manchester.ac.uk.
Please do take care of yourselves too, and find the ways which are right for you to look after your wellbeing and to step away from work. You may find our staff wellbeing pages on StaffNet a helpful resource.