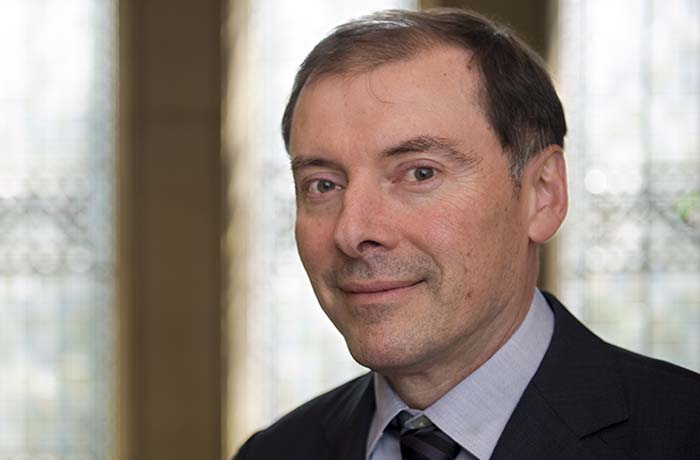 Luke Georghiou: Keeping connected in Europe after the Brexit Deal
Deputy President and Deputy Vice-Chancellor, Luke Georghiou, discusses the impact of Brexit on the University community.
Uncertainty has been a running theme during the long-drawn-out process of the UK's withdrawal from the European Union. Initially this applied most forcefully to EU nationals worried about their future rights to study, live and work in this country (and vice-versa for their UK counterparts) but concerns also extended to whether we would be able to continue to take part in EU research and student mobility programmes and to wider issues around the potential impact of trade and regulatory change.
Citizens' rights were addressed by the Withdrawal Agreement which came into force on 1 February 2020 after the UK formally left the EU. Departure was followed by a transition period for the remainder of last year, during which the EU treated the United Kingdom for most purposes as if it were a Member State. For those with a qualifying period of residency, Settled Status was available while others could maintain the right to remain in the UK with Pre-Settled Status. In both cases applications must be lodged by the end of June 2021. In future, staff or students arriving from the EU will be subject to the new 'points-based immigration system'. Advice and support are available on our Brexit microsite.
Agreement of a deal
Before the UK and EU concluded a deal, formally known as the UK-EU Trade and Cooperation Agreement, we at the University, like many others, had been preparing for the possible consequences of a no-deal outcome. We had a detailed risk register which covered topics such the status of EU citizens, effects on student mobility and research cooperation, possible consequences of disruption to our supplies of equipment and consumables and changes to the legal and regulatory environment, among other concerns. The point of such a document was not only to be aware of potential threats to our activity but also to assure ourselves and our stakeholders that we had put in place the best available responses to mitigate the risks we identified.
In the event, agreement on a deal has meant that not all of the risks have materialised. The most positive news to emerge was that the UK will continue to participate in EU research programmes, notably the next Framework Programme, known as Horizon Europe which will run over the period 2021-2027 with a projected budget of around €95.5bn, a 30% increase on its predecessor Horizon 2020. It is expected that details will be concluded in time for the first calls in Horizon Europe which are expected this Spring.
Until the agreement was concluded there had been serious worries that the price of participation would be too high and discussions had been taking place on potential nationally based alternatives, notably an initiative known as the Discovery Fund. This would have offered grants to single awardees comparable in scale and scope to those from the European Research Council but would not have supported collaborative networks. For the time being it is on hold. We still do not know the impact of Association to EU programmes on domestic research expenditure.
Connecting with European universities
One effect on us of the uncertainty of the past months was to look with fresh eyes at how we related to other European universities. We are in advanced discussions to establish strategic partnerships with universities in Sweden, France and Germany of a similar nature to those that we have with the Universities of Melbourne, Toronto and elsewhere in the world. These will facilitate not only research collaboration but mobility of staff and students and possible shared teaching and social responsibility actions.
Our University did consistently well in Horizon Europe. We were the 6th largest beneficiary in the UK and 11th among all universities in Europe. With a fair deal for access now secured for Horizon Europe the onus is on us in the research community to take full advantage of it. During the Transition Period UK participation fell away, particularly in collaborative projects. For those that did persist success rates stayed the same. This suggests that the key to recovering our previous position is apply, apply, apply! It is important that our University colleagues take up the challenge to reignite this important source of research support and maintain the benefits of the networks it brings. As well as the direct benefits we need the UK to do well in the programmes so as to convince ministers that they are a good investment that is worth continuing.
Student mobility
News on student mobility was less promising. Our government decided that continued membership of the long-running Erasmus+ scheme which had funded mobility for students and staff was too expensive. Admittedly the inward flow to the UK was almost double that of outgoing travel to the rest of the EU but many would argue that both are beneficial. A UK alternative, the Turing Scheme was immediately announced but the details are still emerging. Its scope is worldwide but funding is only for outward mobility, making reciprocal arrangements problematic.
EU students not covered by the Withdrawal Agreement and commencing a course from August this year will require a student visa and will no longer be eligible for home fee status and student finance. The expectation is that numbers will decline substantially. It is a matter of great regret that we will lose the contribution to academic achievement and social diversity of some excellent students. In the narrower terms of financial impact on the University it seems likely that the loss will be offset by places being filled from other sources and higher fees from those that choose to come.
Regulatory change
Regulatory change is the other main area of Brexit impact. Apart from the consequences of new customs requirements, a key part of the deal was an interim "data adequacy bridge". Under this the EU will continue to treat the UK as an adequate jurisdiction for up to six months pending an agreement to recognise 'full adequacy'. Hence, for the time being, personal data can continue to flow from the EU to the UK without the need for new contracts and impact assessments while the UK must continue to apply its data protection law (principally the UK GDPR and Data Protection Act 2018). Further guidance is available from the University Information Governance Office. An area of particular relevance to regulated professions that is unresolved is the Mutual Recognition of Professional Qualifications. The UK is no longer covered by the EU Directive meaning that our qualifications will need to be recognised bilaterally with each EU member state.
In sum, as with all parts of the economy and society we need to learn how to do the best we can in the new situation. We should not see keeping connected with the rest of Europe as an alternative to Global Britain but rather as an essential part of it and an important part of our strategic plan. That applies even more so to our staff and students from Europe, as it does to all of our international community. While we are no longer part of the EU, we are still very much part of Europe.
Further information:
RISIS Research Seminar: Institutional barriers to participation in EU framework programs