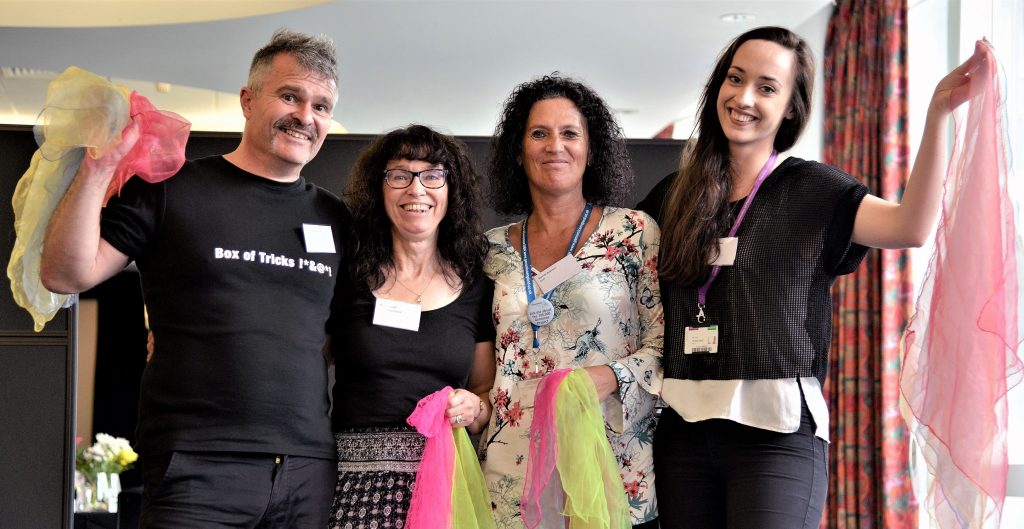 The 2017 PPIE Celebration Event Winners!
The Faculty's Patient and Public Involvement and Engagement (PPIE) work has been celebrated at an event focussing on the 'Partnerships and Perspectives' of PPIE which was attended by over 80 people.
The event featured talks from students who discussed their experiences of PPIE with Dr Caroline Sanders, Senior Lecturer in Medical Sociology, giving a talk about the past, present and future of partnerships and collaboration.
Sarah Collins, who is responsible for communication in the Division of Medical Education, led a session in which guests learned circus skills with the Manchester-based theatre company, Box of Tricks, to explore new ways of engaging the Arts to promote involvement and engagement.
Sarah said: "This was a fun, inspiring and stimulating day. The achievements of all the award winners were truly impressive and just go to show how essential and vibrant the work of the Faculty's Social Responsibility team is."
The University's Director of Social Responsibility, Dr Julian Skyrme, described the event as engaging and interactive: "It was really pleasing to see so many collaborators with the Faculty's work from the local community have their contribution recognised – this was our 'inspiring communities' strategy in action!"
The presentation of this year's Outstanding Contribution to PPIE Awards took place in recognition of the commitment and positive impact made through involvement and engagement activities.
Winners and highly commended awardees were as follows:
Staff category
Winner – Ann-Louise Caress (championing PPIE in nursing, midwifery and beyond)
Ann-Louise has been a driving force in developing and embedding PPIE in research and teaching for nearly 30 years. She has provided PPIE training and mentoring for many colleagues, led a Masters module on "service user participation", ran a multitude of public engagement events and continues to seek new ways to involve and engage the public with science and research.
Highly commended (engagement) – Jo Pennock (Innovative means of engaging public with immunology research)
Jo is an excellent immunologist who believes passionately in engaging the public in active dialogue with scientists. Thinking outside the box, she has integrated digital technology, physical activity, competition and intellectual challenge into an ingenious game that immersed more than 300 adults and children in the fascinating world of immunology and scientific discovery.
Highly commended (involvement) – Claire Planner (PRIMER: primary care research engagement resource)
Claire has facilitated PRIMER since she helped set it up in 2008, and has helped lead the way to educating researchers, the public and many others about the importance of involvement in research, particularly in Primary Care. She constantly seeks and implements better means of engaging with the public and also providing staff with the necessary tools to engage and involve.
Student category
Winner – Katie Walwyn-Brown (engaging the public in immunology research)
Katie is continually looking to connect members of the public with immunology research in an entertaining and exciting way. Katie has successfully interacted and shared her passions with hundreds of community members through Soapboax Science, Famelab and the Bluedot Festival.
Highly commended – Michael Daniels (public engagement with science)
Michael is passionate about public engagement and science communication. He co-founded a project aiming to increase public understanding of science called Have You Heard? whilst also managing a team to organise the outreach event Pint of Science. He won the 2017 North-West regional final of the Famelab competition.
Group category
Winner – HIDDEN: the future of young caring
HIDDEN (a team of 10 professional artists and 58 young carers) developed an immersive theatre show to raise awareness of the challenges faced by young carers and their expertise in managing illness and disability.  The performance ran 33 times, sold 312 tickets and reached 350,000 people through liveSHOUT. As a result, more young carers accessed mental health support and new collaborations with health organisations.
Highly commended – 100,000 genomes outreach work
The 100,000 Genome Project is a national project aiming to transform the way the NHS uses genomics in the treatment and care of patients. The project actively involves patients, keeping them updated with any new developments and encouraging them to contribute their views. It engages community members and raises awareness about genomics and the project through various public events, science experiments, art and dance.
Highly commended – MRAG (multi-morbidity research advisory group)
 The Multimorbidity Research Advisory Group (MRAG) was established in 2015 to help set research priorities, support the translation of findings into acceptable and useable outputs, and inspire new ideas for projects and assist with their development. The panel of patients and carers are actively involved in developing the design, delivery and dissemination of research conducted by the Centre for Mental Health and Safety. Through their involvement, the group help to ensure that research conducted by the Centre is both meaningful and relevant to those with lived experience.
Public contributor
Joint Winner – Fred Walker (dementia funding and awareness)
Fred lost his wife, Joan, to Alzheimer's Disease in 2010. Since then he has been relentlessly driven to increase the funding and awareness for Dementia across the UK. Fred's accomplishments include: climbing Snowdon, a skydive, a wing-walk and giving regular talks across the country including universities, pharmaceutical companies, rotary clubs, Women Institutes (WI) and many more. Fred has also written a book on his experiences caring for Joan, "Alzheimer's: An Engineer's View", which has currently sold 1000 copies on Amazon with 100% of book sales going directly to Alzheimer's research. These extraordinary achievements have resulted in a staggering £45,000 raised for Alzheimer's Research UK.
Joint Winner – Tracy Millington (COVER: Medical Skin Camouflage for Recovery of Women with self-harm scarring)
Tracy offered her own lived experience of self-harm in prison to inform the COVER project, a study aimed at establishing the feasibility and acceptability of the use of medical skin camouflage for self-harm scarring in a women's prison. Tracy has been an integral part of the research team, advising on various issues, developing suitable study materials, assisting with skin camouflage training in prison and developing collaborations with experts in the field.
Special award (posthumously) – Neal Sinclair's co-production work in development of smartphone apps for mental health services
Neal played a key role in two research projects at the University until he sadly passed away in April 2017. His involvement in the Careloop project, a ground breaking project that uses digital technology to treat mental health problems has been crucial for the development of this new technology. He also helped with the design of the DEPEND project and joined the team as a co-investigator to research the best ways to collect feedback from mental health service users. Neal's enduring dedication to work, consistency and professionalism have made an actual difference and he will be truly missed.
To find out more about the Faculty's PPIE events, training and involvement opportunities, you can sign up to our monthly digest, visit our website, follow us on twitter or email srbmh@manchester.ac.uk. For further PPIE resources, visit the Faculty's PPIE Toolkit.