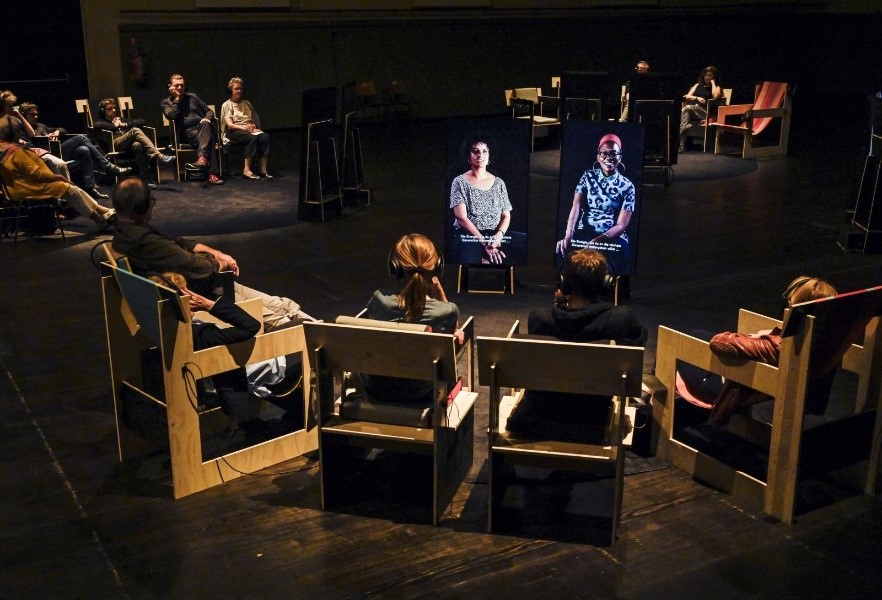 Exploring the value of human life through art-science collaborations
Public Engagement describes the ways in which higher education and research can be shared with the public. It is a two-way process, involving interaction and listening, with the goal of generating mutual benefit. In this blog category, you will find out about the different ways in which the Faculty engages with the public through events, projects and training opportunities.
For three weeks in the autumn of 2019, SICK! Festival explored the theme of birth, life and death through many art forms including; dance, theatre, film, spoken word and through discussion and debate.
The SICK! Festival faces up to the complexities of mental and physical health, presenting an international arts programme with dance, theatre, film and spoken word, weaving in perspectives from researchers, clinical practitioners, public health professionals, charities and those with lived experience of the issues addressed.
Highlights of 2019 festival included 'The Director', a performance aiming to demystify elements of the death industry, using humour and first-hand knowledge, and the 'Living Library', where visitors had 15 minutes of frank conversation with young people who have serious mental illnesses or who care for those who do. Facilitating these open conversations aimed to reduce the stigma attached to mental health problems in young people.
In the Whitworth Art Gallery, audiences heard a series of intimate conversations about the most moving and challenging experiences in life through a video installation titled 'Death and Birth in My Life' by Mats Staub, which was developed in collaboration with staff from the Intensive Care Unit at Manchester Royal Infirmary. Each film showed a conversation between two strangers and revealed personal stories of care and loss, and ethical dilemmas were confronted with honesty and warmth.
The 'Death and Birth in My Life' exhibition was well received by audiences:
"Incredibly moving accounts of the most vulnerable, devastating and beautiful moments of life. VERY WELL curated/excellent dramatology. SO SENSITIVE."
"Privileged to hear intimate and engaging conversations between thoughtful people."
"Absolutely loved this. Loved the concept and the way it was designed and delivered with small chairs around two screens. Very intimate and affecting. I was blown away by some of the stories, reflections and honesty."
Complementing the art installation at the Whitworth Art Gallery, the University hosted a showing of 'The Island', a powerful and profound film created with first-hand accounts of hospice users on the Isle of Wight. Filmed over the course of a year, the film focussed on four individuals and their lives coming to the end. The film screening was followed by a Q and A with creator Steven Eastwood.
If you would like more information about the 2019 festival, click here.
For more information about other PPIE events, training and funding opportunities, you can sign up to our monthly digest, visit our website, follow us on twitter or email srbmh@manchester.ac.uk. For further PPIE resources, visit the Faculty's PPIE Toolkit.