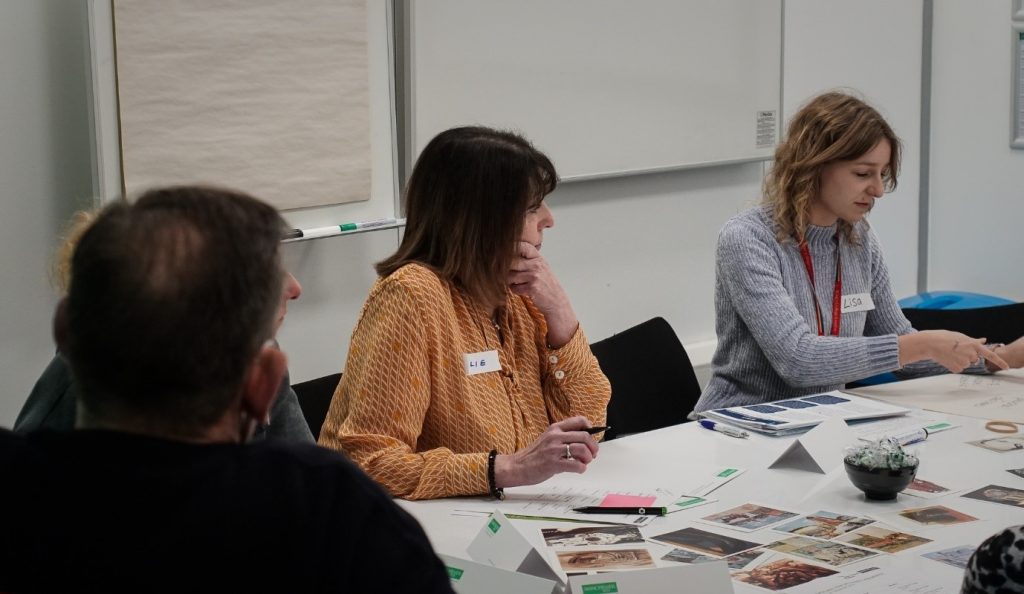 How to conduct PPI events with people with long-term conditions: Six lessons learned
We love hearing directly from our staff, students and Public Contributors (members of the public who are involved and engaged with the Faculty's research and teaching) about their Patient and Public Involvement and Engagement (PPIE) activities. This blog category features pieces written by guest authors from across the University.
Our guest authors are: Dr Julia Mueller, Caroline Jay and Alan Davies. 
Innovative research offers increasing opportunities for improving the management of chronic conditions. This potential will only be fully utilised if we actively involve people living with the conditions in our research and development processes. Patient and public involvement (PPI) is becoming increasingly prevalent as research institutions and funders recognise and prioritise its value. PPI has been shown to have positive impacts on all stages of the research process, however organising an effective PPI event – particularly with people who are unwell – is challenging. This blog post highlights some lessons learned from organising a PPI event with people living with chronic obstructive pulmonary disease (COPD). To read about the event, click here. 
Allow sufficient time for building trust and rapport.
Despite our pre-existing contacts organising a workshop where attendees included people with COPD took approximately 5 months. This is in part because there are usually mechanisms of gatekeeping in place to safeguard patient groups from being inundated with requests for research participation. We needed to invest significant time and effort when contacting people, introducing ourselves (in person if possible), and explaining the aim of our event.
Venue considerations
You will need to consider the target group and their disease profile to select venues that all attendees are able to access easily, safely and comfortably. Because our attendees had COPD (often coupled with frailty, or other health conditions/disabilities) we needed a venue that allowed easy access for cars, had no stair climbing, and ensured minimal distances between locations. On the day of the event, we encountered some issues with air conditioning/heating which exacerbated symptoms in some attendees, so it is important to consider these factors too. For more information about venue accessibility, visit: AccessAble guide.
Organising transport
We organised for taxis to transfer attendees from their homes to the event and back, and for those who preferred to use their own vehicles, we booked parking spaces close to the venue. We found that it made a big difference to the accessibility of the event. When attendees who are unwell invest their time and effort to help with research, it is important to ensure they are able to travel there and back safely and comfortably. Organising transport will also make your event more inclusive and accessible.
Time management
A balance needs to be struck between keeping the event short enough to avoid over-burdening attendees while allowing time for discussions and networking. Attendees' feedback showed that they greatly enjoyed and valued discussions and interactions with other people living with the same condition, and they welcomed meaningful discussions around the input they had provided for our research.
Educational components
Attendees' feedback showed that they would have welcomed more education and information about COPD from medical professionals and researchers. Future PPI events should consider including educational components to facilitate this, possibly around the condition's symptoms, causes and the services available. This requires careful planning, however, to ensure attendees remain active contributors rather than becoming passive recipients of information.
Recruitment and engagement
Most of our attendees were members of support groups or registered on mailing lists for research volunteers. As such, our attendees with COPD were likely already engaged with their community and relatively health literate. Those who are socially isolated and not linked with their community would need to be actively sought, for example through GP practices or stalls in public places. Another approach that has proven useful in the past is through lay volunteers recruited from the relevant communities who have an established rapport with its members.
Conclusion
PPI events with people with chronic conditions require careful consideration of the target groups and their unique needs and requirements. Organising such events requires time and effort to build trust, to ensure people can safely and comfortably access and attend the event, and to ensure participants and researchers feel satisfied with the event outputs.
To find out more about this project, click here or email Julia.Mueller@mrc-epid.cam.ac.uk.
If you would like to share your PPIE activity with our readers, please email srbmh@manchester.ac.uk. For further information about PPIE events, training and involvement opportunities, you can sign up for our monthly digest, follow us on twitter, visit our website, or contact srbmh@manchester.ac.uk.