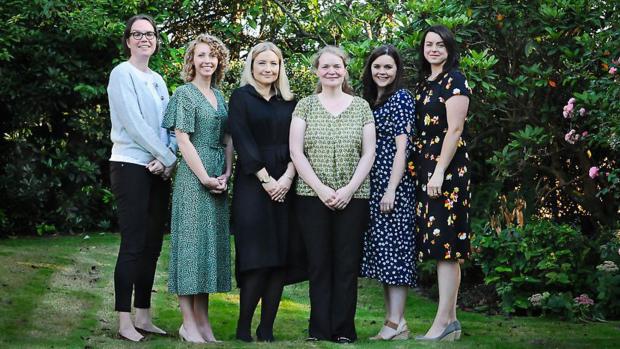 PPIE Award Winner: Peaches Womb Cancer Trust
In this blog series we will be featuring our award winners and highly commended recipients from the Faculty's 'Outstanding Contribution to PPIE' awards. Showcasing the inspirational and outstanding commitment to PPIE that has made a positive difference to our community and highlighting the amazing events, activities, people and groups from across the Faculty.
Our next blog in this series will feature Peaches Womb Cancer Trust – a new charity, co-founded by students and staff, dedicated to improving the lives of those affected by womb cancer.  Peaches Womb Cancer Trust was the winner of the Group category for the 2022 awards.
Peaches Womb Cancer Trust was founded in 2020 by University students and staff, dedicated to improving the lives of those affected by womb cancer by supporting patients, raising awareness and promoting research.
With 9000 new diagnoses of womb cancer every year, there is a growing need for researchers to find ways to prevent, detect and treat womb cancer. Researchers cannot do this alone. Collaboration with people who have experienced womb cancer can ensure research reflects what's important to them.
A PPI group called Peaches Patient Voices (PPV) was set up through Peaches Womb Cancer Trust. The group includes people from across the UK, and beyond, who are keen to use their lived experience to help researchers improve the lives of those with or at risk of womb cancer.
Historically, researchers have found it challenging to engage people with lived experience of womb cancer. However, the formation of PPV now makes this possible. PPV is the only UK-wide PPI group for womb cancer and has grown enormously since its launch in October 2021. PPV membership is open to all, regardless of previous PPI experience and members are free to choose the research projects they wish to get involved in.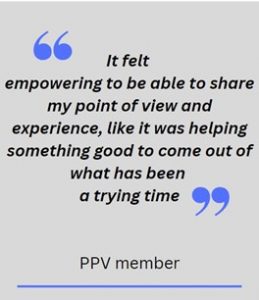 To date, PPV has facilitated PPI in several research projects, with researchers finding PPV members' input invaluable to shaping their work. Members of PPV have even gone on to co-produce University research projects.
Leanne Shearsmith, a researcher  at the University of Leeds said of PPV: "I've learnt so much from everyone and their input was more valuable than I could ever have anticipated".
PPV is also leading the way in improving engagement with womb cancer among the wider public, having hosted/gone on to host a webinar on womb cancer genomics that has been very well received. Part one of this webinar can be watched here: Womb cancer genomics: Research and patient benefit
PPV helps ensure that research is addressing what matters to people affected by womb cancer and the PPV model could potentially be used to establish PPI groups for other health conditions.
If you would like more information on Peaches Patient Voices, or would like to get involved, either as a patient or carer with lived experience of womb cancer, or as someone researching womb cancer, please email patientvoices@peachestrust.org.
You can also watch our short video to find out more about PPV here: Peaches Patient Voices
Follow the Peaches team on Twitter:
@peachestrust
@helenwhite100
@dreleanorjones
@drchloebarr
@DrHelenaOFlynn
@drhelenclarke
@ProfEmmaCrosbie
Find Out More:
To find out more about PPIE: watch our short film, sign up to the monthly Public Engagement Digest, visit the PPIE blog, or contact srbmh@manchester.ac.uk.
To read more about other PPIE Award winners visit here