PPIE Award Winner: Helen White
In this blog series we will be featuring our award winners and highly commended recipients from the Faculty's 'Outstanding Contribution to PPIE' awards. Showcasing the inspirational and outstanding commitment to PPIE that has made a positive difference to our community and highlighting the amazing events, activities, people and groups from across the Faculty.
Our next blog in this series will feature Helen White – a postgraduate student who formulated the idea of forming Peaches Patient Voices (PPV), a patient and public involvement (PPI) group for people affected by womb cancer who want to use their lived experience to help shape research. Helen won the Student: Highly Commended category at the 2022 awards.
Peaches Womb Cancer Trust was founded in 2020 by University students and staff, dedicated to improving the lives of those affected by womb cancer by supporting patients, raising awareness and promoting research.
With 9,700 new diagnoses of womb cancer every year, there is a growing need for researchers to find ways to prevent, detect and treat womb cancer; but they cannot do this alone. Collaboration with people who've been affected by womb cancer ensures that research addresses the issues most important to them. However, historically, researchers have found it very challenging finding people with this lived experience.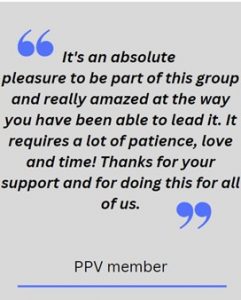 In light of this, student Helen White approached Peaches with the idea of establishing a PPI group and, with Peaches support, launched Peaches Patient Voices (PPV). The group includes people from across the UK, and beyond, who bring a diverse range of perspectives and views to help researchers improve the lives of those with or at risk of womb cancer.
Led by Helen, PPV is the only UK-wide PPI group for womb cancer and it has grown enormously since its launch in October 2021. PPV membership is open to all, regardless of previous PPI experience, and members are free to choose the research projects they wish to get involved in.
PPV operates by connecting people who've been affected by womb cancer to researchers on an individual project basis. It currently has 75 members, and more than 10 research projects and clinical trials have already benefitted by the involvement of PPV members.
Researchers have universally commented that they find PPV input invaluable in shaping their projects and trials, including two researchers from the University; one of whom describes PPV as:
"A great initiative as it provides a single point of contact for researchers like me to find people who have already expressed an interest in being involved in research. From the very start, they supported me in planning my patient involvement approach and I have been blown away by how responsive they were."
With the support of Peaches Womb Cancer Trust, PPV has grown from strength to strength. Helen's own experience of womb cancer, and background in PPI, means that she has been able to support and nurture others' involvement, many of whom have never been involved in research before. For many, PPV has become more than just PPI: an opportunity to share experiences with others, to be heard, and to be understood.
If you would like more information on Peaches Patient Voices, or would like to get involved, either as a patient or carer who's been affected by womb cancer, or as someone researching womb cancer, please email patientvoices@peachestrust.org.
You can also watch our short video to find out more about PPV here: Peaches Patient Voices
Follow the Peaches team on Twitter:
@peachestrust
@helenwhite100
@dreleanorjones
@drchloebarr
@DrHelenaOFlynn
@drhelenclarke
@ProfEmmaCrosbie
Find Out More:
To find out more about PPIE: watch our short film, sign up to the monthly Public Engagement Digest, visit the PPIE blog, or contact srbmh@manchester.ac.uk.
To read more about other PPIE Award winners visit here