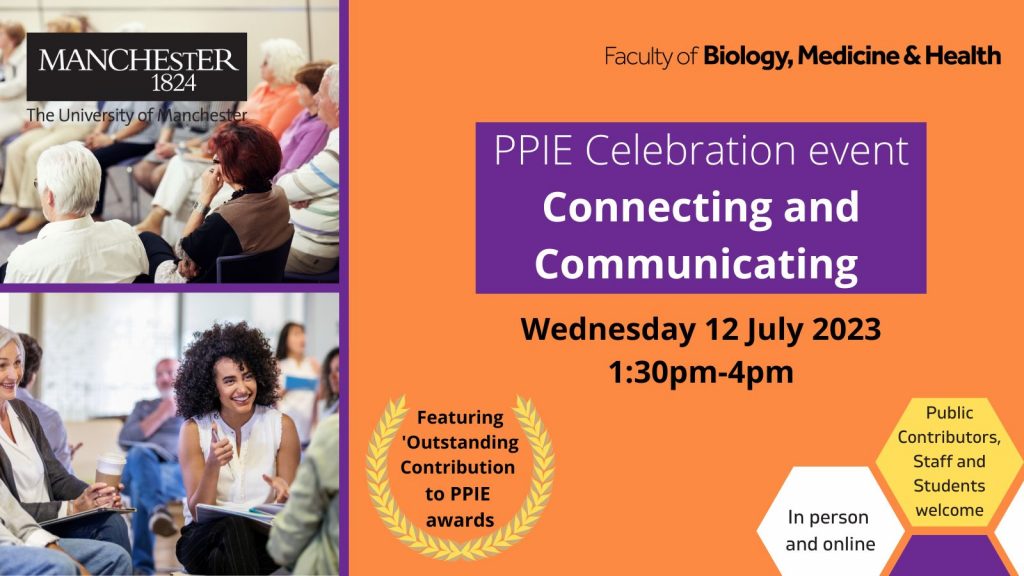 PPIE Celebration Event 2023: Theme and Guest Speakers
On Wednesday 12th July, the Faculty is hosting its annual Patient and Public Involvement and Engagement (PPIE) Celebration Event. For this event we have a great line up of speakers – keep reading to find out more. 
Theme: Connecting and Communicating 
This year's event 'Connecting and Communicating' will explore how effective communication is key to creating and maintaining connections within our PPIE community. 
We will also recognise the inspirational and outstanding commitment to PPIE that has made a positive difference through the Faculty's 'Outstanding Contribution to PPIE' awards. Please join us to celebrate with our winners. 
Co-Hosts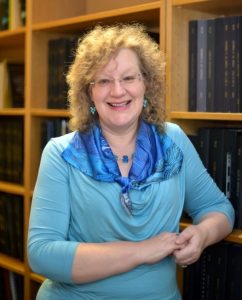 Professor Stephanie Snow, Co-Host & Faculty of Biology, Medicine and Health's (FBMH) Academic Lead for Community Engagement and Involvement. 
Stephanie is a historian of medicine and the project director of NHS at 70: The Story of our Lives, which is collecting stories and memorabilia from people who worked and were cared for by the NHS since its creation in 1948 to mark the 70th anniversary of the NHS. Her work on stroke has led to an ongoing collaboration with the Stroke Association to produce a series of workshops where undergraduate students and stroke survivors explore stroke together through art.  
Stephanie is also Co-Chair of the Faculty's Patient and Public Involvement and Engagement (PPIE) Forum. Her core interests lie in analysing the relationship between the knowledge, practice, and performance of medicine and healthcare across period, cultures, social contexts and geographies. Throughout her career, Stephanie has worked closely with patients, clinicians and the public through numerous PPIE projects.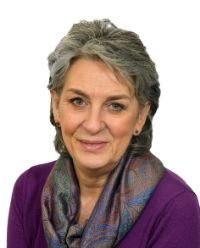 Kay Gallacher, Co-Host 
Public Contributor and Co-Chair of the Faculty's Patient and Public Involvement and Engagement (PPIE) Forum. 
Kay is Co-Chair of the Faculty's PPIE Forum and has been a Public Contributor on many research projects. She is the lead Public Contributor on a project developing a handbook and app for users of primary care services and is currently involved with six other projects. Having a marketing and communications background, Kay likes to apply her skills to ensure that research findings are written in plain English and are accessible to the general public. One of her personal objectives is to get more members of the public involved in research, particularly those from under represented communities. 
Guest Speakers 
Dr Julian Skyrme, Director of Social Responsibility, The University of Manchester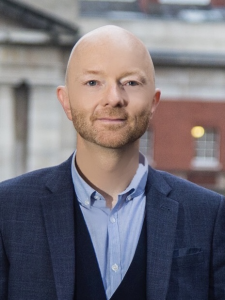 Dr Julian Skyrme is the founding Director of Social Responsibility at The University of Manchester. Social Responsibility is one of the University's three core goals and ensures that Manchester's learning, research, engagement and operational activities make a positive difference to society. He has first-class honours, master's and doctoral degrees in political philosophy and social sciences from The University of Manchester and spent his early career as a teacher and Assistant Vice-Principal in a large urban sixth form college.  
Julian contributes to local, national and international policies, initiatives and networks to enhance the social engagement of higher education. He is a member of: Manchester City Council's Strategic Education Partnership Board and Homelessness Partnership Board; the Board of Manchester's Loreto Sixth Form College; the Board of Trustees at MACC – Manchester's voluntary, community and social enterprise support organisation; Business in the Community's (BITC) North-West Leadership Board; and the global University Social Responsibility network. He's also a Fellow of the Royal Society of the Arts, guitarist, everyday cyclist, Manchester United and Wales fan, and father to two children.  
Presentation: Julian will present on University's citizen science panel, a panel of fifty local people from across Greater Manchester who help shape the five Universities of Greater Manchester's priorities for creating jobs, contributing to economic growth, and to improving education and skills in Greater Manchester. 
Dr Celia Hulme, NIHR Three Schools Research Associate and PPIE Co-Lead for the Division of Nursing, Midwifery and Social Work (NMSW), FBMH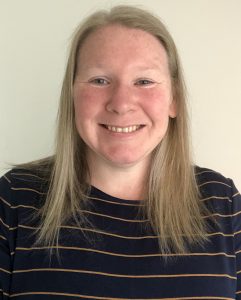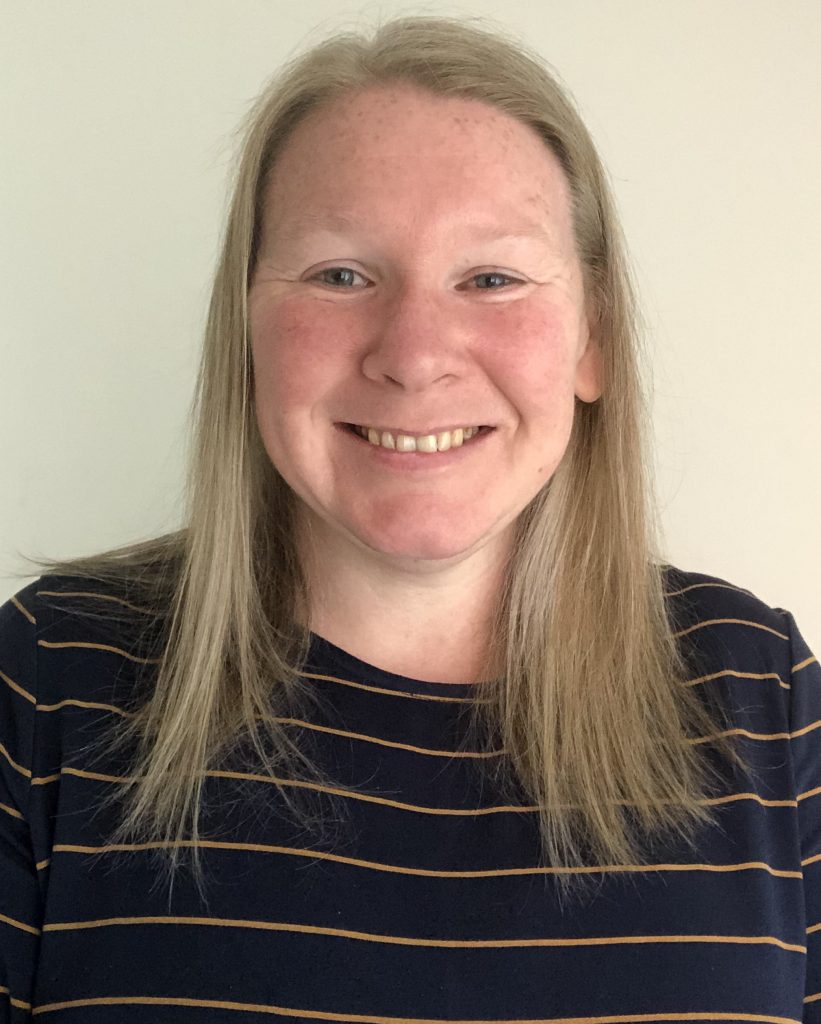 Celia is a culturally Deaf researcher and a BSL user based in SORD (Social Research with Deaf People) at The University of Manchester. Her main research interests are: 
Health research relating to Deaf British Sign Language (BSL) users, 
Improving access and patient experiences for Deaf BSL users 
Patient and Public Involvement and Engagement (PPIE) in health research. 
Celia currently holds a research position as a Research Associate under the NIHR Three Schools Mental Health programme. Her ongoing research focuses on the topic of 'Social Prescribing for Culturally Deaf British Sign Language (BSL) Users. In addition to her research work, Celia is also serves as the Nursing, Midwifery & Social Work (NMSW) PPIE Co-Lead. Her expertise extends to training, establishing, and managing Patient and Public Involvement and Engagement (PPIE) groups with a specific emphasis on working with Deaf BSL users and individuals whose first language is not English. 
Presentation: Celia will present on her Deaf Experts by Experience Group (DEEG), which she set up as part of her PhD research, funded by the National Institute for Health and Care research (NIHR) Biomedical Research Centre (BRC) (Hearing Health) to collaborate with on projects. Celia also established a revolutionary training course for local Deaf citizens to understand and get involved in influencing health and social care research. She won the Individual staff category for the 2022 PPIE awards for this work.  
Chava Erlanger and Michelle Desforges.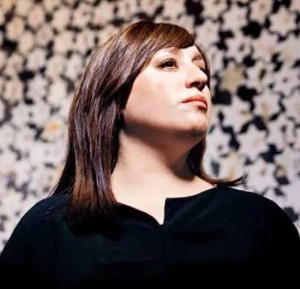 Chava Erlanger, Public Contributor  
Chava is a professional fine artist based in Prestwich who focuses on translating life experiences into art. A substantial aspect in Chava's work as an artist is being involved in the community. She uses art as a facilitator and a tool to help people cope with loss and trauma, as well as life challenges such as mental health, dementia, anxiety etc.  
Chava has gained a wealth of experience in the past 10 years and has been involved in several workshops, including delivering Therapeutic Art workshops to Holocaust survivors and refugees, helping them capture their stories and document history, as well as using art as a non-verbal expression of their experience. During her work on the project 'Latent Memories', she worked with The UK Holocaust Memorial Fund on their urgent testimony project. She identified individuals suitable for recording, and helped to coordinate and facilitate recordings in the North West alongside Natasha Kaplinsky and Atlantic Productions. 
Find out more on her website [chavaerlanger.com]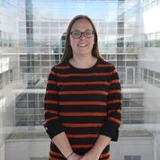 Michelle Desforges, PhD and Lecturer, Division of Developmental Biology & Medicine, FBMH 
Following my undergraduate degree in Microbiology and Immunology (University of Leeds, 1998-2001), I took a Research Assistant position at The University of Manchester's Maternal and Fetal Health Research Centre (MFHRC), investigating infection in the placenta. I quickly became fascinated by this amazing organ and undertook a PhD (2003-2006) within the same research group. I have continued to study placental development and function to help understand what goes wrong when a baby is born too small, too early, is very unwell, or does not survive. An important part of my job is engaging the public with our research into finding solutions to pregnancy problems. In 2022, I was appointed as a Lecturer in Maternal and Fetal Health, and through my teaching roles, I hope to inspire the next generation of scientists to undertake a career in this important area of human biology. 
Presentation: Michelle and Chava will present on their project: Still Life: pregnancy and loss in the Jewish community. This project explored personal experiences of stillbirth through a series of creative workshops involving women from Greater Manchester's Jewish community. It also provided an opportunity for those affected to meet with researchers and to learn from each other. The project has helped break the taboo surrounding stillbirth within this community, improved public understanding of and engagement with research aimed at stillbirth prevention, and led to co-development of hospital guidelines for providing better care and support for Jewish parents who experience the loss of a baby.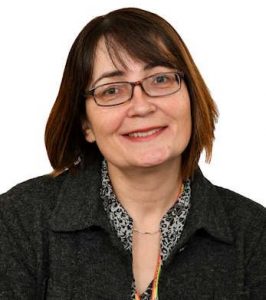 Dr Hawys Williams, Activity Lead
Faculty Social Responsibility and Public Engagement Manager.
Hawys manages the Social Responsibility and Public Engagement Team which enables, engages and embeds Social Responsibility and all aspects of PPIE within the Faculty. Hawys trained as a research scientist working in labs and has since worked in project management, ethics and governance and PPIE in Higher Education, the NHS and in the third sector. 
Programme:  
Registration (in person: 12.45-1.30pm, online: 1pm onwards for networking) 
1.30pm Event start and welcome address 
Key note/introduction to theme  
Guest speakers  
Interactive discussion activity  
Closing Remarks  
Event to finish at 4pm  
The 'Outstanding Contribution to PPIE awards' will also be featured throughout the event.