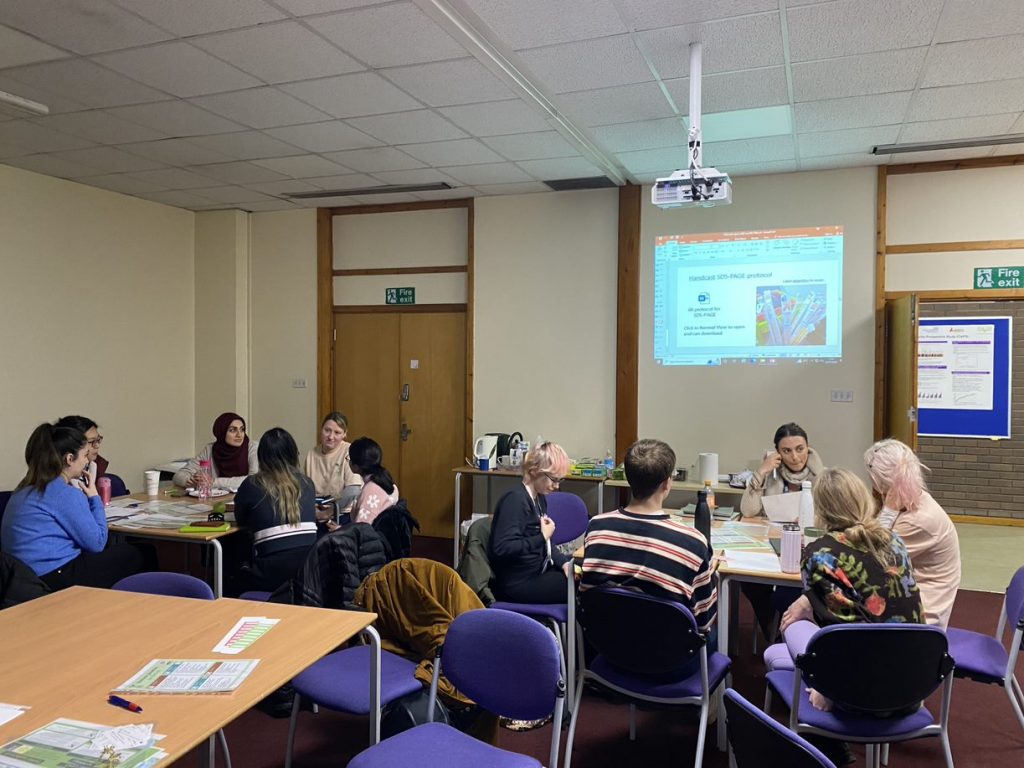 Training to Help Make Science Sustainable
Blog by Isobel Taylor-Hearn, FBMH PhD student, Gold LEAF champion and LEAF trainer and auditor. To find out more information about LEAF contact Eemaan. To find out more about the content of the blog, contact Bel.
Laboratories are essential for scientific research, but their operations often come at a high cost to the environment. The University of Manchester, which has pledged to become zero carbon in its operations by 2038, has developed an interactive workshop (FBMHS-LEAF002) to address these sustainability challenges.  
This training aims to empower participants by providing them with the knowledge and tools required to enhance sustainability practices and drive efficiency within their labs. By attending the training, individuals can learn how to make tangible contributions towards more sustainable science. 
The Problem
Labs consume a vast amount of energy and resources and produce significant amounts of waste. This not only has an impact on the environment, but also the cost of research, which is often funded by charities. Shockingly, laboratory researchers generate nearly 15 times the amount of plastic waste as the average individual Additionally, labs can use three to ten times more electricity than an equivalent office space, with a single fume cupboard consuming as much energy as three UK households when used incorrectly. It is thus crucial researchers take measures to minimise this impact and avoid any unnecessary waste. 
The Training 
The University has implemented two tools to improve sustainability:  LEAF (Laboratory Efficiency Assessment Framework) and 6R (Review, Reduce, Reuse, Refill, Replace, Recycle).  The University has set targets for all labs to achieve at least a bronze-level LEAF certification by 2025 and for all large practical classes to be reviewed with 6R by 2025. The FBMH training workshop introduces participants to these tools and how to apply them to improve the efficiency of their lab operations. Following training, GTAs will also be able to act as consultants to review practical classes with 6R.  
The training is an interactive workshop that fosters collaborative learning and aims to create a community of practice committed to driving positive change. Participants are encouraged to share ideas, learn from peers and raise any challenges they currently face. Participants will leave the course feeling empowered to implement best practices, reduce their lab's environmental footprint and contribute to a more sustainable future.  
Key Learning Outcomes
Provide Knowledge: attendees will learn about the key contributors to environmental impact within their labs and gain practical strategies to improve energy efficiency and minimise waste generation in the lab 
Empower Participants: the training equips participants with the tools needed to implement best practices in sustainability. 
Create Collaboration: the training creates a collaborative learning environment where participants can share ideas and learn from each other. By building a community committed to sustainability, individuals can drive positive change in their labs and beyond 
Participants have said they have found the training really interesting and inspiring. The training must be attended by LEAF champions, but any member of the lab can join. We actually encourage LEAF champions to get their lab members trained as becoming more sustainable in the lab is everyone's responsibility. 
Training dates and sign-up link can be accessed here: FBMHS-LEAF002 Improving sustainability in the lab with LEAF and 6R. It is also on part of the New Academics and Fellows programme (NAP) portfolio.
To find out more about Environmental Sustainability: visit the Faculty's intranet page, website or contact srbmh@manchester.ac.uk. For more information on Environmental Sustainability at the University watch this short film or visit their website.