[Infographic] Continuing specialist care into adulthood in young people with JIA
Some children and young people with juvenile idiopathic arthritis (JIA) go into remission in childhood and do not need to continue to see specialist like rheumatologist and ophthalmologists. Many young people do continue to attend hospital appointments after the age of 18 and their care moves from a children's hospital into adult services. However, we don't know what proportion of young people go on to adult services, or how long they attend adult specialist care for. Our recent study used data from GP records (linked to hospital records) in England, to answer these questions, and provide this information for children and young people with JIA, their families and carers, and health care providers in paediatric and adolescent rheumatology. 
We found that two in three young people continued to attend hospital appointments over the age of 18, and only one in five stopped attending hospital appointments under the age of 16. Of those who continued to attend the hospital as an adult, 1 in 3 were then discharged or stopped attending in the following years, at an average age of 22.
We also looked at what sort of young people were more likely to continue to see the hospital specialists. We found that young people who were older when they were first diagnosed with JIA, those who also had eye disease, and those from less deprived areas were most likely to continue to attend specialist appointments as an adult.
Find out the key results, summarised in the infographic below.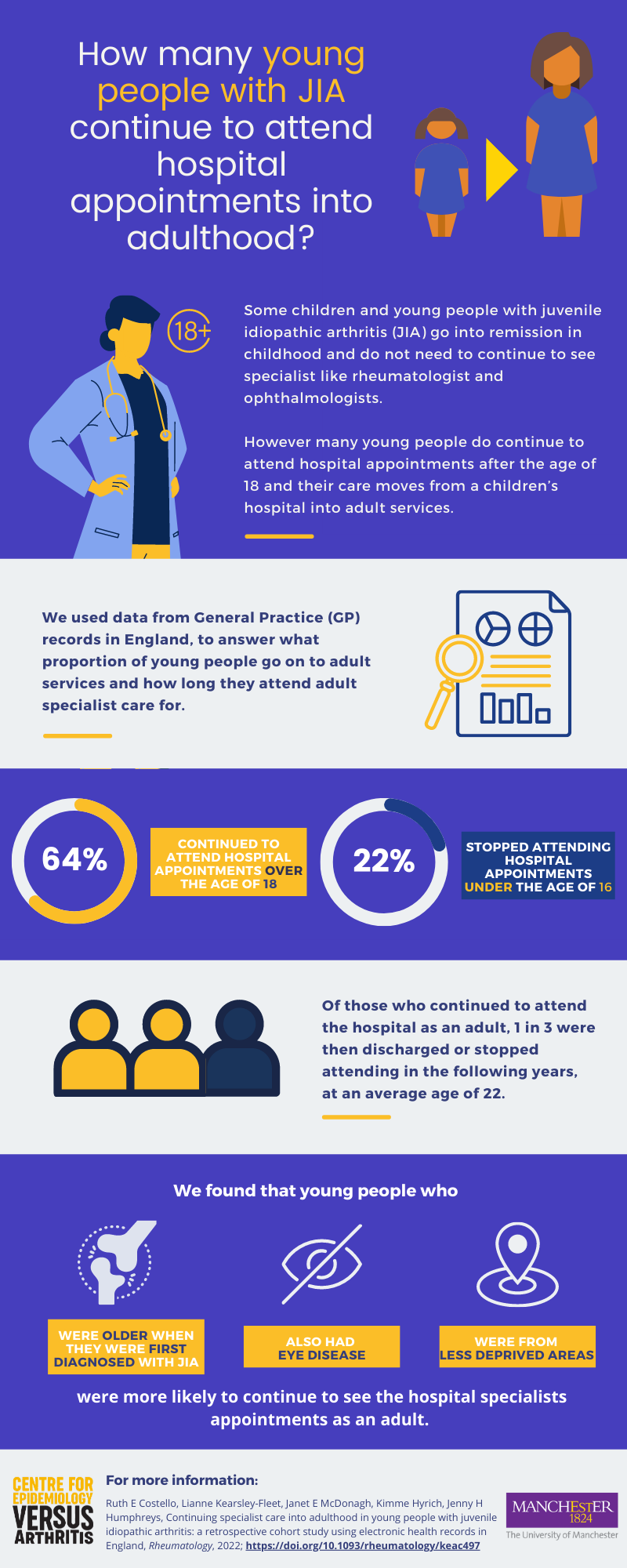 Download this infographic (PDF)
Publication
Ruth E Costello, Lianne Kearsley-Fleet, Janet E McDonagh, Kimme L Hyrich, Jenny H Humphreys, Continuing specialist care into adulthood in young people with juvenile idiopathic arthritis: a retrospective cohort study using electronic health records in England, Rheumatology, 2022;, keac497, https://doi.org/10.1093/rheumatology/keac497