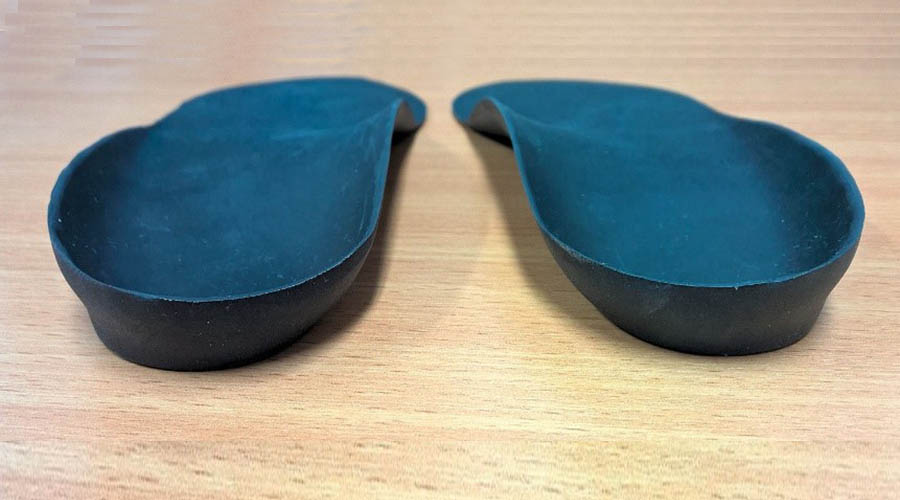 The effect of different types of insoles or shoe modifications on people with medial knee osteoarthritis
Background
This was a randomised clinical trial assessing different shoes and insoles which have been used in attempting to reduce the loads in the knee in individuals with medial knee osteoarthritis. Increased biomechanical loads in the knee have been associated with increased progression of the disease and pain. Therefore reducing these loads is essential in the treatment of medial knee osteoarthritis.
What did we do?
The study assessed two shoe conditions (a control shoe and a OA mobility shoe), two lateral wedge insoles (supported and typical) and barefoot walking to determine which was best. 70 individuals with medial knee OA took part in the study which consisted of a three-dimensional gait analysis assessment as well as pain and comfort measures. All individuals tried all the shoes and insoles.
What was discovered?
The results showed that:
Both of the insoles and barefoot walking reduced knee loads during walking, whereas the OA mobility shoe did not.
The OA mobility shoe and the supported lateral wedge reduced pain, whereas walking barefoot resulted in increased pain.
Barefoot walking and both lateral wedge insoles reduced loading in the knee but only the supported insole and the OA mobility shoes resulted in reduced pain and increased comfort ratings.
Longer term studies on the role of insoles and shoes in the treatment of medial knee OA are needed.
Publications
(Jones RK et al.(2015). The Effect of Different Types of Insoles or Shoe Modifications on Medial Loading of the Knee in Persons With Medial Knee Osteoarthritis: A Randomised Trial. J Orthop Res, [Epub ahead of print], eScholarID:263833 | DOI:doi: 10.1002/jor.22947)