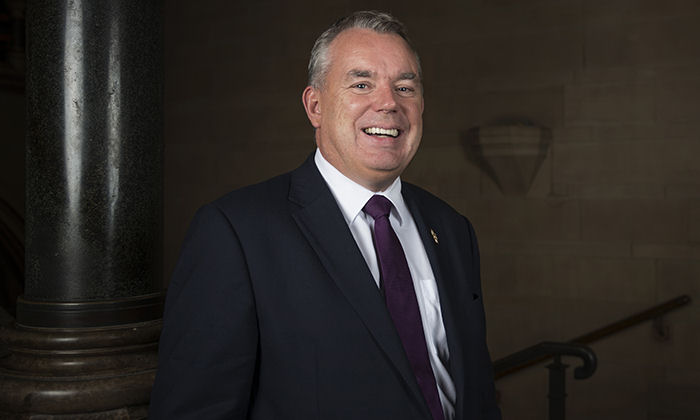 Patrick Hackett: Introductory message
Dear colleague
Today is my first 'official' day as Registrar, Secretary and Chief Operating Officer (RSCOO) and like most people on the first day in a new job I'm feeling a whole range of emotions – excitement, anticipation – and I'd be lying if I didn't say there was just a little apprehension – this is after all one of the most prestigious jobs in UK higher education.
I've actually been here at the University for a few weeks now, working alongside Will Spinks, to whom I am grateful for such a smooth transition, and taking the opportunity to meet many of my new colleagues – Professional Support Services (PSS) and academic alike. I have to say that I've been overwhelmed by the warm welcome I've received so far – people are rightly keen to share with me how they and their teams contribute to the great work of our University. I've also listened when they have talked about their ideas on how to make things better – but more of that later.
I thought it might be useful to begin by telling you a bit about myself and why I've devoted the majority of my career to working in higher education. I was born and brought up in rural Ireland, one of six siblings, and the opportunity to study Architecture at University College Dublin has had a lasting positive impact on my life. As the first person in my family to have the wonderful opportunity to attend university, I truly believe that institutions like ours make a real difference to people's lives.
While I began my career in architecture in private practice, I soon returned to the world of universities, this time working at one rather than studying, as Project Manager at Royal Holloway, University of London. During my 20 years in working in higher education I've held positions at Reading, and, more recently, at Liverpool where I became Deputy Vice-Chancellor in 2013.
Outside of work, I am a very proud father to three children, 22 year-old Katie who is a postgraduate studying Architecture at Edinburgh University and twin boys of nine, Ben and Tom, who share a passion for school and sport including rugby union, athletics and, of course, football (supporting one of the local Mancunian teams). So I understand something about the challenge of maintaining a good work-life balance and the importance of organisations investing in wellbeing.
As I have one of the longest job titles at the University, I thought it might be useful to explain what this actually means. Yes, I am ultimately responsible for leading the 5,000 colleagues who work in the Professional Support Services, but I also have a cross-University role working with academic colleagues to determine and deliver our ambitious plans for the future.
One of my first impressions is that by working together we can do more to enhance partnership working between PSS and academic staff – none of us accomplish anything in isolation. The PSS is not simply here to support and service the requirements of our Schools and Faculties, but to be trusted and respected partners, working collaboratively to deliver activities that contribute directly to the success of our University. We must aspire to excellence in everything that we do.
A symbolic, but meaningful, signal of this will be a name change from Professional Support Services to Professional Services (PS), which will take immediate effect. This is about more than just a 'rebrand' – it's a real opportunity to rethink how we do things so that we aspire to excellence in everything that we do, whatever job we carry out in PS. It's about continually improving by being innovative, effective and efficient and finding new and better ways to make our contribution, embracing the opportunities that new technology presents. It's about sharing leadership responsibility, empowering colleagues to make decisions, taking calculated risks and not being afraid to fail, so long as we learn something from the experience.
It would be wrong of me not to acknowledge that higher education has been going through some tough times. Issues around the value of a university degree, UK funding and immigration policy, pensions and industrial action have impacted on how colleagues feel about working here. These pressures are not about to ease anytime soon, so we must all be ready to take responsibility for our decisions, to prepare ourselves and our teams to face future challenges and changes, identify and pursue opportunities and ensure that all change is carried out professionally and sensitively, engaging colleagues who are affected along the way.
Finally, I believe that good leadership is about listening to colleagues and responding appropriately. So I'm giving you my firm commitment that I will be spending significant amounts of time listening to, and talking with, academic and PS colleagues about the full range of PS activity across the University. In the meantime, if you see me out and about across campus, please do stop me and introduce yourself. I'm confident that by working together we can build on the pride and ambition that is palpable throughout our University.