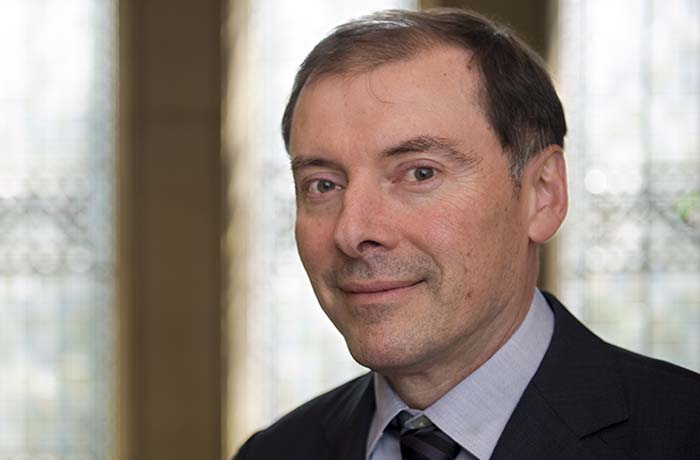 Luke Georghiou: Global Influence
To be recognised globally as one of the world's most influential universities it is vital that we embrace internationalism. The challenges that shape our research and teaching are inherently global. With 160 nationalities represented on campus we are international in our student population, our staff composition, our research networks and our cultural reach.

Many of the ways in which we evaluate our success are international in their outlook.  The international dimension is an important part of our new strategic plan. We have several areas of strength that we can build on, and new ideas which I'll be working on with colleagues. 
While our absolute numbers are high, our proportions of international students and staff show that we could increase these further, and will need to do so to compete on a global stage. Global flows of people, knowledge and resources greatly enrich us but also expose us to wider currents of geopolitics and socio-economic trends (Brexit and US/China trade tensions come to mind).
At the same time the environment we work in is changing. More countries are entering the market offering courses taught in English and some have the advantage of more favourable costs or visa arrangements than the UK. Blended and distance learning will play a growing role both in the market and for us and we must also be alert to demographic and economic shifts. For example, Africa is projected to have the world's largest working age population by the 2030s as well as rapid if uneven growth. These trends combine to demonstrate that we need a clear and robust international strategy.
Our Future has given us some key guideposts. A first aim is to attract the world's best talent. We have over 11,000 international students and almost 3,000 more from EU countries. These students enhance the Manchester experience and help several degree programmes to reach a critical mass. However, we need to increase the diversity of our intake, both in the balance of countries of origin and in their socioeconomic backgrounds. We are looking for growth in some key areas, notably North America, and also working with our alumni to lower the barriers for brilliant students who face economic barriers to come here. Our Equity and Merit Scholarships for African countries provide a great example.
We also need even more to take Manchester's expertise into the world, sharing facilities and knowledge to help find solutions to global challenges. Almost half of our research publications are internationally co-authored. These systematically get cited more than those which are purely national. We work with an amazing 4,300 institutions worldwide. Our commitment to supporting the UN's Sustainable Development Goals has recently been recognised, with the Times Higher Education ranking us 3rd in the world. This is manifested in projects ranging from tackling air pollution in Delhi to the interdisciplinary Global Challenges Research Fund project which seeks to ensure that next-generation dams promote sustainable development.
With a global shift in where business R&D is performed we also need to further internationalise our business engagement activities. However, such activities need to bring benefit to our country and region as well as being fully compliant with regulations such as export controls. The best way to do this is by attracting inward investment to the UK. Our role in bringing the Dutch/German genomic medicine firm APIS Assay Technologies and its parent Qiagen to Manchester shows what can be done.
Strategic university-to-university partnerships contribute to research, education and learning, social responsibility and reputation. We have a growing set of key relationships. For example our partnerships with Melbourne and, more recently, Toronto universities reflect shared experiences of being large, research-intensive institutions closely associated with their cities. We have a dedicated fund to seed such partnerships with workshops and exchanges and to help them to progress to collaborative projects, student mobility and joint doctoral programmes.
A good global reputation is important because it affects potential recruits, collaborators, students and the governments who send them when they make decisions about whether to engage with us. It also makes us feel good!
We are fortunate to have the UK's largest alumni community with over 480,000 around the globe, many of whom are key influencers and supporters. We also regularly engage with ambassadors, national, civic and business leadersin 'scientific diplomacy'.  Hosting international institutions and events is another way to project ourselves. The headquarters at Jodrell Bank of what will be the world's largest scientific instrument, the Square Kilometre Array, is one example. Bringing ESOF to Manchester, along with the accolade of being European City of Science, is another. We are fortunate to live and work in an iconic city.
Our shared identity provides an important element of our collective reputation and offers more prospects to work together in the future.
I would welcome your views on how we can develop our global influence and the benefits it can bring to our University.
Professor Luke Georghiou
Deputy President and Deputy Vice-Chancellor