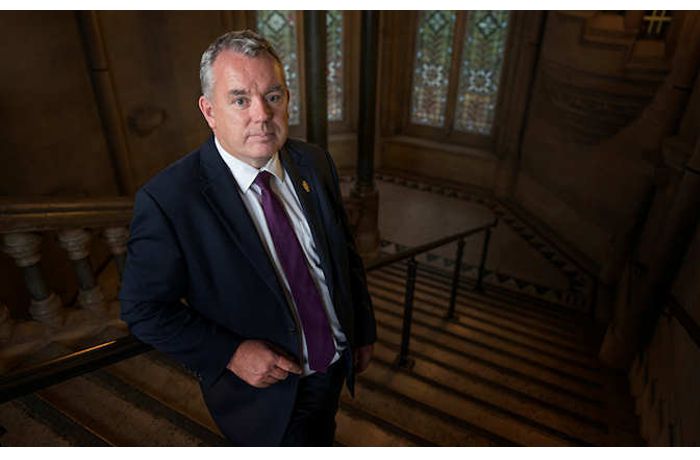 Patrick Hackett: A personal perspective on the current situation
I'm writing this blog post to you from my desk at home, looking out at the distant Welsh hills, with the twins in the foreground kicking a rugby ball rather than home studying. My daughter Katie is ensconced in her flat in Edinburgh, finishing off her architecture studies with the disappointment of not having a final year show. It feels very discomfiting not to be able to visit and give her a hug and tell her everything will be ok.
I started homeworking slightly earlier than most of you because I and my family had to self-isolate. So I have had a little more time to grow accustomed to a new way of working. Every day seems to be a mix of serious considerations about how to manage the impact of covid-19 alongside working out how to host a Zoom meeting or to put up my hand (electronically) to ask a question.
These last few weeks, particularly the last week or so, have undoubtedly been some of the most unusual and challenging of my entire career, and I am sure many of you feel the same way. These events are truly unprecedented, and moving at an astonishing pace.
Organisations like ours have business continuity plans for when unexpected events happen – but we don't necessarily think that we will have to use them. Just a few weeks ago our lives were going on as normal, and now most of us are working in entirely different ways, limited to our homes and for many, balancing our work with other responsibilities such as home-schooling our children or caring for family and friends.
Each day brings something different at the moment – it feels like there's now no such a thing as 'normal'. We are facing constant shifts and changes to our lives and routines, and that can often cause stress and anxiety. If you feel you are struggling with balancing your work commitments and your caring or other responsibilities, please do speak with your manager to see what arrangements you can agree to help support you during this very difficult time. I read a fascinating article this week that talks about the emotions that are generated by a situation such as this one. It may interest you too: That Discomfort You're Feeling Is Grief
The weeks to come will test us all. As a team we are all having to continually adapt our approach as the situation develops and changes. Please be assured that we are doing and will continue to do everything that we can for our students, our staff, and the long term future of our University. We will continue to communicate with you often in the weeks to come and share with you advice, resources and support for your wellbeing.
Thank you
I would like to take a moment to acknowledge the enormous efforts that have gone on across the entire University to meet the demands of this unique situation. Thank you for all that you've done and continue to do to keep our University operating through the most trying of circumstances. From the IT teams that have worked solidly to get working from home up and running at scale, the many staff who work directly with our students and have worked tirelessly to support them and their continued learning, to our communications teams who are working hard to share messages, this has been truly a team response.
I would especially like to acknowledge the commitment of those staff who continue to work on campus, to support and care for our students in halls, to keep our buildings and estate secure and to manage our special facilities such as the Biological Services Facility (BSF) and the vivarium in Manchester Museum. I know I speak for all of the Senior Leadership Team when I say that this makes me deeply proud to work here and truly brings our values to life. Thank you all. I'd also encourage you all to take time each day to thank those colleagues who you're working with and who are all doing their very best amidst the most trying of circumstances.
We will keep communicating with you all as often as we can; whilst you might be working at home you are most definitely not alone. Over the coming days and weeks we'll also share some 'good news' stories too – about how our people have really come together to set up new ways of doing things.
I have absolute trust that each of you will continue to do the best that you can. Please look after yourselves, your families and friends during this really difficult time. I would like to ask each of you to take every opportunity to keep connected with your colleagues as this is so important for wellbeing, and look out for each other.
I very much hope we will all be back soon on our fabulous campus. In the meantime, please stay safe and well.
Patrick