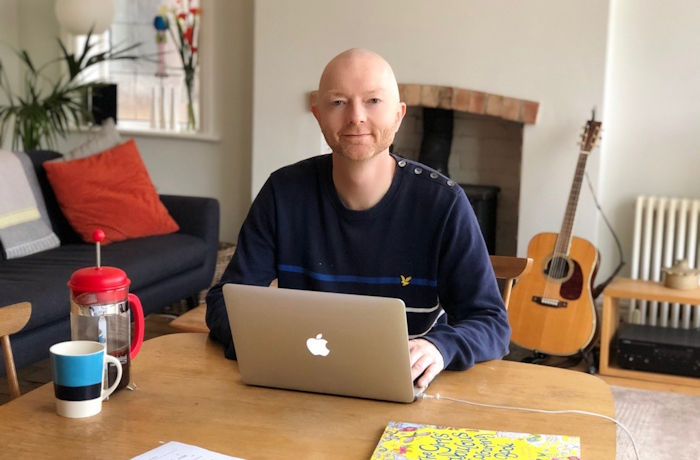 Julian Skyrme: Bringing out our best in a crisis
Dr Julian Skyrme, Director of Social Responsibility, talks about the many examples of staff living our values in a difficult time, and the volunteering opportunities that colleagues can get involved in.
Theories of disasters point out that during major societal crises the needs of individuals and society move closer together: we develop a greater sense of belonging and commonality and we tend to bring out the best in ourselves and our organisations. All of this has been evident across our University community since the extraordinary events brought on by the coronavirus (COVID-19) pandemic.
Whilst many colleagues have continued to perform vital roles supporting thousands of our students who remain in our Halls of Residence and elsewhere in Manchester, boundaries between work and home have completely broken down for those of us adjusting to working remotely. Like many I've found it almost impossible to multi-task between the personal and the professional.
As well as seeing inside the living rooms, kitchens and studies of many colleagues on Zoom, a typical day for me has involved simultaneously acting as a nurse (my seven year-old daughter has been very ill with COVID-19), concerned son and neighbour (my Mum and next door neighbours are in their 70s with underlying health conditions), teacher (navigating home-schooling for both of my children), referee (stopping them arguing!), chef (or more accurately, using endless snacks as bribes for some peace) and of course being a busy professional (especially adjusting to working remotely).
Nobody can be expected to juggle these unprecedented demands properly of course, which is why we've published guidance and support for staff navigating working from home and parental or caring responsibilities. I urge all colleagues to read through this and please speak with your line manager if you're finding your own circumstances a challenge right now. For parents struggling like I have, I found this advice from headteacher Caroline Newman about managing our expectations really helpful, and it's delivered in Britain's best accent.
Our University was formed to advance education, knowledge and wisdom for the good of society and we are still unique in British higher education for having social responsibility as a core goal. This is now more important than ever as our whole community pulls together to support the local, national and international effort to protect and serve the public during these unprecedented times. We've started to capture some examples of our response to the global pandemic on our dedicated coronavirus pages, which will be continually updated. I wanted to share some inspiring examples of how our University has quickly marshalled our resources to support the fight against COVID-19 – through our research, our students, our operations and our public engagement.
Research
Our researchers and clinicians across Greater Manchester are working to find ways to tackle COVID-19 and save lives through the establishment of a rapid response research group. Already we're working with Public Health England to adapt expertise and laboratory equipment to test people for coronavirus. We're accelerating clinical trials to advance treatments in intensive and critical care settings affected by COVID-19. And we are supporting evidence-based interventions to keep the workforce safe in social care settings.
Students
While many students have been adapting to wholly online forms of teaching and learning, others have found themselves on the frontline, for example as placement nurses, medics and pharmacists. These students have been supported by their course and programme leaders to assess different ways they can support the NHS, all whilst ensuring their safety and wellbeing. Students from all disciplines have been volunteering their time supporting local organisations such as foodbanks, food distribution services and mutual aid groups in their neighbourhoods. Our community of 500,000 former students has also been supporting local, national and international initiatives to combat COVID-19.
Operations
We've been busy ensuring our operational processes, policies and guidance to staff are helping to support the national and regional drive to tackle COVID-19. In addition to supporting clinical staff to spend more time in hospitals and primary care settings, many staff have responded to the call for volunteers wishing to offer their specialist skills for the NHS away from their core University role, beginning with those who have laboratory skills. We've also produced guidance for health and social care qualified staff who fall under the Emergency Volunteer Leave rules in the new Coronavirus Bill.
For other staff we are aligning to the Government's successful NHS Volunteer Responders and the Mayor's Coronavirus – GM Support for Residents scheme. Most of these initiatives are simple acts of kindness, such as keeping in touch with vulnerable people or food distribution. This should not affect your ability to carry out your University role, but always check with your line manager. And whatever you do follow NHS rules on social distancing and self-isolating if you have any symptoms. I've just survived fourteen days of self-isolation with my children and believe I probably deserve a medal, but really these are small sacrifices to protect the NHS and save lives.
We're also part of a nationally coordinated response to equipment sharing of assets such as PPE, chemicals, resources and coronavirus testing equipment, which is being expertly led by colleagues in the Faculty of Biology, Medicine and Health and the Faculty of Science and Engineering. We've also opened our carparks for use by the NHS and a wide range of discussions happen every day about collaborating and sharing other facilities and expertise.
Public and civic engagement
Since the outbreak of COVID-19 it's been clear that 'experts' have suddenly become more valued. Researchers have appeared more frequently in the mainstream media, trusted for the independence of their views. Policy-makers have also been keen to point out that they are following scientific evidence and have been providing prominent public platforms for academic experts such as Professor Chris Whitty, Sir Patrick Vallance and Professor Neil Ferguson. In our own case Professor Cary Cooper has been commenting across the popular press and broadcast media on wellbeing, leadership, unemployment and anxiety during the pandemic. Professor James Thompson has been documenting and sharing international examples of "artful care" and artistic responses during this crisis. We've launched Manchester Museum in Quarantine to bring sparks of joy, wonder and connection between our university museum collections, individuals and families around the world. And Professor Hugh Coe has contributed to evidence and debates on globally declining levels of air pollution during COVID-19.
Lord Kerslake, who chaired the Civic University Commission, said that being a truly civic university "is not something that an institution can do in isolation. They need to work in collaboration with all of the key partners in their area". Civic engagement is at the heart of our new vision and strategic plan because of the proud record we have in contributing to the wellbeing of our city region. The weeks and months ahead will be a challenging and uncertain time for us all personally, for the University and wider society. We need to look after ourselves, our families, our communities and our NHS. But it's also clear that our response to COVID-19 is bringing out the very best in our university community and offer inspiring examples of our values and purpose to advance knowledge and wisdom for the good of society.