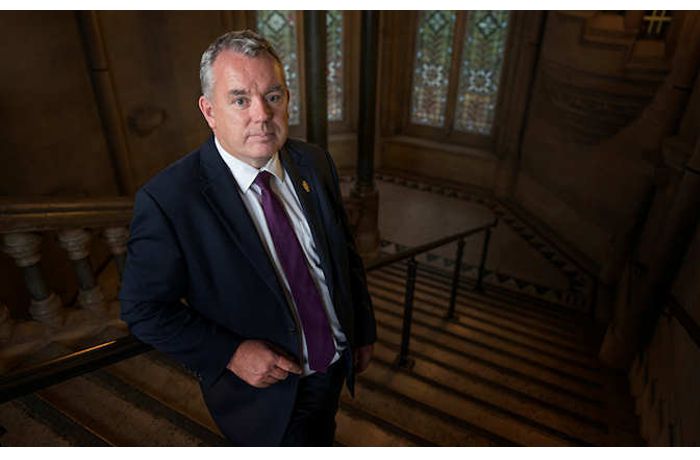 Patrick Hackett: Working smarter and living better: a hybrid future
I love an anniversary or a celebration – but realising that a year ago today we had, for the most part, to close the campus is not something I thought we would be marking, and indeed it isn't something that many people would probably look on as a celebration.
But I think we should recognise all the great things we have achieved over the past 12 months. Not only have each and every one of us adjusted to new ways of working and helped to keep the show on the road, but we have made improvements along the way. It hasn't been easy, we have made some mistakes and I know colleagues have struggled at times with their emotional wellbeing. No-one ever taught us how to cope in a sustained pandemic.
Rather than looking back, I want to look ahead and focus on the things we have learnt and how they have supported our work and our wellbeing. And importantly how they can be harnessed for the to help us achieve Our future.
Karen Heaton, Director of Human Resources, described 'the great working from home experiment' in her blog and it has given us a chance, to a certain extent, to 'try before you buy'. It is now clear that many staff would really value being able to adopt a hybrid approach to their work, spending some time on campus, some time working from home. What the experiment hasn't yet given us is a chance to see how hybrid working will work in practice – now and when COVID restrictions are lifted.
To do that I have asked Julian Skyrme (Director of Social Responsibility) to lead a project, as part of Reshaping PS, to look at the principles and practicalities we need to have in place to truly embrace hybrid working in Professional Services.
Now, I don't want my talk of principles and practicalities to start your eyes rolling, this is an exciting opportunity for us to do things differently, and it will be something which evolves as we learn more and are able to refine our approach.
Under the working title Working Smarter, Living Better, the project will look at how we bring together our people, our IT and our estate to re-imagine how we do things, where we work and how we use our campus. This will help bring to life and build on the work of the Foresight Group, led by our Deputy President and Deputy VC, Luke Georghiou.
I must be honest though – a hybrid working model isn't going to be an option for all our staff. Some colleagues have roles which require them to be on campus full time. And there are some staff who will prefer to work on campus. What we must ensure is that all the working models we have are fair and work together to deliver what the University requires of us.
I will state that I am an advocate of flexible working. At the same time I recognise there are challenges – particularly around how we manage the desires of individuals with the need to operate effectively across a team, how we equip our managers to be able to make those decisions and support teams to work differently.
Whilst we don't have all the answers yet, what I can promise is that the development of a new approach to working smarter and living better will be co-created with staff. A working group has been set up, and the recent 'PS in-conversation' sessions have already fed into thinking around this.
So what is next? Well, we need to have a framework, so there will be a set of principles which will be launched before national restrictions are potentially lifted in June. Going hand in hand with the launch of the principles will be an online training module and new Managers' Essentials guidance. Managers will be encouraged to use this guidance to have structured conversations with teams about what might be possible. A warning here: there won't be a one-size fits all model. We are a learning organisation and I am encouraging managers to try things, fail-fast if necessary, and help us to refine our approach in light of experience.
If you are interested in getting involved in this or other activities as part of Reshaping PS please share your ideas in the comments section or email me
We don't yet have a date when we will all be able to return to campus. When we do, we will be prioritising who will be coming back, from an operations and well-being point of view. Through Working Smarter, Living Better, we will seek to embed those positive things we have learned over the past year and look at how we can improve further.
Until then, tonight, when all the Zoom calls are done, I will be grateful for the 30 second commute to the kitchen where I will be raising a glass – well, a cup – to everything we have achieved, and the exciting opportunities which lie ahead. I very much hope we can all come together in the not-too-distant further to recognise what we have achieved during this unprecedented period in our lives.