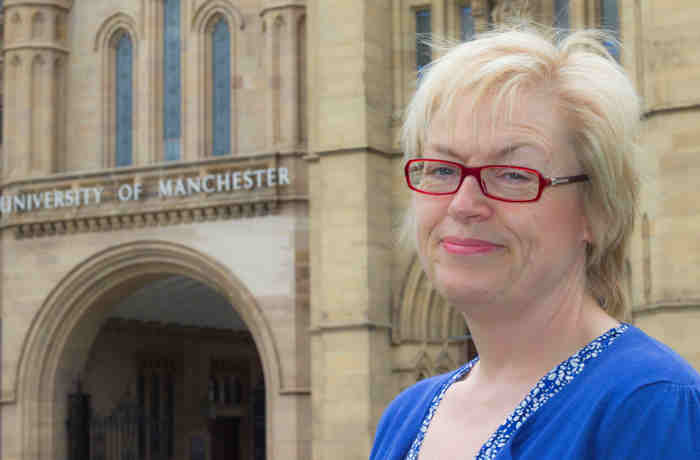 Nicky Cullum: Our developing role in addressing Health Inequalities
Well known global and regional health inequalities have been exacerbated by the COVID pandemic. For example, a baby boy born today in the London Borough of Kensington & Chelsea, has a life expectancy of 95 years, compared with 75 for one born in Gorton, Manchester and 51 for one born in Lesotho, South Africa.  The COVID mortality in Manchester was 59% higher than the national average and Greater Manchester (GM) has a higher prevalence of many long-term physical and mental health conditions than most of England.  
Research at The University of Manchester quantifies the nature and degree of health disparities; enables understanding of the causes of disparity and identifies potential interventions.  
In recognition of our expertise in experimental medicine research, the University was recently awarded £59.1 million by the National Institute for Health and Care Research (NIHR) for the Manchester Biomedical Research Centre (BRC), to enable us to translate our scientific discoveries into new treatments, diagnostic tests and medical technologies that will improve people's lives. The new Centre will bring a health equity lens to the research that it does.  
Additionally, Creative Manchester recently worked with the Greater Manchester Integrated Care Partnership to launch the GM Creative Health City Region Strategy, where academics are using their research to engage with policymakers to improve access to, and the outcomes of health systems in Manchester and around the world.  
Addressing this complex problem requires us to go even further. We need to bring together disciplines spanning the natural sciences, engineering and maths; the social sciences and humanities and biological, medical and health sciences, because real life health disparities are multi-faceted, complex and require us to work in an interdisciplinary way to conduct research that makes a difference.  
There is also concern that much medical research happens at a distance from where 'need' is greatest. For example, Greater Manchester has the highest prevalence of common mental health conditions of the NIHR regions (201 people per 1000 population compared with the England average of 156 per 1000) but the lowest proportion of mental health service users recruited to its research (approximately 3 people per 1000 compared with 11 for England). Health researchers and funders have recognised that this needs to change, and that we need to try much harder to ensure that relevant research gets done in the areas with the greatest health need.   
With much of the current evidence focussing on describing health inequalities, future research must focus on how to 'level up' health. We need to develop and test potential solutions and ensure that the research we do is relevant by working with the communities who are most affected, their local authorities, local businesses and the voluntary sector.   
Our research should contribute to the development and testing of policy and other interventions (including diet, lifestyle, housing, environment) to improve health and reduce health inequalities. Crucially we need to ensure that our research measures both the benefits and harms of any policy or intervention, to ensure inequalities are not unintentionally widened. For example, work promoting smoking cessation has improved overall population health, which is great, but some of the most under-served populations have not benefitted from this societal level progress (so the gap is widened, not reduced).   
Research to advance the development of new medicines for the management and treatment of conditions which most disproportionately affect populations at the highest risk of inequalities (for example, addiction, severe mental illness) is needed. We also need a greater focus on illness-prevention; medical research tends to overestimate the role of medicine per se, and underestimate the role of the wider determinants, so a more holistic view is needed.   
Scalable, low-cost interventions (for example, digital health applications) have potential to improve health and reach under-served populations. However, this research must include people from populations and communities who experience the greatest disparities (otherwise we risk widening inequalities) and be conducted with an inequalities lens. Similarly, personalised medicine risks widening inequalities due to disparities of access to primary care and in referral patterns so we need to ensure we collect the data that will enable us to monitor inequalities.  
There is already much research related to health inequalities thriving here. We have a wealth of expertise, to tackle not only medical challenges, but the underlying socio-economic and environmental causes of inequalities and their impacts. As a University with social responsibility at its core, we have a duty to address these challenges. Over the coming months we will bring existing research groups, centres, individuals, and external partners together, to explore how  we can better support collaboration and innovation, so that we can better apply our expertise and resource to make a real difference.  
Explore an overview of University of Manchester research addressing health inequalities with the Global Inequalities research beacon at: