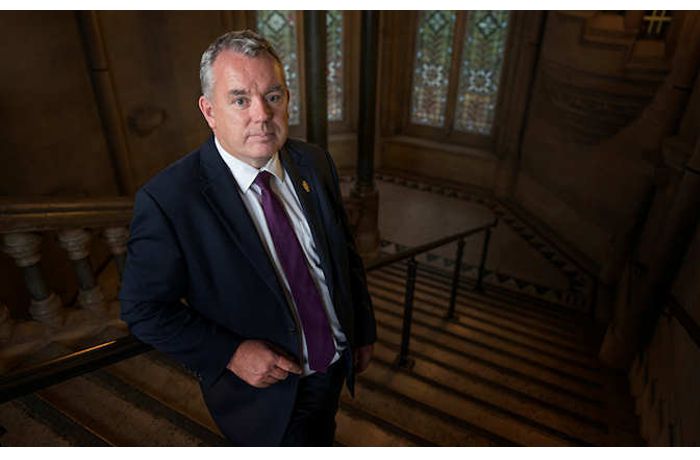 Patrick Hackett: Operations and change 
It's a rainy morning as I write this; I knew that before I opened the curtains as I checked the weather on my phone and read through the day's headlines. Technology has changed the way we live and work beyond recognition, particularly in the last 10 years. That got me thinking about how I've adapted to change in my personal and work life. Technology helps keep me closer to my family, the kids' pocket money is digital and in-work reports on detailed statistics can be produced in 30 seconds. What I spend time on each day has changed, and on the whole, I would say for the better – we can debate the impact of social media another time! 
In a work context, change is often seen as separate and additional to our day-to-day operations, as if the two things compete with each other, but actually change is helping make our operations better.  
Our current operational and recruitment challenges, as we are seeing across the whole economy, are having a significant impact on our colleagues, and we are doing all we can to tackle these immediate challenges. We all want things fixed now, but we do also need to have an eye on the future to make sure we aren't storing up further problems. 
The University is a delightful mix of organisational practices and systems that have been adopted and adapted over the years. They were all brought in to make our operations better – not just for the sake of doing things differently.  
There is a lot of talk about change, and PJ Hemmaway, Director of IT Services, has explained this link between change and operations in a really simple way. In looking at the programme of improvements being delivered in IT he's said that 'change isn't separate, it is a constant process of rationalising, refreshing and retiring what we do and how we do it. Any investment is about current and future needs, and our programmes start fixing things today as well as fixing them for the future.'  
In IT this means we are taking the approach of incremental delivery that demonstrates outcomes. For example, speeding up the roll out of hybrid working and M365 in response to the pandemic, but taking the time to then ensure it is embedded in our business processes. We are looking for opportunities for the early deployment of new technology, like MS Teams external calling. MS Teams external calling has been successfully rolled out to MECD, and we are now planning the delivery across the rest of the university. All this work is being delivered incrementally, but as part of a co-ordinated improvement programme to ensure we have a stable and highly available IT infrastructure.  
As demand on our operations has changed, some of those previous improvements now cause us frustrations and that has an impact on our work environment and wellbeing. We know there are better ways of doing things, but we must carefully unpick what we have, to make it easier to change in future and also to make sure any improvement in one area doesn't cause a problem in another. 
An example where we can see this happening is across P&OD Transformation. The whole programme will span three years and look at the long term needs of the university in relation to P&OD Services, Leadership, Performance, Culture and Wellbeing. But improvements are happening now. A number of areas are already benefitting from a new recruitment approvals process, that will soon be rolled out across the whole university. The programme by the end will have looked across and improved the recruitment process from creating a vacancy to shortlisting and interviews and then through to making an offer and staff preparation and introduction to their role.  
Operations and change go hand in hand, they aren't in competition they are pulling us in the same direction. But, to use a sporting analogy, we are trying to rebuild Wembley Stadium whilst we host the FA Cup final. We have to do it that way as we can't close the university for a year or two whilst we renovate.  Any change is best done through successful engagement with all relevant stakeholders to co-create the best solutions for the future. We saw this for the hybrid working pilot and roll-out where, for example, several thousand staff and more than a hundred designated champions helped shape our new framework from the bottom up 
Technology, processes and policy are all part of our operations, and therefore part of any change. So are our staff, and they are hugely important. To meet current and future needs we invest in the development of skills and as change progresses, we consider whether a team's structure needs to adapt to meet our emerging needs. We can never underestimate the personal impact on our staff of changes to teams, and we never undertake this lightly. SEP, is one such example, which has been a reorganisation on a large scale, and it was needed, but nearly 1500 colleagues' roles have been touched in some way by these changes. But as we transition to the final phase of new structures we also now need to think about smaller, continual and incremental change for the future. Change that means we can continue to host the FA cup whilst focusing on better ways of doing things in the years ahead. 
Over the summer we reprioritised the improvement projects/programmes we are delivering to acknowledge the pull on our teams. It was right to reprioritise, and although some projects have been paused there is still a significant amount of work taking place to make our work life better – making processes more efficient, providing tools to be able to do our jobs and delivering reliable services. 
I've already mentioned IT and P&OD, but our Finance Transformation Programme and Student Experience Programme also continue to progress, along with our Research Lifecyle Programme moving to stage two of its delivery. 
The teams working on these projects and programmes are regularly updating colleagues, briefing leadership teams and attending school boards. It can be hard to keep track of everything – in future we will bring together the progress of these projects and the benefits they are delivering in communications.  
All of these improvements are needed for us to be a place with the right environment and facilities for colleagues and students to be able to deliver their best work.