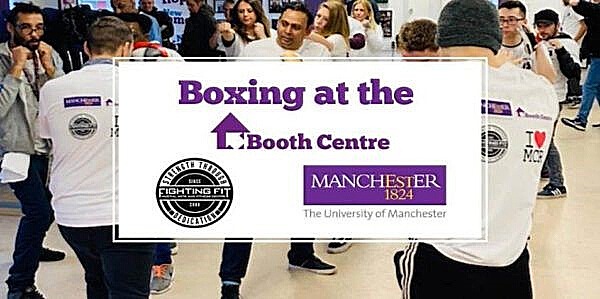 Boxing for Wellbeing
Public Engagement describe the way in which higher education and research can be shared with the public. It is a two-way process, involving interaction and listening, with the goal of generating mutual benefit. In this blog category, you will find out about the different ways the Faculty engages with the public through events, projects and training opportunities.
Dr Amy Blakemore, Lecturer in Nursing within the Division of Nursing, Social Work and Midwifery in the School of Health Sciences, recently led on a project exploring how people who have experienced homelessness can benefit from taking part in physical activities such as boxing.
For this project, Amy hosted boxing classes over five weeks with the Booth Centre in Manchester – a charity which goes beyond trying to find suitable accommodation for homeless people by also providing fun activities that can rebuild confidence and facilitate social connections. Each week, between 14 and 22 individuals attended the classes with attendees commenting that boxing helped relieve their stress, manage anxiety and showed them that people care about them. Attendees also received a free lunch along with an exercise kit for the class, and a thank you bag to take away containing toothpaste and deodorant.
The free, non-contact boxing classes were run by coaches Adam Taylor and Josh Cook from Fighting Fit Martial Arts and Fitness Centre, who themselves have experienced the amazing benefits that boxing can have, both physically and for mental wellbeing. Josh said in an interview that "boxing is a tool for piecing bits of your life back together. It teaches discipline and it builds passion, and these things are transferable to other parts of your life. It's also a team sport, and gyms provide community and sanctuary that many people are often missing from their lives."
The local boxing community along with four European and World Champion Boxers, Johnny Nelso, Anthony Crolla, Junior Witter, and Pat Barrett, also supported the project which was funded by the Faculty's Engaging Our Communities Support Fund.
Reflecting on the classes, Amy felt she learnt more about the value of exercise for everyone and saw how boxing could be adapted to be inclusive for the needs of people with a wide range of abilities. She also learnt more about needing to be flexible when working with community groups. She commented: "Sometimes working in academia we get very used to planning things a long way in advance and this does not always translate well when working with groups who are unable, for reasons outside of their control, to commit to activities long-term. So, a flexible and inclusive approach was needed and something that I think we really developed as a team throughout this project."
The classes continue to run at the Booth Centre each Monday at 12:30pm and are free for anyone that has experience of homelessness. Click here to see a video of one of the classes.
For more information about other PPIE events, training and funding opportunities, you can sign up to our monthly digest, visit our website, follow us on twitter or email srbmh@manchester.ac.uk. For further PPIE resources, visit the Faculty's PPIE Toolkit.