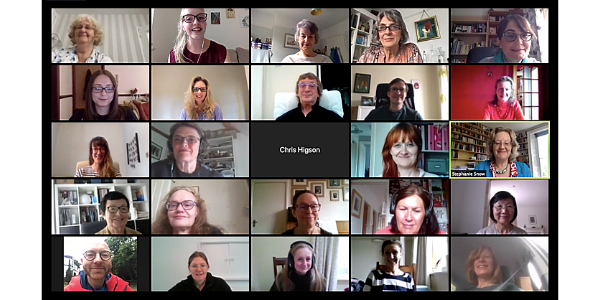 The Faculty's First Zoom PPIE Celebration Event
Public Engagement describes the ways in which higher education and research can be shared with the public. It is a two-way process, involving interaction and listening, with the goal of generating mutual benefit. In this blog category, you will find out about the different ways in which the Faculty engages with the public through events, projects and training opportunities.
On Wednesday 8th July, the Faculty hosted its first ever online Patient and Public Involvement and Engagement (PPIE) Celebration event via Zoom. Hosted by Dr Stephanie Snow, Academic Lead for Community Engagement and Involvement and Kay Gallacher, Public Contributor, the event welcomed 50 attendees including staff and Public Contributors. This year's theme was 'PPIE in a Socially Distanced World' where attendees explored how PPIE can continue to adapt and benefit health and social care during these unprecedented times.
The event was opened by Professor Peter Clayton, Faculty Deputy Dean, where he commented:
"It is incredibly important to be addressing how patients and the public can help to guide us in how we deliver clinical services, teaching and research in this new environment in ways that are fully inclusive, accessible, and fair."
Attendees also heard from three guest speakers:
Professor Tony Heagerty, Head of School of Medical Sciences, who discussed how the Faculty is responding to the COVID-19 pandemic;
Susie Gear, Trustee at Alport UK, who discussed the patient experience during lockdown and the increased need for communication with patients and members of the public;
Lindsey Brown, Public Contributor, who discussed how the Daily Definition Challenge campaign was adapted in order for it to continue during lockdown.
The event also included an activity led by Dr Hawys Williams, Social Responsibility and Public Engagement Manager, where attendees gathered in groups to discuss how our community can effectively conduct PPIE during and beyond the coronavirus pandemic. The discussion points from each group will be collated and translated into a simple resource of hints and tips to aid the wider community in their socially distanced PPIE activities in the future. Access the resource here.
"The event exemplified the value of PPIE across the Faculty and it was a pleasure to see that even in these times our staff and Public Contributors can still come together to celebrate, highlighting even more how passionate our staff and Public Contributors are about PPIE." – Stephanie Snow
During the celebration, the Social Responsibility and Public Engagement team also launched the PPIE Toolkit. The toolkit is a collection of information, templates and resources designed to support staff, students or Public Contributors with their PPIE activities. The toolkit resources have been co-produced by PPIE Forum members which includes representation from members of staff and Public Contributors. To access the toolkit, click here and for any enquiries regarding it, please email srbmh@manchester.ac.uk.
Watch the event here.
For more information about other PPIE events, training and funding opportunities, you can sign up to our monthly digest, visit our website, follow us on twitter or email srbmh@manchester.ac.uk. For further PPIE resources, visit the Faculty's PPIE Toolkit.