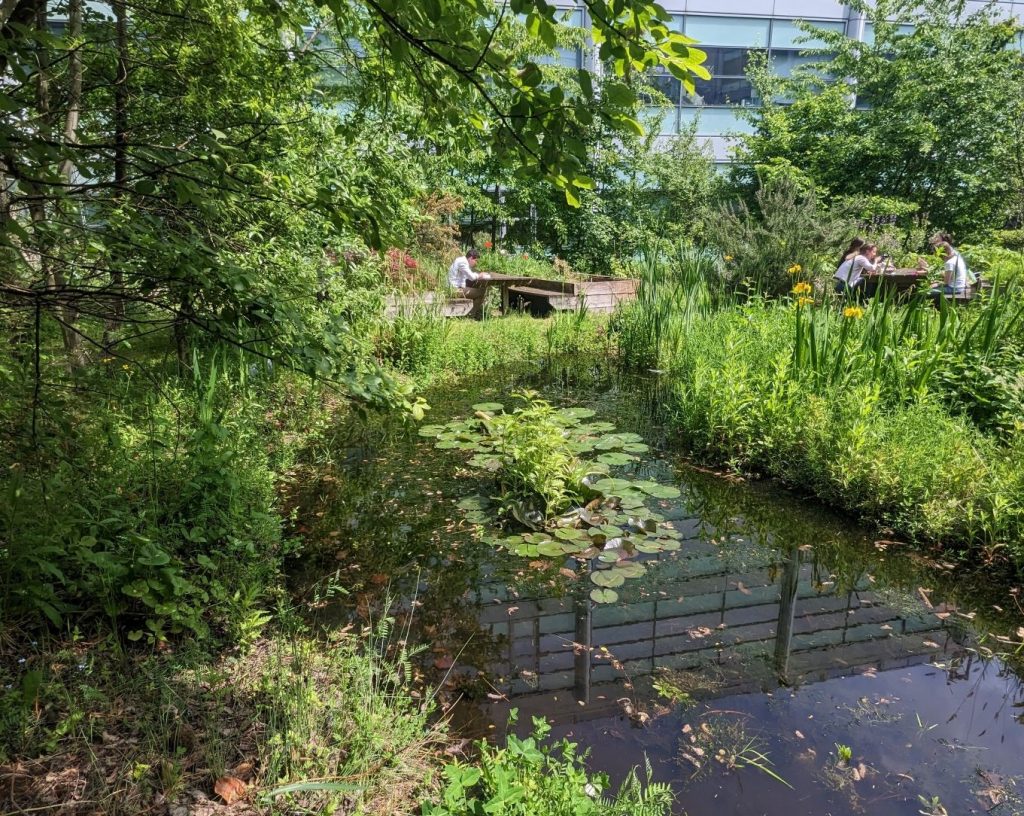 Supporting urban biodiversity: The Michael Smith Quad
Urban biodiversity is positively associated with human health and wellbeing; as global biodiversity declines at an unprecedented rate, its loss will threaten the quality of life of all humans. It is therefore extremely valuable for biodiverse green spaces to be incorporated into urban areas, including on our own University campus. 
This is the mission of the quad wildlife garden in the Michael Smith Building, which is open to staff and students who work in the building and hosts events to highlight environmental sustainability on campus.
Here is some of its history.
Originally an uninspiring lawn, the quad in the Michael Smith Building had limited capacity for any wildlife to thrive. However, over a decade ago, the site was transformed. Using an Environmental Sustainability budget to increase the green spaces on campus, Outer Space Landscapes, a Manchester based landscaping company, converted the site into the important wildlife garden we see today. 
The site was planted with raised beds, wildflower borders, hay meadows and large trees, supporting nesting birds such as blue tits and plants such as military orchids and bluebells. An array of British fruit trees were planted, producing apples and medlars which members of staff have made into jams and other preserves. Rare species have been found in the quad, such as a Lady's Slipper Orchid which continues to grow every year. In the summer of 2016, a student carried out soil analysis in the quad, revealing that the amount of carbon stored in the quad's soil is equivalent to 60 return flights from Paris to Manchester. 
Additionally, a pond was dug in the quad, which is now rich in animal life, such as pond-skaters, dragonflies and common frogs. To ensure the maintenance of its aquatic inhabitants over winter, the pond was deepened in 2011 to ensure it wouldn't completely freeze. A recent survey in the pond found it to contain swathes of beneficial aquatic plants and limited encroachment of harmful duckweed and filamentous algae.
Besides providing a space for relaxation or for coffee and lunch breaks, the sustainability team aimed to actively engage staff and students with the biodiversity in the quad. 
On 25th April 2017, the quad was officially re-launched. This event highlighted environmental sustainability events on campus and encouraged people to engage with the living campus plan. Activities included plant sales, gardening classes, a competition, and a seed swap. In addition, staff signed up to become sustainability and campus champions, who have roles such as: helping to maintain the garden; encouraging increased biodiversity; and encouraging the use of the quad as a teaching and wellbeing resource.  
In May 2018, to promote sustainability, students and staff were invited to perform a bio-blitz to understand more about the biodiversity in the quad. Staff also created wildflower seed-bombs to spread pollinator friendly flowers around campus.  
The quad also contributes to teaching and research: Biological and Environmental science students have utilised the garden for bio-blitzes, providing both training in field skills and an assessment of the quad's wildlife community over time.
Due to the COVID-19 pandemic, engagement with the quad fell, with work needing to be done to renovate the pond, reinvigorate the surrounding planters and to improve the general appearance of the space. Despite this, the quad remains important for biodiversity and wellbeing on campus. Both students and staff wish for the quad to return to being a proactive space.
Our plans for the quad
The sustainability team is now working to restore the quad to its former glory. The first action has been to hire in June two PhD students on a part-time basis as quad managers. They oversee the quad maintenance and gardening teams and are now planning events to engage staff and students with biodiversity and well-being activities
Lily Mott, PhD student, Dunhill Medical Trust/NIHR/University of Manchester funded, Healthy Ageing Research Group, Division of Nursing, Midwifery and Social Work 
Isabelle Storer, MRC PhD Researcher, Bromley Lab, Manchester Fungal Infection Group (MFIG)  
Lily is a first year PhD student in the Healthy Ageing Research Group. Her thesis will aim to develop an intervention to reduce sedentary behaviour in older employees when working from home. Lily has a master's in public health and an undergraduate degree in Music. Lily has previously worked in student support and project management roles at the University and is looking forward to planning activities to promote the quad. 
Issy is a third year PhD student in medical mycology. Working in CTF Issy regularly took breaks to Michael Smith quad and is very excited to be involved in looking after the area. Issy hopes to make the quad an oasis for staff and students to step away from work-related stress. There are so many ways to reconnect with nature in the quad: growing your own food, picking apples and blackberries, observing the journey from tadpole to frog, and watching fledgling blue tits to name a few. Issy is looking forward to getting volunteers involved in recording biodiversity in the quad, helping with workshops, and contributing to sustainable gardening practices.  
To find out more about ES in FBMH: visit the faculties webpage on Environmental Sustainability, explore our StaffNet page on Sustainability, read the latest news on Sustainability in the School of Health Sciences, or contact srbmh@manchester.ac.uk to sign up to our ES good newsletter. 
To find out more about ES at the University: watch our short film, visit the Environmental Sustainability webpage, sign up to the Social Responsibility newsletter, get involved in Environmental Sustainability initiatives across campus, or contact es@manchester.ac.uk