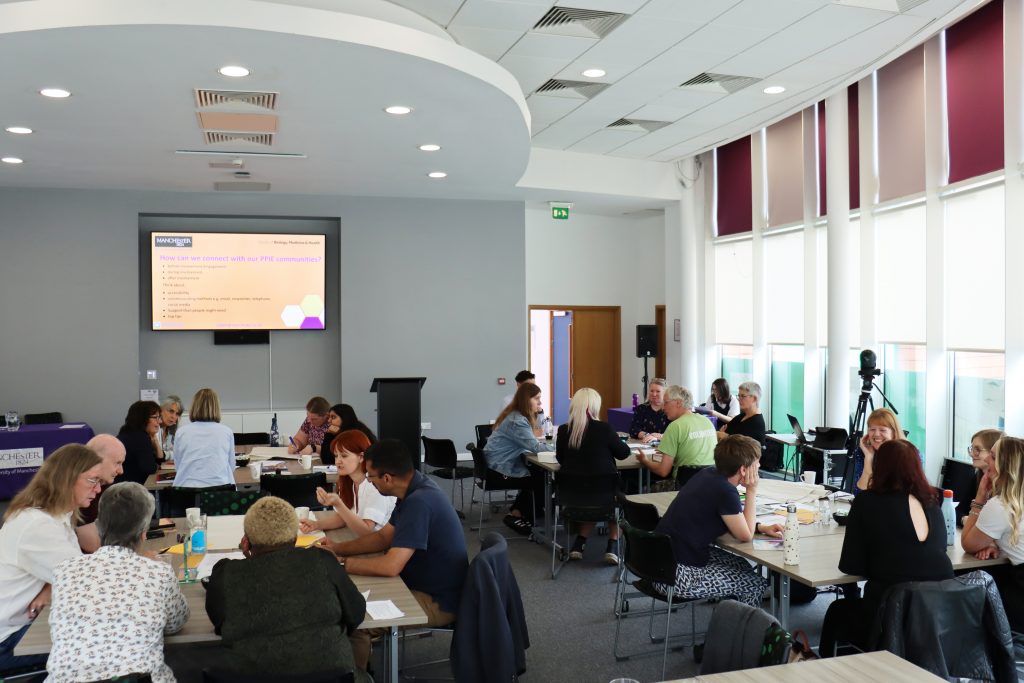 PPIE Celebration Event 2023
This year's Patient and Public Involvement and Engagement (PPIE) Celebration event took place on 12 July. 
Hosted by Co-Chairs of the Faculty's PPIE Forum, Professor Stephanie Snow, Academic Lead for Community Engagement and Involvement and Kay Gallacher, Public Contributor, our first hybrid event welcomed staff, students and Public Contributors. 
This year's theme 'Connecting and Communicating' explored how effective communication is key to creating and maintaining connections within our PPIE community.   
We were joined by three speakers who introduced our topic and shared how they are engaging in effective communication with the PPIE community. 
Dr Julian Skyrme, Director of Social Responsibility, The University of Manchester. Julian presented on the University's citizen science panel, a panel of fifty local people from across Greater Manchester who help shape the five Universities of Greater Manchester's priorities for creating jobs, contributing to economic growth, and to improving education and skills in Greater Manchester.
Dr Celia Hulme, NIHR Three Schools Research Associate and PPIE Co-Lead for the Division of Nursing, Midwifery and Social Work (NMSW), FBMH. Celia presented on Deaf Experts by Experience Group (DEEG), which was set up as part of her PhD research, and revolutionary training course for local Deaf citizens to understand and get involved in influencing health and social care research. 
Chava Erlanger, Public Contributor and Michelle Desforges, PhD and Lecturer, Division of Developmental Biology & Medicine, FBMH. Michelle and Chava presented on their project: Still Life: pregnancy and loss in the Jewish community. The project explored personal experiences of stillbirth through a series of creative workshops involving women from Greater Manchester's Jewish community.    
Attendees also explored how we can connect with our PPIE communities before, during and after involvement. The discussion points will be collated and translated into a resource to aid the wider PPIE community. 
The event also featured the Faculty's 'Outstanding Contribution to PPIE' awards which recognise the inspirational and outstanding commitment to PPIE that has made a positive difference to our community.
PPIE Award winners and highly commended recipients. 
Group category 
Highly commended – Public Participation in Improving General practice (PPIG) co-research group    
PPIG are the only research group in the UK dedicated to enhancing public participation in general practice through research. Comprising nine members from diverse backgrounds, the group is a testament to inclusivity and collaboration.    
Winner – Blueprint Project 
Blueprint are a collaborative research project who worked with six young co-researchers with lived experience to explore services for children and young people with common mental health problems. The group also collaboratively produced guidelines to advise on how best to enable and support co-researcher involvement in collaborative research projects.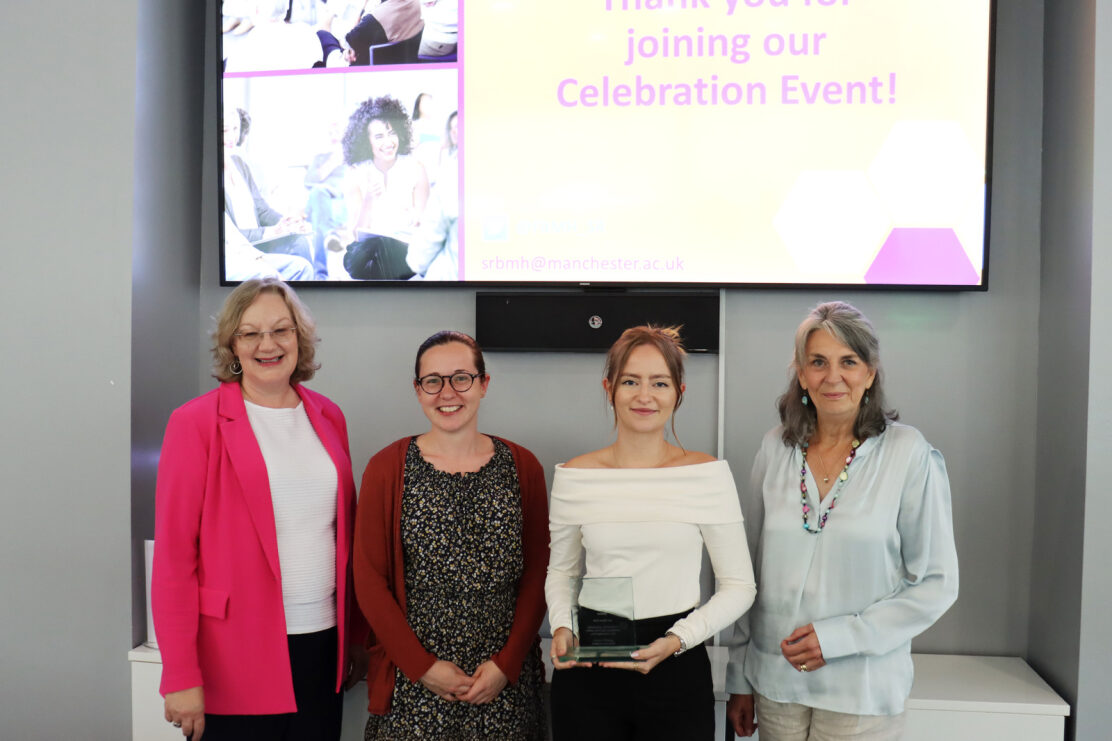 Public Engagement category  
Winner – Brain Health Day 
Brain Health Day is an event that highlighted research at the Geoffrey Jefferson Brain Research Centre. Featuring all aspects of Brain Health, the event featured a series of talks from leading academics, science discovery stands and games, and attracted members of the public of all ages. 
Inclusive PPIE category 
Highly commended – Public partnerships in liver disease research 
The project used audio recordings from public discussions to form the basis of an animation encouraging clinicians to have better conversations about liver disease risk.    
Winner – COVID shielding stories 
A project who co-produced research to understand the impact of the COVID shielding process on people living with arthritis and auto-immune disease. To enhance inclusion participants were invited to contribute creative materials, such as poetry, painting and music, instead of, or alongside interviews. 
Individual: Staff category 
Highly commended – Alexandra Sturrock 
Alexandra created and hosted 'Beyond Words,' an event series which explored the communication experiences of autistic children through visual arts.   
Highly commended – Christine Furber 
Christine led the 'With Women' book project. The book aims to promote the midwifery profession to young people of minority ethnic heritage by sharing the stories of practicing midwives who started their careers in Manchester. 
Winner – Jo Pennock 
Jo is a member of the Faculty's PPIE Forum and has involved Public Contributors in teaching activities for several years, helping students understand the critical importance of engaging patients.   
Individual: Student category 
Winner – Shaufa Shareef 
Shaufa has been a committed public engagement volunteer, contributing to every single opportunity offered and even branching off to organise her own contributions.   
Individual: Public Contributor category 
Winner – Mike Southworth 
Mike has been a Public Contributor for many years, providing a unique insight and service user expertise to both our research and teaching activities.   
Offering advice, guidance and support by being a critical friend and using experiences and knowledge to support a wide range of people and projects, Mike's contribution is invaluable. 
Exceptional Service category 
Joint winners – Maggy Stubbs and Manoj 
Manoj and Maggy have worked with Manchester Academy for Healthcare Scientist Education (MAHSE) programmes since 2014 and have been MAHSE Lead Lay Representatives since 2015.  They are both founding MAHSE Representatives and worked with fellow lay reps to develop the MAHSE Patient Forum from an admin/academic led to a Public Contributor led Forum. 
Read more about previous PPIE award winners on our blog site and 2022 PPIE award winner booklet 
To find out more about PPIE: watch our short film, sign up to the monthly Public Engagement Digest, visit the PPIE blog, follow @FBMH_SR, visit our PPIE Toolkit or contact srbmh@manchester.ac.uk.