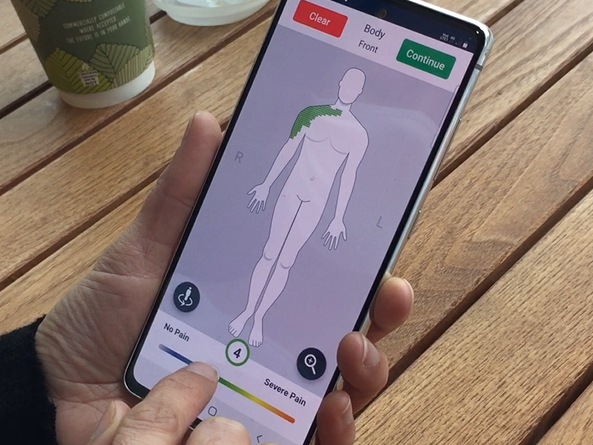 Manchester Digital Pain Manikin: A New Way of Measuring Pain
A team of researchers from the Centre for Health Informatics and the Centre for Epidemiology Versus Arthritis have developed the Manchester Digital Pain Manikin app.
The app contains a human body-shaped figure (the manikin) on which people can draw to indicate where they have pain and how severe that pain is. The Manchester Digital Pain Manikin app was developed in collaboration with uMotif, a digital health company from London.
Why we measure chronic pain?
Chronic pain is a common health problem. Estimates are that one in five adults in the UK have it, and one in ten are newly diagnosed with it every year. For some people, chronic pain is a condition on its own, while for others it is a symptom of another condition (e.g. rheumatoid arthritis).
Living with chronic pain has a negative effect on people's physical and mental health, which makes it harder for them to do their daily activities, go to work, and socialise. But despite it being so common and having such an impact, we still do not know exactly how many people have chronic pain, what causes it, and how best to treat it.
To fill these gaps in our knowledge, researchers need better ways to measure pain, so that they can collect high quality data for their studies.
Pain is subjective and can only be measured by asking the person who is experiencing it. The most common way for people to self-report pain in research studies is through questionnaires. But questionnaires may not be the best way to capture people's pain. For example, if people have different levels of pain in different areas of their body, or if they struggle to complete questionnaires because of language barriers.
What is the Manchester Digital Pain Manikin and why is it better?

The Manchester Digital Pain Manikin app has a human body-shaped figure (the manikin) on which you can indicate where you have pain and how severe the pain is in each location. You can do this by drawing directly on the screen of your smartphone using your finger. The app is currently only available for Android phones.
The Manchester Digital Pain Manikin is a more intuitive way for people to self-report the location of their pain compared to questionnaires. We expect that this will make it easier for people to report their pain over longer periods of time. And because the app is connected to a database at the University of Manchester, pain reports can be sent to the research team for analysis automatically and without delay.
Testing the feasibility of the Manchester Digital Pain Manikin
We previously developed a prototype of the Manchester Digital Pain Manikin app that we tested with 15 people, who all found it feasible to use. However, we only asked them to complete a manikin report once. Also, they were all white British, while we know that pain is especially common among black and Asian people.
That is why we are currently doing a study that will test the feasibility of using an improved version of the Manchester Digital Pain Manikin app in a bigger and more diverse group of people. We aim to recruit a total of 108 people with rheumatoid arthritis, osteoarthritis or fibromyalgia, with half of them being non-white. And instead of only once, we ask them to submit a manikin report on their own smartphone every day for 30 days.
In the video below, Dr Sabine van der Veer further explains the purpose of the feasibility study. If you are interested in taking part, please contact the research team by sending an email to painmanikin@manchester.ac.uk. The study will run until the end of October 2021.
Next steps
Once we know that people find the Manchester Digital Pain Manikin a feasible way of measuring pain, we will evaluate in a next study whether it is also a reliable and valid way that has the ability to detect a change in pain. The results of this next study will show whether our manikin is suitable for, for example, monitoring if a person's pain is progressing over time, or for assessing if a new drug or therapy provides pain relief.
In the longer term, we hope that the Manchester Digital Pain Manikin will become a widely accepted way of collecting high quality, self-reported pain data in large, representative groups of people in the UK and other countries. This will enhance our knowledge on chronic pain and how to treat it.
Research team