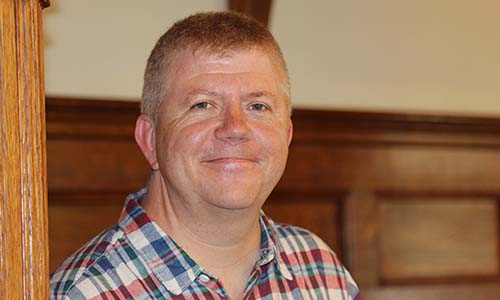 Professor Andy Westwood: The week in Parliament
Many of us will have been returning to work this week after some kind of summer break. I've managed a trip to Wales in between two to Belgium. In the first of these I was at a meeting in Brussels and amongst other things I learned the Wallonian phrase 'to lie like a dentist'. Unsurprisingly it was in a conversation about British politics. 
I also spent some time in Antwerp – a fantastic and underrated European city in the Flemish half of Belgium. Its many highlights include one of the grandest railway stations in the world and a museum dedicated to printing. The Plantin and Moretus family printed some of the first books in Europe on science, religion and philosophy, codifying and spreading knowledge throughout the world. Their neighbour Rubens provided some of the artwork and some of these early books have ended up in our own collections including at the John Rylands Library.
Just up the River Scheldt are a series of dockyard buildings originally owned and operated by the Red Star Line in the early part of the 20th century. Passing through them were some 2 million people leaving Europe for North America and a museum now tells the stories of some of those that sailed. They included Albert Einstein, Irving Berlin and Golda Meir. With this history of knowledge, migration as well as of culture and heavy industry, Antwerp reminded me of cities like Liverpool and Manchester – all with a rich trading past but now facing rather less certain futures. 
Back here in Manchester we will be looking forward to at least some certainties – the familiar rhythms of a new term; lectures, seminars, meetings and new or continuing research projects. In the next few weeks we will be meeting new students and colleagues from across the UK and throughout the world. However so much that surrounds and underpins our academic community now looks profoundly unstable and unpredictable. 
It's been a very big week in Parliament as MPs too have returned from their summer breaks. At the time of writing, anti 'no deal' MPs including the now former Conservative ministers Philip Hammond, Greg Clark, Justine Greening and Sam Gyimah have defeated the government and taken control of parliamentary business. By 9th September they had drafted, debated and passed a Bill requiring the Government to request an extension to the current 31st October Brexit date until the New Year.
But Boris Johnson remains fiercely committed to leaving – "no ifs or buts" – on Halloween and despite failing to secure sufficient parliamentary support for a general election in October, also remains committed to a poll. Before Parliament was controversially prorogued ahead of the Party Conferences and a Queen's Speech, he has lost six major votes, 22 Conservative MPs (so far) and his working majority. He has also lost the support of his brother Jo Johnson who resigned as both a minister and MP last week.
Jo Johnson, had been keeping a fairly low profile since his reappointment. He had been the main architect behind the Office for Students and UKRI in his previous stint at the Departments for Education (DFE) and Business, Innovation and Skills (BIS), and of the policy frameworks that we in universities have been working within ever since. That had briefly renewed the sector's expectations that the Teaching Excellence Framework (TEF) and the strengthening regulatory role of the OFS would continue. He had also been as critical of the Augar Review:Times Higher and the Industrial Strategy Times Higher as he has been of Brexit.
In another blast from the more recent past, Jo Johnson has now been replaced by Chris Skidmore. In his first week he will at least go the Universities UK annual conference with the very welcome announcement of a new international student visa regime. This is one part of Jo Johnson's legacy that both he and the sector will be pleased to enact.
It is slightly surprising given that the new government has been rather more interested in campaigning than in governing. So far it has been happier to reinforce its appeal to pro Brexit voters especially in leave voting areas than to announce policy detail of this nature. It might not play quite as well in that political, campaigning agenda as it will when Skidmore and Gavin Williamson meet VCs in Birmingham this week.
But most of the big issues affecting higher education will probably have to come after current political matters are settled. Questions about Augar, tuition fees, research and development targets and spending, access to EU funding and the TEF, including at subject level will have to wait. With uncertainty over the timing as well as the outcome of an election, it may be some time before we have a government that is very much interested in governing. But at some point in the near future it will happen and as I write, manifestos are being prepared, candidates selected and deselected and social media and poster sites being booked.
It's going to be a busy and uncertain autumn – and difficult to think very far ahead with any real certainty either in politics or in higher education. But as a Belgian dentist might say, "don't worry, it's not going to hurt a bit…"