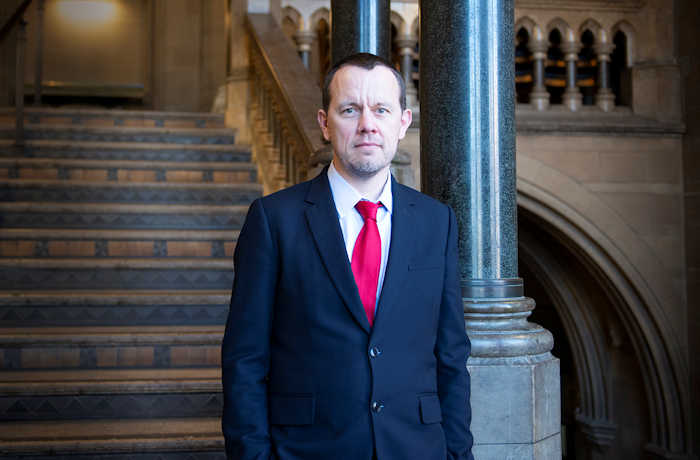 Matt Atkin: Developing our new vision and strategic plan
Matt Atkin, Director of Planning, shares his experience of developing the University's new vision and strategic plan with our people at its core.
It's over two years since Nancy asked me to help with the development of our new vision and strategic plan and I clearly remember the key message from our first meeting. This was not a document to be developed in a darkened room by a few people, rather it must be created by engaging as many of our people – staff, students, alumni and external stakeholders – as possible. Our new strategic plan must be rooted in our collective contributions and ambitions, indeed the process was every bit as important as the outcome. It was a brief that was exciting and daunting in equal measure.
Our future
Initially I had concerns that perhaps no one would contribute. I needn't have worried. I have never worked anywhere that such a broad cross section of people care so deeply about. Over eighteen months more than 4,000 people engaged in a series of big conversations which we called Our future. The strength of feeling and range of ideas generated during this engagement process, driven by pride and ambition, was truly humbling.
A synthesis of the enormous breadth and depth of feedback revealed the foundations of our new vision, and the themes that underpin our strategic plan. What were the headlines of this analysis? It was striking how strongly our existing three core coals of research, teaching and social responsibility were reinforced. Rather than why or what, it was "how we do things" that really captured the imagination of colleagues. Time and again a central theme recurred – we should build the strategic plan around our people.
Roll the clock forward and this month we launched the vision and strategic plan . Our vision encapsulates our long-term ambition, for a world ten years or more into the future. Our strategic plan then describes our ambitions, priorities and key measures of success for the first five years of our journey towards the vision.
Grounded ambition
The strategic plan acknowledges many areas of current strength, blending existing agendas with selected new ambitions. It is not a long list of new things for us all to deliver. It is a statement for five years, not an activity set to complete within twelve months, and in some cases we openly acknowledge that we are dependent on funding in order for some of these ideas to progress. The plan contains ambition but, to borrow a phrase I picked up along the way, I think it is grounded ambition. There are fewer pages, fewer themes and fewer measures than the document it replaces. The document is deliberately designed in these ways in response to repeated feedback about the value of keeping things simple and accessible, the need to recognise the internal and external context we are operating in, and the importance of clarity and focus.
Having developed and published the strategic plan, we now need to bring it to life, a major part of which is to make it relevant for every colleague so they can see how their role directly contributes to the delivery of the plan – establishing what some organisations call the "golden thread" between the University and every one of us. We have created a series of resources to help the cascade and embedding of the strategic plan – please do let me know if you think of other things that would be helpful. We will also be updating some of our processes to align with the new plan, ranging from colleague induction, and learning and development events right through to how we monitor the performance of the University and prioritise the projects we are investing in.
So, bringing the new strategic plan to life starts here! To those of you who have taken part so far, thank you for your inspiring, challenging contributions and guidance. To the talented handful (and it was a handful) of colleagues who made it all happen behind the scenes, you did a truly fantastic job. To those of you who have not yet had the chance to contribute, you will definitely be able to help us secure the "golden thread" across the University.
To the school children who described (and indeed drew) university as a limitless place that could help unlock their dream career, to the students who visited campus from across Europe and educated me in what 'personalisation' could mean in higher education, to the researchers who repeatedly reminded us of the importance of creating the right conditions for success, and to the colleague who sent us feedback from Antarctica to stress the importance of equality and diversity and environmental sustainability – indeed to all who contributed – I hope when you read the document, you will see how your contributions have shaped the future plan for the University.
This strategic plan takes us into our third century as a university. Our strategic plan, created together.
Matt Atkin, Director of Planning