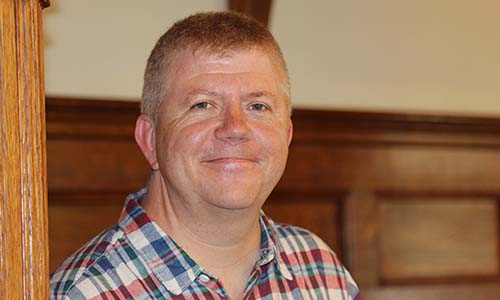 Andy Westwood: Levelling up the economy post Brexit
Professor Andy Westwood talks about the most important domestic challenge for the new Conservative Government – regional inequality.
"Getting Brexit done" might have been the dominant theme in December's General Election but 'levelling up' the economy across all parts of the UK has quickly become the most important domestic challenge for the new Conservative Government. Of course this is rather easier said than done.
Regional inequality
Regional inequality in the UK is a long-standing, deeply entrenched – and growing – policy problem. The gaps between the best and worst performing regions are amongst the largest in both Europe and the OECD (The Organisation for Economic Co-operation and Development). And we know that this extends to intra-regional inequalities such as here in Greater Manchester where there are similar gaps between the best and least well performing areas too. These differences in productivity, and therefore in wages and living standards, have been an important driver of political dissatisfaction influencing voting patterns in both the 2016 Referendum and the 2019 Election.
This won't be the first Government to have tried to fix the problem. Like others before them the Conservatives are promising investment in infrastructure, Research and Development (R&D) and public services to tackle the gaps. This will underpin the coming reshuffle (expected in early February), the Budget in March and a Spending Review in the Autumn. In theory at least, they will incentivise innovation, increase regional productivity and improve prosperity. Better living standards and higher wages should follow. But this time the political will might be strengthened with Boris Johnson owing much of his 80 seat majority to constituencies won in 'left behind' towns and in underperforming regions. These include seats in Greater Manchester local authorities such as Wigan, Bolton, Bury and Rochdale. Jake Berry, Minister for the Northern Powerhouse, already represented the Rossendale and Darwen constituency which borders five of these new Conservative constituencies in Greater Manchester.
R&D Investment
Boris has promised to double Government R&D funding (with a boost to some £18bn overall) as a way of 'levelling up' economic performance across the country. His chief adviser Dominic Cummings (for whom this is non-negotiable) has pointed to Richard Jones' 'Resurgence of the Regions' paper as a blueprint for such an approach. Both wish 'to repay the trust' of those voting Conservative to 'get Brexit done' and keep hold of the seats they won in Labour's old heartlands in the North and the Midlands. But this will involve a significant shift in traditional, as well as more recent, Conservative thinking on both higher education (HE) and the economy.
Other than the promise to double R&D spending towards the 2.4% (the extra £9bn could take the UK to around 2.1%) the Government is also looking to accelerate the market principles offered by HE reform since 2010. More powers to the Office for Students (OFS), more focus on value for money and possibly fewer or capped graduate places overall especially from 'lower value' courses. But that is almost a completely 'place blind' approach and creates big political tensions with Johnson's desire to 'level up' in underperforming places. Withdrawing numbers and weakening institutions is more likely to undermine these new local priorities. The right hand needs to understand what the left hand is doing.
But overall the prospects for research intensive universities in the north like Manchester should be good. Shoring up the existing system might see lower thresholds for research council bids, full economic costing and more support for PhDs. But the productivity focus will also bring big opportunities for more applied research too, such as in materials and the life sciences. However, central to both will be an acceptance that increased R&D funding must demonstrate benefits in less well performing places nearby. Voters in Oldham and Tameside should see some of these impacts in their own living standards as well as in the public services that they use.
Civic engagement
The Recent Civic Universities Commission – chaired by Lord Kerslake and also endorsed in the Conservative manifesto – offers many suggestions for universities to better articulate impact in this new political geography. The Augar review too stresses why the policy solutions to regional inequality and left behind towns will rely just as much on FE colleges and on collaborations between HE and FE in places like Bolton, Wigan and Warrington.
This is why civic engagement in our new strategic plan is so important. It is much more than just a demonstration of our social responsibility. Deploying our intellectual resources to understand local economies and ultimately to help improve productivity and living standards within them will be crucial to us and to other similar universities if we want to win more of the new R&D funds on offer. This is where applied research in the social sciences will be every bit as important as in health or engineering.
None of this comes at the expense of our wider values and interests – our commitments to teaching and learning, excellence in research or for our international ambitions. But as our honorary professor and deputy chair of the Northern Powerhouse Partnership, Jim O'Neill, might say today the 'BRICs' aren't just Brazil, Russia, India and China, they are also Blackpool, Rochdale, Ilkley and Calderdale.
'Levelling up' might be a soundbite but the inequalities that drive it are real and problematic for all Governments as well as for the HE sector. When civic universities were first founded in the 19th century they were done so with very similar social and economic intentions. Manchester lays claim to being one of the first with its beginnings in both the Mechanics Institute and the original vision of John Owens. So this is central to who and what we are as an institution as well as a major theme for this government in the coming months and years.
Andy Westwood, Vice Dean Social Responsibility, Faculty of Humanities